Sensitive F-35 Documents Intercepted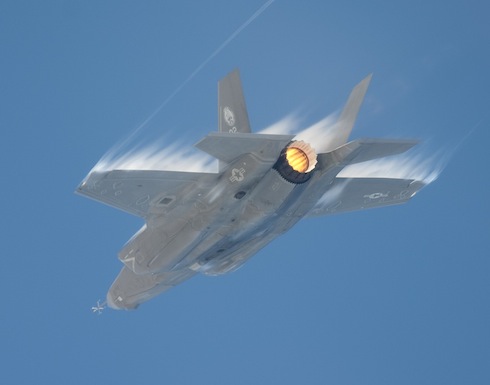 Morning Coffee is a robust blend of links to news around the internet concerning the Naval Air Station Patuxent River economic community. The opinions expressed here do not necessarily reflect those of the Leader's owners or staff.

A man was arrested Jan. 9 at Newark International Airport and charged with attempting to ship thousands of pages of documents, including diagrams and blueprints of the F-35 Joint Strike Fighter's engine, to Iran, reports the Marine Corps Times. Mozaffar Khazaee, a contractor who had worked for Pratt & Whitney, was arrested on charges of  "transporting, transmitting and transferring in interstate or foreign commerce goods obtained by theft, conversion, or fraud," a crime that carries a maximum of 10 years imprisonment. F-35 prime contractor, Lockheed Martin, said the company is cooperating fully with the investigation.
The Navy has started a 10-year project to replace the E-2C Hawkeye aircraft, in service since 1973, with new "D" models, according to the Navy Times. Although the exterior of the new plane closely resembles the old "C" model it is actually a brand-new airframe built from the ground up.
The new design features all-new glass cockpits and has a fly-by-wire throttle control. Capt. Todd "Cowpie" Watkins, commander of Airborne Command Control and Logistics Wing, said that the new aircraft and its systems are a "generational leap" over the E-2C, and that its mission will exceed its traditional carrier operations. East Coast squadrons will fly the E-2D first because they're flying the oldest E-2Cs.
Lockheed Martin dropped its protest of the Navy's decision to award Raytheon a potential $1.63 billion contract to build a new Aegis combat system radar, reports AL.com. Lockheed, who will manage the Aegis system through May 2018, stated, "While we believe that we put forward an industry-leading solution, after receiving additional information we have determined it's in the best interest of the Navy and Lockheed Martin to withdraw our protest."
The Navy surface fleet must become more offensively lethal and rely less on defensive missiles, reports Aviation Week. Vice Adm. Thomas Copeman, commander of the Naval Surface Force and U.S. Pacific Naval Surface Force, said, "The Navy will not be able to fight its way into denied environments and maintain open sea lines of communication without the Surface Force being able to take the fight to the enemy in environments where air assets are not available or are unable to effectively or persistently operate."
SecNav Ray Mabus announced recently that plans to evaluate and redesign officer and enlisted women's service dress uniforms will be underway by May, reports dcmilitary.com. The redesign includes the Service Dress Blue (SDB) uniform worn by women Sailors E-1 to E-6 and the women's combination cover for E-7 and above. Mabus stated, "These changes ensure greater uniformity in our service and ceremonial dress, but more importantly, they send a clear signal that we are one in dress, one in standard and one in team. As you look out across a group of Sailors, you ought to see, not women and men Sailors, but Sailors."
A United Kingdom Tornado became the first fighter jet to fly with 3D printed parts in December, reports DefenseTech. BAE Systems installed metal components including a protective cover for the cockpit radio, a protective guard for the landing gear and support struts on the air intake door, all created by a 3D printer.
NAVAIR has teamed up with four other Navy commands to improve and streamline diversity recruiting efforts, according to NAVAIR News. The recruiting partnerships allow the service to reduce costs, create more opportunities for NAVAIR to recruit at diversity events and increase the number of qualified, diverse job applicants. In the future, the recruiting team plans to include other Navy components and professional organizations.
The Religious Program Center, Building 401, at Naval Air Station Patuxent River is accepting winter coats through Jan. 31 for those in need, reports dcmilitary.com. Dennis Hackathorn, the retired Navy commander who is coordinating the collection effort, said, "We ask that the coats be clean and in good condition. All coats are then donated to the Clothes Closet. Also needed are gloves, mittens and hats, especially for kids."