Russian Role in Middle East Expanding Rapidly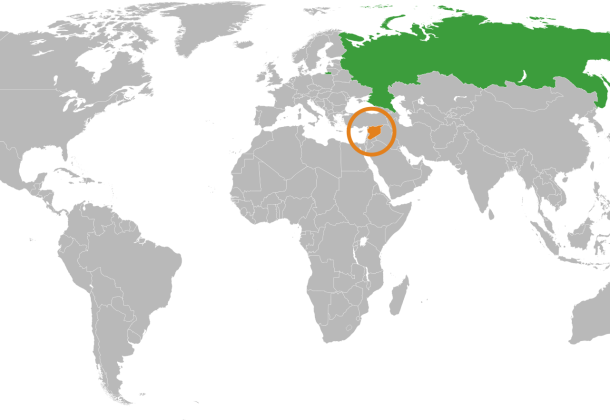 Morning Coffee is a robust blend of links to news around the internet concerning the Naval Air Station Patuxent River economic community. The opinions expressed here do not necessarily reflect

those of the Leader's owners or staff.
Putin Watch: Russian President Vladimir Putin has ordered his ministers to complete a deal that would give Russia an air base in Belarus, DefenceTalk reports. And Putin met with Israel's prime minister, Benjamin Netanyahu, to respond to Israeli concerns that the Russian military buildup in Syria will threaten its defense, through fears that Russian-supplied weapons will end up in the hands of Hezbollah, fighting in Syria on Assad's side, and because it will make it more difficult for Israeli aircraft to strike there, The Guardian reports. Moscow relishes its revamped role in the Middle East, Foreign Policy magazine says.
Collision course in Syria?  Drone surveillance flights begun by Russia in Syria after a rapid buildup of piloted aircraft at a base there, heightens the risks of U.S.-led coalition planes and Russian aircraft operating within Syria's limited airspace without agreeing on coordination or objectives in Syria's civil war, Reuters reports.
Cyber security military commands around the world are intensifying recruiting efforts to attract the best and the brightest, DefenseOne reports. China has an estimated 100,000 code warriors recruited over the past two decades, and the world's most powerful supercomputer. By comparison, U.S. Cyber Command started from near-scratch in 2010 and wants to reach a force size of 6,200 by 2016.  Iran and North Korea have built cyber militias as well.
Cyber espionage for economic gain by China is putting "enormous strain" on U.S.-China relations and needs to stop, Susan Rice, President Obama's national security adviser, said Monday, as reported by the Associated Press. Rice also rejected calls for cancelling the visit of Chinese President Xi Jinping this week, Foreign Policy reports.
International exchange rates will make the F-35 a much more costly acquisition for Canada, reports Defense Industry Daily. This latest cost estimate adjustment could lead to either a down-sized F-35 buy or another aircraft design altogether, such as a Canadian F/A-18 Super Hornet fleet
Rep. Duncan Hunter, R-Calif., has called on the Obama administration to sell drones to Jordan because of the special conditions created by the rise of ISIS, The Hill reports. If the U.S. doesn't make the drones available for sale, Hunter says Jordan may turn to buying the Chinese version of the Reaper drone, the recently unveiled Caihong 5.