Russian Fighter Jet Again in US Flight Path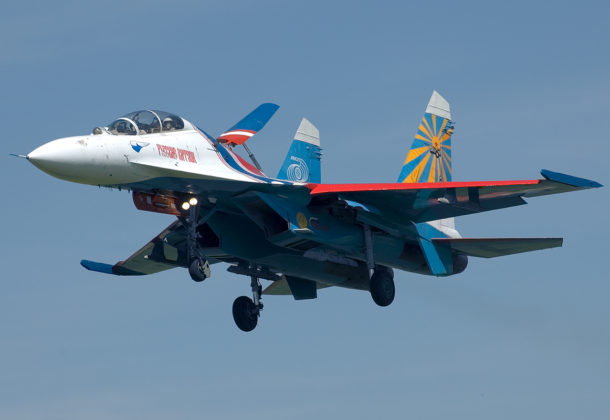 Morning Coffee is a robust blend of links to news around the internet concerning the Naval Air Station Patuxent River

economic community. The opinions expressed here do not reflect opinions of the Leader's owners or staff.
Another Russian jet flies within five feet of a US Navy plane over the Black Sea, reports Navy Times. Similar to a November incident, a Russian Su-27 crossed through a US EP-3 Aries' flight path, forcing it to fly through the Su-27's flight wash.
Government contractors can expect no end to budget uncertainties, says the president of the Professional Services Council, who expects another continuing resolution when the current Feb. 8 deadline is reached, reports The Washington Post, which will force contractors to wait at least another month to find out what their biggest customer might spend in 2018.
Congress is increasingly unlikely to reach a long-term spending agreement by the next government funding deadline, reports Politic0.
The Federal Acquisition Regulations Council issued one final rule in 2017, to reverse a previous FAR rule to implement the fair pay and safe workplace executive order, reports Federal News Radio.
VA resumes online applications for new ID cards, reports Stars and Stripes, after the system experienced roll-out problems and was taken down in December.
DefSec James Mattis orders review of how troops use fitness apps, reports Military Times, following news this weekend that an app used by troops revealed sensitive military information, described here by c4isrnet.
The US Army Public Health Center issues a warning to users of e-cigarettes and other vaping products after approximately 60 troops in NC experienced serious medical issues, reports The Fayetteville Observer. Soldiers from Fort Bragg and Marines from Camp Lejeune reported adverse health effects believed to be caused by vaping products marketed as containing cannabidiol, or CBD, oil.
The Air Force adds its second female F-35 pilot, reports Aviation Week, now that enough jets have been upgraded with a new ejection seat designed to accommodate lightweight aircrew.
The Super Bowl's traditional flyover will be anything but normal, reports Military Times, with one F-16 Fighting Falcon, two A-10 Thunderbolt IIs, and one P-51 Mustang flying in formation over the stadium.
USNI reports (and has video) on US Coast Guard operations fighting drug smugglers from their new, stealthy vessels during operations off Central America and South America.
Lt. Col. Chris Hrudka, the commanding officer of the Marine Corps' Wounded Warrior Battalion East was relieved from command, and two civilian staff placed on administrative leave after an investigation into alleged improprieties around a donation fund, reports Military.com.
Russia accuses US of meddling in its elections, reports CNN, calling a US Treasury report that could extend sanctions against Moscow for meddling in the 2016 US presidential elections "a direct and obvious attempt" to interfere in its own upcoming presidential vote. In addition to expressing anger, Russian leaders ridiculed the Treasury report, according to The Washington Post, which listed 114 Russian government officials and 96 business executives which appeared to have been copied and pasted from two sources widely available to the public, including the Kremlin's website.
A social media expert tells a Senate panel that Russian cyber meddling goes beyond elections, reports Government Cyber Insider, and advises social media disallow anonymous accounts and prohibit social bots.
NASA plans an attempt to restart the science payload aboard its long-lost IMAGE satellite, reports International Business Times, days after an amateur astronomer found an object in high-Earth orbit and deduced it was NASA's Imager for Magnetopause-to-Aurora Global Exploration satellite. NASA said it would try to restart the science payload aboard the satellite.
Contracts:
Andromeda Systems Inc., Virginia Beach, Virginia, is being awarded an $18,568,548 cost-plus-fixed-fee, indefinite-delivery/indefinite-quantity contract for logistics services in support of the Industrial and Logistics Maintenance Planning/Sustainment Department at the Fleet Readiness Center, Southwest, San Diego California.  Work will be performed in San Diego, California (35 percent); Lemoore, California (5 percent); Patuxent River, Maryland (5 percent); Lakehurst, New Jersey (5 percent); Orlando, Florida (5 percent), China Lake, California (5 percent); Point Mugu, California (5 percent); Jacksonville, Florida (5 percent); Cherry Point, North Carolina (5 percent); Norfolk, Virginia (5 percent); Philadelphia, Pennsylvania (5 percent); Oceana, Virginia (5 percent); Beaufort, South Carolina (5 percent); and St. Louis, Missouri (5 percent), and is expected to be completed in February 2023. Fiscal 2018 operation and maintenance (Navy) funds in the amount of $353,119 will be obligated at the time of award, all of which will expire at the end of the current fiscal year. This contract was competitively procured via an electronic proposal as a 100 percent small business set-aside; two offers were received. The Naval Air Warfare Center Weapons Division, China Lake, California, is the contracting activity (N68936-18-D-0016).
Sallyport Global Holdings, Reston, Virginia, has been awarded a not-to-exceed $400,000,000 cost-plus-fixed-fee undefinitized contract action to provide base operations support, base life support, and security services in support of the Iraq F-16 program. The contract provides for the support of F-16-related contractor personnel at Balad Air Base, Iraq. Work will be performed at Balad Air Base, Iraq, and is expected to be complete by Jan. 30, 2019.  This contract was the result of a sole-source acquisition and involves foreign military sales to Iraq.  Foreign military sales funds in the amount of $196,000,000 will be obligated at the time of the award.  Air Force Life Cycle Management Center, Wright-Patterson Air Force Base, Dayton, Ohio, is the contracting activity (FA8630-18-C-5003).