Navy, AF Refueling Mission a Success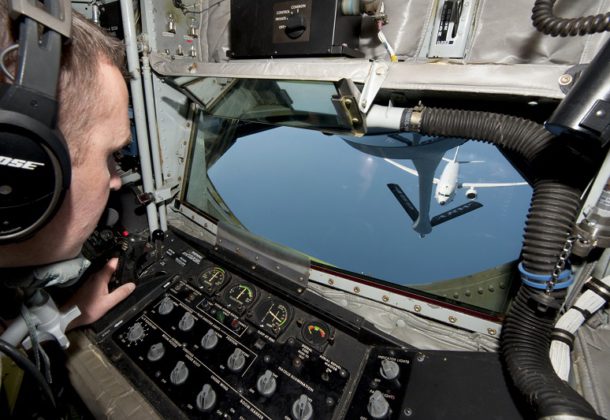 Morning Coffee is a robust blend of links to news around the Internet concerning the Naval Air Station Patuxent River

economic community. The opinions expressed here do not reflect opinions of the Leader's owners or staff.
The 459 Air Refueling Wing helped make history last week when its KC-135 was the first to refuel a Naval Air Systems Command P-8A Poseidon, the Air Force reports. "The 459th and Air Force Reserve Command is honored and delighted to support the Navy on the P-8A project," said Lt. Col. David Williams, 459th Operations Group deputy group commander, in a news release. "We have a longstanding relationship with NAVAIR and we were excited to play a role in assisting the engineers with the development of the boom refueling capabilities of the P-8A."
Lockheed Martin says a Long Range Anti-Ship Missile was successfully released earlier this month from a Navy F/A-18E/F Super Hornet at NAS Pax River. This marks a new milestone in the development of a next-generation, long range, semi-autonomous weapon designed to track and destroy enemy targets, firing from aircraft and ships, Scout Warrior reports.
John Carlin, a former assistant attorney general for national security, told ABC News that the US government hasn't done enough to protect the country's core infrastructure from North Korea and other cyber threats. "We're still vulnerable," Mr. Carlin said. "The threat in this space way outmatches what our current defenses are."
Al Jazeera reports North Korea is reiterating its vow to launch "full-out war" with nuclear weapons as the USS Carl Vinson strike carrier is set to arrive off the Korean peninsula in a matter of days. North Korea said on Sunday it was ready to sink the carrier to demonstrate its military might, Reuters reports. Meanwhile, South Korea remained on high alert over the weekend, Reuters reports, and its Unification Ministry spokesman said the country will not let its guard down. China temporarily puts cruise missile-capable bombers "on high alert" in preparation of a response should there be a situation with North Korea, CNN reports. The US also has seen a number of Chinese military aircraft being brought up to full readiness.
Eight F-35A Lightning IIs will join NATO partners as part of a training deployment in the UK, DoD Buzz reports. Six of the jets flew out last week. Two additional aircraft will join the rotation after one stayed stateside for a small maintenance fix. The pilot of the aircraft noticed a fuel tank float valve mishap. As a routine safety precaution, the aircraft stayed back until the issue was resolved.
DefSec James Mattis will not discuss damage estimates from the April 13 use of the military's most powerful non-nuclear bomb on an Islamic State stronghold in Afghanistan, Military Times reports. Military officials have said nothing more than that the 11-ton bomb effectively neutralized an ISIS defensive position.
President Donald Trump will face a push from some lawmakers who say he should ask for their authorization to wage an extended war in Syria and Iraq. One of those lawmakers is Rep. Tom Cole (R-OK) who says the authorization passed after 9/11 has been stretched beyond its original intent, Defense News reports.
NAVAIR's commander VADM Paul Grosklags told the command's program management workforce (AIR-1.0) that the world's dynamic is rapidly changing and the command needs to rethink its processes to stay competitive, smnewsnet.com reports. "The competition is gaining on us very rapidly and that's not a very comfortable place to be," VADM Grosklags said.
Federal Election Commission documents show that Lockheed Martin donated $1 million to President Donald Trump's Inauguration Committee, Baltimore Business Journal reports. Washington Redskins' owner Daniel Snyder also donated $1M.
The Navy has banned e-cigarettes fleet-wide due to explosion risks, Navy Times reports.
Contracts:
Lockheed Martin Corp., Lockheed Martin Aeronautics Co., Fort Worth, Texas, is being awarded a $10,392,093 modification to a previously awarded cost-plus-incentive fee contract (N00019-14-C-0002) to provide additional funding for affordability-based cost reduction initiatives in support of low-rate initial production Lot 9 F-35 Lightening II Joint Strike Fighter. Work will be performed in Fort Worth, Texas (30 percent); El Segundo, California (25 percent); Warton, United Kingdom (20 percent); Orlando, Florida (10 percent); Nashua, New Hampshire (5 percent); Nagoya, Japan (5 percent); and Baltimore, Maryland (5 percent), and is expected to be completed in March 2020. Fiscal 2015 aircraft procurement (Air Force, Marine Corps, and Navy) funds in the amount of $10,392,093 are being obligated on this award, all of which will expire at the end of the current fiscal year. The Naval Air Systems Command, Patuxent River, Maryland, is the contracting activity.
Northrop Grumman Systems Corp., Linthicum Heights, Maryland, was awarded a $19,448,202 cost-plus-fixed-fee completion contract for a Defense Advanced Research Projects Agency research project. Work will be performed in Linthicum Heights, Maryland, with an expected completion date of October 2019. Fiscal 2016 research, development, test and evaluation (RDT&E) funds in the amount of $5,972,985; and fiscal 2017 RDT&E funds in the amount of $2,645,430 are being obligated at time of award. This contract was a limited competitive acquisition with six offers received. The Defense Advanced Research Projects Agency, Arlington, Virginia, is the contracting activity (HR0011-17-C-0043).
Jacobs Technology Inc., Fort Walton Beach, Florida, was awarded a $13,150,000 modification (000408) to contract W52-P1J-13-D-0041 for global logistics and support services contract, providing support functions. Work will be performed in Rock Island, Illinois; Afghanistan; Kuwait; Iraq; Italy; Cameroon; Niger; Germany; Poland; Romania; Sumter, South Carolina; San Antonio, Texas; Fort Shafter, Hawaii; Tampa, Florida; Fort Lee, Virginia; Fort Bragg, North Carolina; Fort Lewis, Washington; and Fort Hood, Texas, with an estimated completion date of April 20, 2018. Fiscal 2017 operations and maintenance (Army) funds in the amount of $4,622,840 were obligated at the time of the award. US Army Contracting Command, Rock Island Arsenal, Illinois, is the contracting activity.