Navy Admonished to Fix Pilot Hypoxia Issues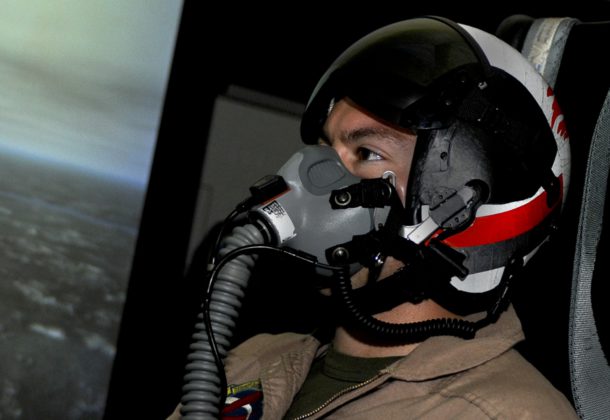 Morning Coffee is a robust blend of links to news around the internet concerning the Naval Air Station Patuxent River

economic community. The opinions expressed here do not reflect opinions of the Leader's owners or staff.
The Navy isn't moving fast enough to fix systemic physiological episodes plaguing fighter pilots and students, according to the House Armed Services Committee. USNI reports the number of physiological episodes has been on the rise for 10 years. Chairman Rep. Michael Turner (R-OH) said, "This has got to be fixed. I don't have confidence that we're getting nearer to that. This would seem to be something that needs to be done quickly and expeditiously. This should not be a research project. This should be a fix-it project."
Senate leaders Mitch McConnell (R-OH) and Charles Schumer (D-NY) are backing a deal to fund the government for two years and set spending levels for defense and non-defense programs over the next two years, reports The Hill. It looks likely to pass the Senate in time to avert a government shutdown Friday. But House support is not certain. The House GOP's six-week continuing resolution offers military and health care funding, tying it to a  $659.2 billion defense spending measure for fiscal 2018 and health care items, reports Defense News.
Weighing a push for an 11-carrier fleet ready to deploy versus warnings from DoD's testing office, DefSec Jim Mattis considers delaying shock testing of the carrier Ford for at least six years, reports Bloomberg. The testing determines how well the new $12.9 billion aircraft carrier can withstand attack.
Military.com reports it is not yet known what caused Mattis to fire the Guantanamo war court overseer, Harvey Rishikof, an attorney with experience in national security law.
DoD awards a sole-source, $7 million contract for cloud acquisition consulting to a small business with a single employee, reports Nextgov, Eagle Harbor Solutions, based in Alaska.
The Air Force's light-attack aircraft is seen as a cost-effective plane to target terrorists in the Middle East and North Africa, but the service's top general wants to get Asian countries on board with the proposed program, reports Defense News.
The Pentagon says the Afghan war is costing the US $45 billion per year, reports Military Times. With no end in sight, lawmakers, skeptical about the prospects of victory in the nation's 17th year in the war, grilled the administration on the plan announced in August 2017 to deploy additional forces.
Military Times says President Donald Trump has asked the Pentagon to plan a grand parade of the US armed forces in Washington this year to celebrate military strength and to allow Americans to show appreciation for the military.
Business Insider reports a USAF B-52 Stratofortress, America's longest-serving bomber, set a new record for the most smart bombs dropped on the Taliban in Afghanistan — 24 precision guided munitions during a 96-hour air campaign, reports Business Insider — breaking November's previous record, reported by the Daily Caller.
North Korean leader Kim Jong Un's 28-year-old sister will make her debut on the world stage when she visits South Korea to attend the opening ceremony of the Winter Olympics on Friday, reports Reuters.
Secretary of State Rex Tillerson says the US is considering imposing sanctions on Venezuela that could cripple its oil industry, reports American Military News. Tillerson, on a diplomatic  trip in Latin America, is seeking to rally regional support for a widening campaign to put pressure on the leftist government of Venezuelan President Nicolas Maduro. Many leaders in the hemisphere and human rights organizations accuse Maduro of trampling on democracy and sending his nation into a humanitarian and economic crisis.
Contracts:
Textron Systems, Hunt Valley, Maryland, has been awarded a $28,240,414 modification (0004) to contract W58RGZ-17-D-0006 for contractor logistics support of fielded One System remote video terminal systems. Work locations and funding will be determined with each order, with an estimated completion date of Feb. 7, 2019. US Army Contracting Command, Redstone Arsenal, Alabama, is the contracting activity.
Valdez International Corp., Colorado Springs, Colorado, has been awarded a $16,622,633 firm-fixed-price modification (P00007) to previously awarded contract FA8773-17-C-0002 to exercise option one. This modification provides for support services to operate, sustain, and assure the availability of Air Force information networks to enable war-fighter mission execution.  This modification brings the total cumulative face value of the contract to $70,528,073. Work will be performed at Joint Base Langley-Eustis, Virginia, Peterson Air Force Base, Colorado; Andrews AFB, Maryland; Scott AFB, Illinois; and Wright-Patterson AFB, Ohio, and is expected to be complete by Feb. 2, 2019. This award is the result of a competitive acquisition and 11 offers were received. Fiscal 2018 operations and maintenance funds in the amount of $16,622,633 are being obligated at the time of award. The 38th Cyberspace Engineering Installation Group, Tinker AFB, Oklahoma, is the contracting activity.
Johns Hopkins University, Laurel, Maryland, has been awarded a $13,791,316 modification to a previously awarded cost-plus-fixed-fee contract. The contract is to provide assessments and alternatives of offensive capabilities within the domains of air, land, sea, space and cyberspace; missions and warfare areas that asymmetrically mitigate threat effectiveness, impose cost, and/or create ambiguity in adversary decision-making. Work performance will take place in Arlington, Virginia, and Alexandria, Virginia. Fiscal 2018 operations and maintenance funds in the amount of $200,000 and fiscal 2018 research, development, test and evaluation funds in the amount of $13,591,316 are being obligated on this award and will expire at the end of the current fiscal year. The expected completion date is March 24, 2019. Washington Headquarters Services, Arlington, Virginia, is the contracting activity.
Booze Allen Hamilton Inc., McLean, Virginia, has been awarded a modification (P00038) to exercise contract Option Year 3 for engineering and technical support services for the Defense Information Systems Agency (DISA) Department of Defense Mobility program. The face value of this action is $11,927,415, and incrementally funded by fiscal 2018 operations and maintenance funds in the amount of $736,585; and fiscal 2018 research, testing, development and evaluation funds in the amount of $508,459. Primary performance will be at the contractor's facilities in McLean, Virginia, and at DISA headquarters, Fort Meade, Maryland. The period of performance for this option period is Feb. 4, 2018 – Feb. 3, 2019. The Defense Information Technology Contracting Organization, Scott Air Force Base, Illinois, is the contracting activity (HC1047-15-F-0005).