Naval Aviation Ground Mishaps on Rise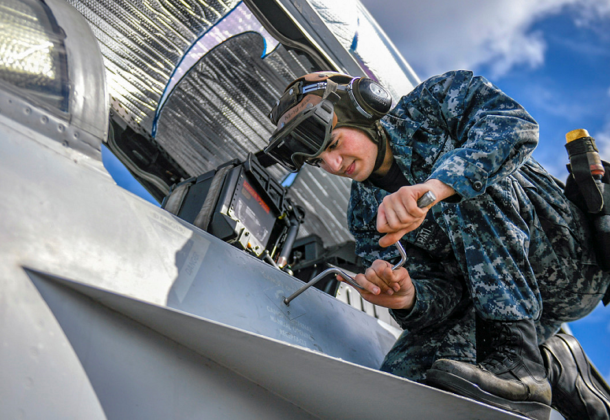 Morning Coffee is a robust blend of links to news around the internet concerning the Naval Air Station Patuxent River

economic community. The opinions expressed here do not reflect opinions of the Leader's owners or staff.
Class C ground mishaps in naval aviation have doubled in the past decade, VADM DeWolfe Miller wrote in a Naval Air Forces memo, reports Navy Times. VADM Miller has made eliminating the mistakes his current No. 2 priority — behind the continued efforts to eliminate cockpit physiological episodes. Class C mishaps are those in which total property damage falls between $50,000 and $500,000, or an incident that causes a sailor injury that warrants missing a day or more of work.
The heads of the Navy and Marine Corps would not connect a lack of military funding over the years to a string of recent aviation incidents, reports The Hill, pointing to a lack of information.
"There is not enough data right now to tell you that there's an exact correlation," NavSec Richard Spencer said during a Pentagon briefing.
Navy officials are taking meritorious advancements to the next level, announcing that no-test advancements will account for 15 percent of all petty officer advancements this year, reports Navy Times. It also reports that sailors say meritorious advancements boost morale.
Contracting for two carriers at once would help stabilize the workforce at Newport News, among other benefits that will save the Navy money, a Huntington Ingalls executive says. Mike Petters also says that the Ford-class aircraft carrier John F. Kennedy is nearing the halfway mark and tracking to launch ahead of schedule, reports Defense News.
The Puerto Rico Air National Guard has identified the nine airmen killed in a WC-130 crash in Georgia, reports Army Times. The crash occurred near Hilton Head Airport in Savannah.
The Air Force Personnel Center says active-duty officers who hope to become pilots ― flying both manned aircraft and remotely piloted aircraft ― combat systems officers, or air battle managers now have a shot at realizing their dream. The application period for the 2019 undergraduate flying training selection board is now open, reports Air Force Times.
BAE Systems is looking to break into the solar-powered UAV sector, reports Defense News, with the company announcing it is collaborating with a small British specialist in the field to have a high-altitude, long-endurance vehicle ready for flight by next year.
The military exchanges have removed Chinese cellphones, personal mobile internet modems, and other electronic products made by Huawei and ZTE, based on concerns about the security risks, reports Army Times.
Sending 2,000 National Guard troops to the Mexican border will cost $182 million through the end of the fiscal year, Pentagon spokeswoman Dana White said. The money would come from the Guard's operation and maintenance and military personnel accounts, reports The Hill.
A SpaceX Dragon cargo ship returned to Earth on May 5 with more than 2 tons of NASA gear from the International Space Station, reports Space.com. The capsule's splashdown capped a busy day for NASA, which began last weekend with a launch to Mars. A recent NASA report says that SpaceX's rocket technology brings power but could put lives at risk, reports The Washington Post. This technology has raised alarms for members of Congress and NASA safety advisers as the agency and SpaceX prepare to launch humans into orbit, perhaps as early as this year.
Contracts:
General Dynamics Mission Systems, Fairfax, Virginia, is awarded a $9,734,200 firm-fixed-price modification to previously awarded contract (N00024-16-C-5352) to exercise options for Surface Electronic Warfare Improvement Program (SEWIP) Block 1B3 full-rate production. SEWIP is an evolutionary acquisition and incremental development program to upgrade the existing AN/SLQ-32(V) electronic warfare system. SEWIP provides enhanced shipboard electronic warfare for early detection, analysis, threat warning, and protection from anti-ship missiles. SEWIP Block 1 focuses on obsolescence mitigation and special signal intercept. Work will be performed in Pittsfield, Massachusetts (55 percent); Thousand Oaks, California (25 percent); Mountain View, California (15 percent); and Fairfax, Virginia (5 percent), and is expected to be completed by May 2020. Fiscal 2018 other procurement (Navy); and fiscal 2018, 2017, and 2016 shipbuilding and conversion (Navy) funds in the amounts of $7,008,624, $1362,788, $681,294 and $681,294 respectively will be obligated at time of award and will not expire at the end of the current fiscal year. The Naval Sea Systems Command, Washington, District of Columbia, is the contracting activity.
National Industries for the Blind, Alexandria, Virginia, has been awarded a maximum $14,742,000 modification (P00003) exercising the first one-year option period of a one-year base contract (SPE1C1-17-D-B022) with two one-year option periods for Army physical fitness uniform jackets. The modification brings the total cumulative face value of the contract to $25,293,660 from $10,551,660. This is an indefinite-delivery contract. Locations of performance are Virginia and Maryland, with a May 10, 2019, performance completion date. Using military service is Army. Type of appropriation is fiscal 2018 through 2019 defense working capital funds. The contracting activity is the Defense Logistics Agency Troop Support, Philadelphia, Pennsylvania.
Airbus Defense, Herndon, Virginia, has been awarded a $9,358,688 firm-fixed-price contract for range communication system observer/controller communications systems. One bid was solicited with one bid received. Work will be performed in Fort Irwin, California, with an estimated completion date of Dec. 31, 2019. Fiscal 2018 operations and maintenance (Army) funds in the amount of $9,358,688 were obligated at the time of the award. US Army Contracting Command, Orlando, Florida, is the contracting activity (W900KK-18-C-0031).
Northrop Grumman Systems Corp., McLean, Virginia, has been awarded a $7,021,756 modification (P0014) to contract W91QVN-15-F-0029 for information technology, architecture, and engineering support services for US Forces Korea J6. Work will be performed in Pyeongtaek, Republic of Korea, with an estimated completion date of June, 30, 2019. Fiscal 2018 operations and maintenance (Army) funds in the amount of $7,021,756 were obligated at the time of the award. US Army Contracting Command, 411th Combat Support Battalion, is the contracting activity.
Insight Public Sector Inc., Chantilly, Virginia, is being awarded an estimated $653,210,000 firm-fixed-price blanket purchase agreement (BPA) in accordance with the company's General Services Administration (GSA) Federal Supply Schedule contract (GS-35F-0009U). This agreement will provide Microsoft brand-name software licenses, software assurance, and cloud offerings to the Department of the Navy (DON). The products will meet the following functional capabilities desktop software solutions, operating systems, server software, desktop sharing, virtualization, client access licenses, developer tools, management tools, mobility, utility, and software assurance. This BPA is issued under DON Enterprise Software Licensing (ESL) and the policy and guidelines established under the Department of Defense Enterprise Software Initiative (DoD ESI) in accordance with the Defense Federal Acquisition Regulation Supplement Section 208.74. DoD ESI streamlines the software licensing acquisition process and provides information technology products and selected services that are compliant with applicable DON technical standards. Under ESL, the DON leverages its aggregate buying power to establish enterprise agreements with information technology (IT) manufacturers and resellers for high demand, commercial off-the-shelf IT products and services. The ordering period will be for three years, from May 2018, through May 2021. No funds will be obligated at the time of award. Funds will be obligated as task orders are issued using primarily operations and maintenance (Navy) funds. This contract was competitively procured via publication on the GSA E-Buy web site with 895 vendors solicited, four offers received, and one selected for award. Space and Naval Warfare Systems Center Pacific, San Diego, California, is the contracting activity (N66001-18-A-0006).