Getting to Know NAVAIR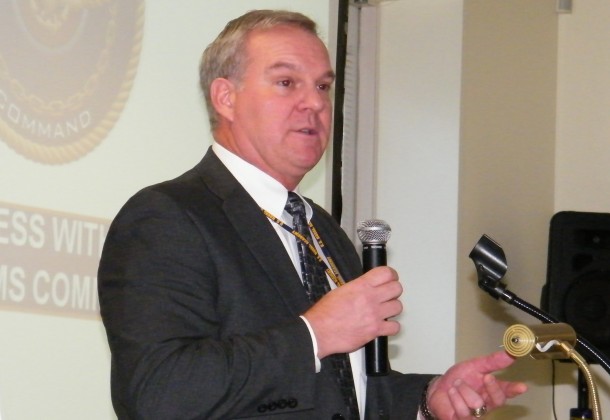 By Jay Friess
Editor
The Naval Air Systems Command says come on in; the water is fine. Mind the sharp rocks, though.
While there is a lot of work being issued out of NAVAIR headquarters at Naval Air Station Patuxent River for small businesses these days, the process for becoming a Navy contractor is one of painstaking detail and complexity. It helps to have a little guidance.
So NAVAIR partnered with the St. Mary's County Department of Economic and Community Development to host a Simplified Acquisition Small Business Conference at the Southern Maryland Higher Education Center in California Wednesday.
According to Ken Carkhuff, small business deputy for the Naval Air Warfare Center Aircraft Division, the military was spurred by the Pentagon this summer to redouble its efforts in reaching out to small businesses and increasing competition in the military marketplace. NAVAIR has formed an Executive Small Business Council, headed by Vice Adm. David Architzel.
Carkhuff said NAVAIR reserves all contracts valued under $150,000 for small businesses. NAVAIR issued $1.71 billion in small business contracts in fiscal year 2011, $440 million of which came out of Pax River. Carkhuff showed a chart that indicated that service disabled-owned businesses rose from .96 percent of NAVAIR contracts in FY2006 to 10.97 percent so far in FY2012. Those numbers to not include NAVAIR's internal headquarters contracts or the Joint Strike Fighter program.
Carkhuff encouraged small businesses to contact his office and get registered. "Help us help yourself," he said.
Tracy Medford, head of contracts for Pax River, said her small, rapid acquisition contracts are most frequently for electronics, software and training procurement. "We are constantly looking for opportunities to expand competition," she said.
Randy Morris, who handles simplified acquisitions for Webster Outlying Field in St. Inigoes, had a similar list, which also included computer furniture, cables, racks and antennae. He said the base issued 302 contracts in FY2011, totaling $10.5 million.
NAVAIR was not the only Navy command represented Wednesday. Officials from the Naval Supply Systems Command, the Naval Facilities Engineering Command and the Office of Naval Research also encouraged small businesses to consider working with the Navy's supply, construction and scientific arms.
The conference also included a panel of representatives from local big businesses, who talked about how to get started in the world of subcontracting.
"We are big," said Tom Garrison, operations director for BAE Systems in Southern Maryland. Garrison said BAE locally employs 1,600 people with $300 million in annual sales. "We're aligned with the NAVAIR need. We're looking for complimentary skills."
Kim Austin of Wyle Aerospace said, "When a [Request for Proposal] hits the street, we're looking for small businesses that can fill that statement of work." Austin said that Wyle does not necessarily require demonstrated past performance from subcontractors, so long as they have a strong capabilities statement.
Rick Schutz, attorney for Smartronix, said his company grew up locally and now makes $120 million in annual sales. The company now issues 1,500 to 1,800 subcontracts, totalling $150,000, each year.
"We still remember what it's like to be a small business," Schutz said. "We do take small businesses under our wing. We try to help them."
Bob Schaller, economic development director for St. Mary's County, advised the small businesses in the audience to partner with a larger company to learn the business. Using the metaphor of Navy contacting as a dance, he said, "You can't dance alone into that gate. They'll catch you, and they'll send you home."