NASA InSight Set for Mars Landing Monday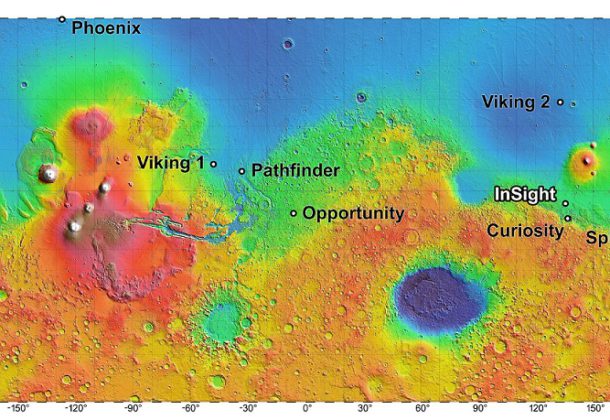 Morning Coffee is a robust blend of links to news around the internet concerning the Naval Air Station Patuxent River 

economic community. The opinions expressed here do not reflect opinions of the Leader's owners or staff.
NASA's InSight lander is set to complete its six-month journey to Mars at 3 pm today, Nov. 26, reports Business Insider, then begin the first mission to study the deep interior of the red planet. Watch the landing live starting at about 2 pm here. Since departing Earth in May, InSight has been shadowed by WALL-E and EVE, the first CubeSats to venture into deep space, reports The Washington Post.
A major scientific report mandated by Congress was issued by 13 federal agencies Friday. The report is notable not only for the precision of its calculations and bluntness of its conclusions, but also because its findings are directly at odds with President Trump's agenda of environmental deregulation, which he asserts will spur economic growth, reports The New York Times. Environmental groups and activists criticized the White House, saying it was trying to bury the report by releasing it on Black Friday, the day after Thanksgiving, reports CBS News.
The 388th and 419th fighter wings at Hill Air Force Base in Utah staged the F-35A's first "Elephant Walk" last week before launching the largest F-35 formation ever, reports Business Insider.
Unmanned aerial vehicles will be the most dynamic growth sector of the world aerospace industry this decade, more than tripling in the next decade, report Teal analysts in their latest market analysis, reports PRNewswire.
President Donald Trump is expected to sign an executive order that will officially authorize the transfer of the governmentwide security clearance program from the Office of Personnel Management and the National Background Investigations Bureau to the Pentagon, reports Federal News Network.
The Trump administration filed a petition to the Supreme Court asking it to take up the president's transgender military ban, an issue currently being debated in three lower courts, reports The Hill, in order to have the case decided quicker.
NATO says the Russians attempted to disrupt GPS signals during this month's Trident Juncture exercise in Norway, reports Breaking Defense. The drill — which boasted 40,000 troops from all 29 NATO members, along with 70 ships, 150 aircraft, and 10,000 ground vehicles moving around Norway — was the alliance's largest post-Cold War exercise.
A DoD inspector general's report, covering July to September 2018, noted a decrease in total enemy attacks in Afghanistan, but an increase in suicide attacks and civilian casualties, reports Military Times. At the same time, the US Air Force is flying more than double the sorties and dropping five times as much ordnance than it was in mid-2017, according to the report.
Cubic has awarded the first contract related to equipping 500 Lockheed Martin F-35 Lightning IIs with its P5 Combat Training System, or P5CTS, reports IHS Jane's 360.
The US Navy has ordered identification friend or foe, or IFF, avionics for P-8A Poseidon maritime patrol planes, reports Military & Aerospace Electronics.
Ray Chavez, the nation's oldest surviving veteran of the attack on Pearl Harbor, died last week at 106, reports The San Diego Union-Tribune. At its peak, the Pearl Harbor Survivors Association had 58,000 members. Today, there are fewer than 200.
Contracts:
Stratascor LLC, Virginia Beach, Virginia, is awarded a $210,000,000 indefinite-delivery/indefinite-quantity, fixed-price contract for command, control, communications, and computer system afloat operations and sustainment support for capabilities aboard the Military Sealift Command (MSC) fleet of ships, and the MSC network operations centers. This contract includes a five-year ordering period. Work will be performed in Norfolk, Virginia, and is scheduled to commence Jan. 1, 2018, and is expected to be completed Dec. 31, 2023. Navy working capital funds and US Transportation Command working capital funds in the amount of $500,000 will be obligated at the time of award. Funds will not expire at the end of the current fiscal year. This contract was competitively procured, with proposals solicited via the Federal Business Opportunities website, with five offers received. The Navy's Military Sealift Command, Norfolk, Virginia, is the contracting activity (N3220519D1000).
Thales Defense and Security Inc., Clarksburg, Maryland, is awarded a not-to-exceed $13,999,410 for undefinitized contract action delivery order N00383-19-F-AQ00 under previously awarded basic ordering agreement N00383-17-G-AQ01 for repair of 58 dome sonars in support of the H-60 airborne low frequency sonar system. Work will be performed in Clarksburg, Maryland (50 percent); and Brest, France (50 percent). Work is expected to be completed by November 2020. Working capital funds (Navy) in the amount of $10,499,557 will be obligated at the time of award and funds will not expire at the end of the current fiscal year. One firm was solicited for this non-competitive requirement under authority 10 US Code 2304 (c)(1), with one offer received. Naval Supply Systems Command Weapon Systems Support, Philadelphia, Pennsylvania, is the contracting activity.
PAE Applied Technologies LLC, Arlington, Virginia, is awarded a $12,473,525 cost modification to previously awarded contract N66604-05-C-1277 for Hurricane Matthew repairs to the Atlantic Undersea Test and Evaluation Center (AUTEC). AUTEC is the Navy's large-area, deep-water, undersea test and evaluation range. Underwater research, testing and evaluation of anti-submarine weapons, sonar tracking and communications are the predominant activities conducted at AUTEC. This modification increases the total value of the contract to $800,549,247. Work will be performed on Andros Island, Commonwealth of the Bahamas, and is expected to be completed by September 2019. No funding will be obligated at time of award, as work has been incrementally funded with fiscal 2017 research, development, test and evaluation (Navy) funding. The Naval Undersea Warfare Center Division Newport, Newport, Rhode Island, is the contracting activity.
AMG JV, Leesburg, Virginia, was awarded a $9,820,000 firm-fixed-price contract for renovation of an administration building. Bids were solicited via the internet with nine received. Work will be performed in Arlington, Virginia, with an estimated completion date of Aug. 12, 2020. Fiscal 2019 operations and maintenance (Army) funds in the amount of $9,820,000 were obligated at the time of the award. US Army Corps of Engineers, Norfolk, Virginia, is the contracting activity (W91236-19-C-0005).