Morning Coffee: Nuclear Cheating Expands to Navy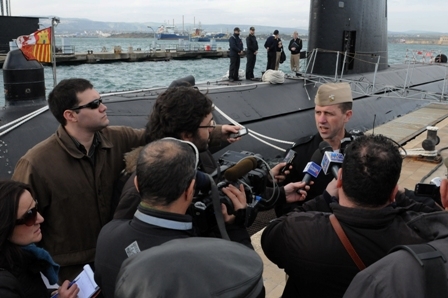 Morning Coffee is a robust blend of links to news around the internet concerning the Naval Air Station Patuxent River economic community. The opinions expressed here do not necessarily reflect those of the Leader's owners or staff.
Nuclear cheating scandal expands beyond the Air Force into the Navy, reports DefenseOne. Adm. John Richardson, director of the Naval Nuclear Propulsion Program, said of 16,000 sailors in the program less than 1 percent are involved in the cheating scandal.
Director of National Intelligence paints a bleak portrait of growing security  threats worldwide and exposure to terrorist threats as the  result of the Edward Snowden leaks. James Clapper told a House committee Monday, "The intelligence community is going to have less capacity to protect our nation and its allies than we've had," reports Defense.Gov. From the same hearing CNN Security Clearance reports, US suspicions of Mr. Snowden speaking to Russia. intelligence sources was considered likely by Mr. Clapper and led to further committee discussion about Russian global influence. Only 10 percent of the data leaked had to do with domestic programs, reports The Hill.
Last week Mr. Clapper spoke to Senators, reports Defense One, and provides a global map of the hot spots of most concern.
He's a private person, but Intercepts offers a few insights about VADM Michael Rogers, the man tapped to take charge at the National Security Agency (NSA) and US Cyber Command (CYBERCOM). "He rarely talks to reporters, gives speeches, or otherwise postures in public," says writer Zachary Fryer-Biggs.
Russia's Deputy Foreign Minister Mikhail Bogdanov told Russian state-run news agency Ria Novosti that a large shipment of toxic agents would leave Syria this month, reports CNN. March 1 is the  Organisation for the Prohibition of Chemical Weapons deadline for the chemicals to be out of Syria and March 31 the deadline for them to be destroyed at sea. The current pace is not on target to meet those deadlines.
The cyber money is in Washington DC right now, reports Defense Tech. DoD will spend $4.7 billion on cyber operations in 2014, a 21 percent increase from 2013. About $80 billion from the government and more than $300 billion from the public sector is spent on the cybersecurity industry. Entrepreneurs are finding economic development partnerships and investors interested in helping start-ups break into the field.
Japan's Ministry of Defense "does know and can't say" what their future fighter jet purchases will or won't be, defense analyst Shinichi Kiyotani confirmed to Defense News. The growing vagueness out of the MoD surrounds the details of Japan's F-35 purchases as well as other replacement jet fighter decisions.
A Senate bill to reinstate the $6 billion military pension cut was slated to be marked up in the Senate Armed Services Committee this week but the date has slipped to next Monday, reports The Hill. More than a dozen bills have attempted to repeal the cut, but none have been able to identify an offset which is needed for bipartisan support. Nor does this one.
No decision yet on how many troops will remain in Afghanistan out of a meeting Tuesday of President Obama,the US commander in Afghanistan Gen. Joseph Dunford, Defense Secretary Chuck Hagel, Joint Chiefs Chairman Martin Dempsey, Vice Chairman James Winnefeld, Gen. Lloyd Austin and Admiral William McRaven. Gen. Dunford was expected to add his support to other military leaders to keep more troops in Afghanistan past the end of 2014 than the White House has proposed.
The UK is fighting a UAV perception battle at home "blighted" by the perception of the US UAV srikes in Pakistan. A world of shrinking budgets leading to a world of shrinking UAVs? Aviation Week reports on both. (Paywall)