NAWCAD Honors KMAX Team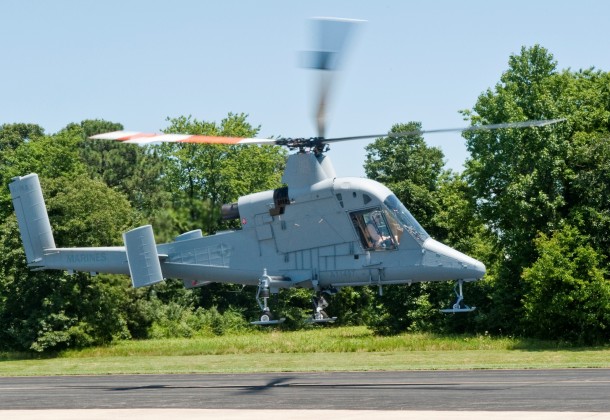 Pax River's naval aviation community is hailing its newest group of pioneers.
In December, NAWCAD recognized the Cargo Resupply Unmanned Aerial System (CRUAS) team with its Commander's Innovation Award for developing a fast-track contracting and technical strategy, allowing the Navy and Marine Corps to deploy the first Unmanned Vertical Lift Cargo UAS.
Eric Pratson, CRUAS integrated product team lead, said the entire group helped shape the program's success.
"Every single person [who was] asked to contribute to this program tackled tough problems and carried the ball farther along," Pratson said. "Collectively, we make each other better."
Pratson, along with Rob Bain, logistics lead; Donna Brown, test and evaluation (T &E) lead; and engineering co-leads Marc Richman and Greg Makrakis, guided the team since the program's inception in 2009.
An F-14 Radar Intercept officer in the 1980s and 1990s, Pratson worked for a manufacturing firm before coming to Pax River in 2005. His experiences in industry and carrier aviation helped him and the cargo team better appreciate the needs for both the warfighter and suppliers.
After attending a January 2009 meeting at the Marine Corps Warfighting Laboratory in Quantico, Va., Pratson helped the lab on an experiment designed to prove the viability of a Cargo UAS. Once the demonstration showed transporting slung-load cargo from an unmanned helicopter was possible, the IPT began developing a contract strategy to answer a Marine Corps "urgent need" requesting a Cargo UAS, Pratson said.
Pratson's desire for the program's success was inspired by his son, John, a Marine, scheduled to receive his commission as an officer in May.
"I hope capabilities like Cargo UAS will be of value to John and his Marine brothers and sisters," Pratson said.
Like Pratson, Brown also worked for private industry on major development programs. Interested in learning more about the other side of the acquisition process, she accepted a government position at NAVAIR. Her first assignment was with the Cargo UAS program as the T&E assistant program manager.
Brown has a 30-year career in flight testing, working with various military aircraft, such as the F/A-18A/B, AV-8B, F-15, F/A-18E/F and the P-8A, which helped in her current job with the Cargo UAS program.
As the test and evaluation lead, Brown was initially responsible for developing the streamlined processes needed to support the test program, while satisfying the intent and rigor of established NAVAIR policies. She collaborated closely with the competencies to develop tailored processes in deficiency management and final reporting, which do not exist for a Rapid Development Capability (RDC) program.
"I liked being a part of a close-knit team, each with our own field of expertise and experience, working together toward a common goal and succeeding," Brown said. "Each member pulled his/her own weight, but we were always there for each other to help when the pressure was on. "[I'm] extremely honored "¦ to be a part of this high-performing team, and [being] recognized for this award is just beyond my imagination."
Logistics Lead Bain said that the team overcame tremendous obstacles to get the capability into theater.
"In the 10 months from contract award to deployment, engineering, testing and logistics, considerations had to be understood in order to remove anything that was not germane to the specific mission requirements," said Bain, who ensured the facilities plan was workable, fully funded and correctly contracted. "This, in turn, needed to be contracted in such a way to allow an abbreviated acquisition processes to be translated to the two contractors where one was ultimately successful."
When presented the opportunity to work on a fast-paced program with the potential to get the Cargo UAS capability to the fleet in less than one year, Makrakis said he eagerly lent his expertise. He has held several systems engineering, program management, test and evaluation, and supervisory positions within NAVAIR manned and unmanned aircraft programs for 28 years.
Makrakis' background in acquisition and program-management disciplines helped him manage the technical project, adding to the success of the program and the team's win.
"It is an honor to be recognized for any award that takes advantage of acquisition reform initiatives, and most of all what this capability offers to the Marines that put their lives on the line for us every day to keep us and our families safe back in the states," said Makrakis, the chief engineer and class desk systems engineering for Medium Range Unmanned Aerial System program.
"If you ever get a chance to work on a program that is responding to an urgent operational need or to work a program for the Marines, take it!" Makrakis said. "You will be glad you did."
Source: PEO(U&W) Public Affairs