New Budget Spares Navy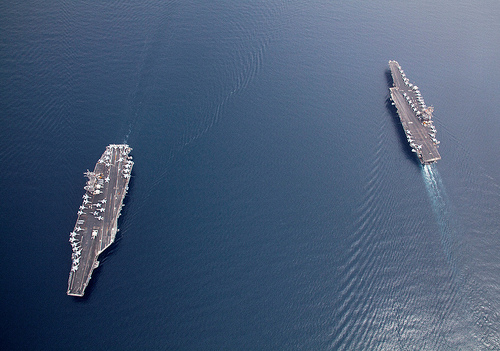 Welcome to Morning Coffee, a robust blend of links to news around the Internet concerning Naval Air Station Patuxent River, NAVAIR, the Pentagon and beyond. The Leader provides this link feature as a survey of the news and announcements affecting the local military economy. The opinions expressed here do not necessarily reflect those of the Leader's owners or staff.
It was "Judgement Day" in Arlington as the Department of Defense released a preview of its FY2013 budget, the first to reflect nearly a half trillion dollars in cuts over the next decade. Defense Tech has the raw documents. Aviation Week does a quick rundown of the new budget numbers. The Hill predicts the five fights that are brewing over the budget on Capitol Hill. Defense News notes that the Navy was largely spared from major cuts. House Armed Services Committee chairman Mac Thornberry dismisses talk of new BRAC rounds, DoD Buzz reports. Navy Times notes that lower military pay raises will kick in around 2015.
U.K. considers buying other planes while waiting for the F-35C, Aviation Week reports. The Star-Telegram reports that Lockheed's profits fell 40 percent in fourth quarter.
The Air Force cancellation of its older Global Hawk program shows that drone programs don't always win, CNN notes. However, Wired declares that humans lose and robots win in new defense budget. The L.A. Times raises the question of who is held accountable for the autonomous actions of the X-47B.
The Russian military continues to rearm, Aviation Week reports.
The Tester starts a new military spouse column.