Hypoxia Incidents Under Review by F-35 Team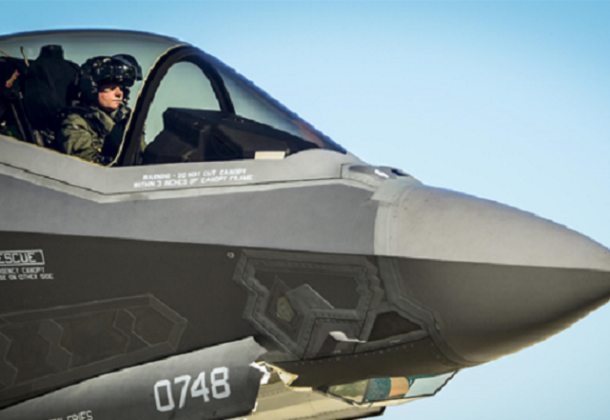 Morning Coffee is a robust blend of links to news around the Internet concerning the Naval Air Station Patuxent River

economic community. The opinions expressed here do not reflect opinions of the Leader's owners or staff.
The F-35 Joint Program Office is conducting a review of the apparent hypoxia incidents that recently occurred with pilots at Luke Air Force Base, Breaking Defense reports. "Air Force senior leaders are aware of the incidents and are providing support and resources as necessary to protect pilots," AF Capt. Mark Graff said. "The JPO's experts will share whatever information they glean across the F-35 enterprise and with partner nations."
New information was revealed last week on Lockheed Martin's hypersonic technologies. The SR-72, a strike and reconnaissance aircraft, was discussed as the successor to the SR-71 Blackbird reconnaissance aircraft. Futurism reports the SR-72 tops Mach 6 is in development within the company's advanced aircraft-development division.
Officials at United Launch Alliance said the company was not given an opportunity to bid against SpaceX for the upcoming launch of the US Air Force's miniature X-37B space plane, reports Reuters. ULA is a partnership of Lockheed Martin and Boeing.
The E-2C Hawkeyes have left the Naval Air Facility in Atsugi, Japan, and returned to the US, Navy Times reports. The "Liberty Bells" of VAW-115 have accumulated 24 consecutive years and 50,000 hours without a single mishap. Responsibility will be handed over to VAW-125 and the E-2D Advanced Hawkeye.
Defense News reports the US is supporting the Philippine military with manned and unmanned aircraft in its fight to regain control of the southern city of Marawi that has been taken over by militants linked to the Islamic State. However, Philippine President Rodrigo Duterte said he did not seek support from the US to end the siege a day after the US said it was providing assistance at the request of the government, reports Reuters.
US leaders are increasingly worried that China is gaining influence over traditional American allies, as the rising Communist power charts a more aggressive foreign policy course, Washington Examiner reports.
A recent poll reveals the US Air Force was said to be the most important military, and that the Air Force is also the most recommended branch to join, Air Force Times reports. According to the Gallup poll, 64 percent of Americans would recommend their children or grandchildren join the Air Force, while the Navy falls slightly behind with 53 percent of Americans recommending that branch.
Consumer Reports recently conducted a survey of shoppers, and military commissaries ranked among the top 10 grocery stores, Military Times reports. The ratings were based on 50,218 responses from Consumer Reports subscribers nationwide, stemming from 93,447 shopping trips to various supermarkets, supercenters, and warehouses between July 2015 and September 2016, according to the magazine.
Military Times reports all honorably discharged veterans interested in shopping online at the military exchanges can begin their verification process now, and some may be able to shop prior to the program's full launch in November. Some vets who register here might be invited to be beta testers.
A change of command ceremony was held last month for the Air Combat Electronics Program Office at NAS Pax River. Navy Capt. Christopher McDowell, the former deputy program manager for PMA-209, assumed the role of program manager, The Tester reports.
GeekWire is featuring video of how Boeing builds the 737 commercial jetliner — two planes a day are produced at a Boeing factory near Seattle. Each plane has 300,000 rivets, 42 miles of wire, and more than 600,000 parts.
Contracts:
Spalding Consulting Inc., Lexington Park, Maryland, is being awarded a $59,332,822 cost-plus-fixed-fee, cost-reimbursable contract for services in support of the Naval Air Warfare Center Aircraft Division's Ship and Air Integrated Warfare Division. Services to be provided include technical, systems engineering, project management, organizational management, administrative and acquisition support. Work will be performed in St. Inigoes, Maryland. The ordering period is expected to be completed in September 2022. No funds are being obligated; funds will be obligated on individual orders as they are issued. This contract was competitively procured via an electronic request for proposals; two offers were received. The Naval Air Warfare Center Aircraft Division, Patuxent River, Maryland, is the contracting activity (N00421-17-D-0035).
Lockheed Martin Missiles and Fire Control, Grand Prairie, Texas, has been awarded a $108,322,712 single award, fixed-price-incentive-firm and firm-fixed-price contract for Advanced Radar Threat System Variant 2 (ARTS-V2). Contractor will provide the development and test of an ARTS-V2 production representative article and options to produce up to 20 systems. Work will be performed at Grand Prairie, Texas; Syracuse, New York; Orlando, Florida; Palmdale, California; Colorado Springs, Colorado; Newark, California; Northridge, California; Batavia, Ohio; Clintonville, Wisconsin; Huntsville, Alabama; Austin, Texas; San Luis, California; Atlanta, Georgia; Middletown, Rhode Island; Virginia Beach, Virginia; Scottsdale, Arizona; and Tallman, New York. Work is expected to be complete by June 30, 2027. This award is the result of a competitive acquisition with two offers received. Fiscal 2017 research, development, test, and evaluation funds in the amount of $24,700,000 are being obligated at the time of award. Air Force Life Cycle Management Center, Hill Air Force Base, Utah, is the contracting activity (FA8210-17-C-0001).
Electric Boat Corp., Groton, Connecticut, is being awarded a $25,100,000 cost-plus-fixed-fee modification to a previously awarded contract (N00024-17-C-2100) for additional Long Lead Time Material (LLTM) associated with fiscal 2019 Virginia Class Submarine (SSNs 802 and 803). This contract provides LLTM for steam and electric plant components, the main propulsion unit efforts and ship service turbine generator efforts, and miscellaneous hull, mechanical and electrical system components. Work will be performed in in Coatesville, Pennsylvania (19 percent); Spring Grove, Illinois (15 percent); Windsor Locks, Connecticut (15 percent); Bethlehem, Pennsylvania (9 percent); Manchester, New Hampshire (6 percent); Jacksonville, Florida (6 percent); Groton, Connecticut/Quonset Point, Rhode Island (5 percent); Manassas, Virginia (3 percent); Monroe, North Carolina (3 percent); Newport News, Virginia (2 percent); South Windham, Connecticut (2 percent); and other efforts performed at various sites in the US (15 percent) and is expected to be completed by January 2018. Fiscal 2017 shipbuilding and conversion (Navy) funding in the amount of $25,100,000 will be obligated at time of award and will not expire at the end of the current fiscal year. The Naval Sea Systems Command, Washington, District of Columbia, is the contracting activity.
Chimera Enterprises International Inc., Edgewood, Maryland, was awarded a cost-plus-fixed-fee, single award, indefinite-delivery/indefinite-quantity contract (HDTRA117D0002) with a five-year ordering period and a contract maximum of $45,000,000 for advisory and assistance services (A&AS). This contract provides non-personal services and technical support services to the Defense Threat Reduction Agency (DTRA) Operations, Readiness, and Exercises Directorate. The overall tasks include supporting researching, planning, designing, developing, implementing, integrating, applying, and developing transitioning capabilities dealing with weapons of mass destruction  to DTRA and its customers. Work will be performed at DTRA Headquarters (DTRA-HQ), Fort Belvoir, Virginia, with an expected completion date of June 11, 2022. Task Order 0001 (full task order number to be determined after contract award, on the same day) will be issued on or around June 12, 2017 for A&AS for the operations, readiness, and exercises; building partnerships; Chemical, Biological, Radiological and Nuclear (CBRN) Preparedness Program; and the CBRN Military Advisory Teams  Support. Fiscal 2017 operations and maintenance funds in the amount of $1,824,196 are being obligated on task order 0001 at time of award.  This task order will be incrementally funded.  This contract was a competed as a total small business set-aside acquisition and six offers were received.  DTRA-HQ, Fort Belvoir, Virginia, is the contracting activity.