Google Buys DARPA's Favorite Robotics Lab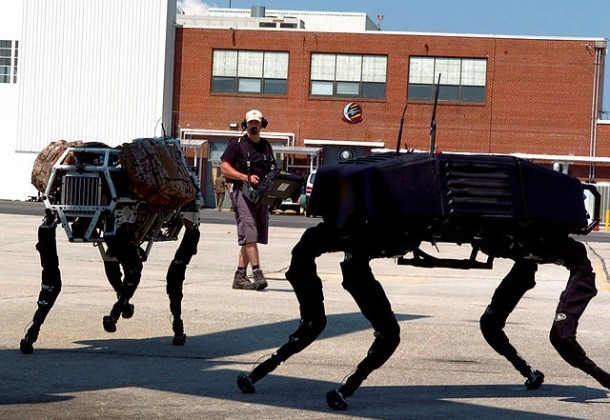 Morning Coffee is a robust blend of links to news around the internet concerning the Naval Air Station Patuxent River economic community. The opinions expressed here do not necessarily reflect those of the Leader's owners or staff.

Google buys the Pentagon's favorite robotics lab, Boston Dynamics, reports Defense Tech, and assured the government the company will honor its contracts with DARPA, the Pentagon's Defense Advanced Research Projects Agency. This is the eighth robotics firm Google has purchased in the past six months, reports Defense Update. Google has indicated it will not seek additional military work after completing current contracts.
A rebuke followed a ruling by a federal judge that NSA's domestic phone data-mining is unconstitutional, reports CNN Security Clearance, but no restraints will be imposed in anticipation of a government appeal. The data-mining violates privacy rights said U.S. District Judge Richard Leon. Edward Snowden, whose disclosure of classified NSA data revealed the practice, released a statement saying he knew the NSA's data gathering would not stand up to open, judicial review.
Lockheed officials say they and their supplies are looking at all alternatives to reduce the per-unit price of their F-35s, but there is yet no need to use company money to forward fund the production line. Plans for production momentum to cut the per-unit cost  were dashed by 2010. After four flat production years Lockheed Martin today faces an Air Force considering cutting its order by 24 aircraft and the "Navy looking at far more drastic scenarios," says Aviation Week.
Russia is on track to invest 4.5 trillion rubles ($136 billion) over 10 years to update its aerospace defense, including acquisition of a fighter jet to rival the F-35, reports Aviation Week. This initial investment in its air force represents about a quarter of the total projected to accomplish the modernization plan for its Soviet-era weaponry. Analysts suggest the plan is over-ambitious at that spending projection.
Lockheed will create 1,000 new jobs in the UK within its aerospace and divisions, reports Scotsman. The plans follow a newly won IT contract with the UK's air traffic control service coupled with the company's recent acquisition of Scottish firm Amor which provides IT services to energy, transportation and public service.
European aerospace and defense giant EADS is restructuring, cutting 5,800 positions by 2016 to adjust to projected revenues, reports Aviation Week. CEO of the defense and space division, Bernhard Gerwert, said the company must take the same steps as US competitors in anticipation of a long-term drop in demand by European governments.
More than two decades and a trip to the Supreme Court later, the Navy is to get its refund on the over-budget A-12 stealth aircraft manufactured in 1991 by McDonnell Douglas, since then purchased by Boeing. Then-SecDef Dick Cheney canceled the program when the $2 billion price tag skyrocketed to $5 billion, reports NextGov. If the 2014 National Defense Authorization Act passes the Senate it will allocate $198 million in credits from General Dynamics for structural work and an aft missile launching system on the second Zumwalt class destroyer and $198 million credit from Boeing for three EA-18G Growlers.
Defense One reports that the cuts to military retiree benefits in the House-passed budget bill do not break faith with the military and disputes other criticisms the Military Officers Association of America has leveled at the plan.
Similar to finds in the private sectors, an Equal Employment Opportunity Commission report finds gender disparities in federal employment are partially tied to fewer females earning degrees in STEM fields, says NextGov. Women employed by the federal government hold 31 percent of IT positions, 28 percent of the physical science positions and 15 percent of the engineering and architecture positions.
The Navy Yard will get a new visitor's entrance and a renovated interior, including a "remembrance area" honoring the 12 victims of a gunman's attack Sept. 16. Building 197 will remain the headquarters for Naval Sea Systems Command, where most victims worked, reports The Navy Times. A Navy spokeswoman said the renovation will give the nearly 3,000 workers "a sense of a different place" when they return to the red brick structure in early 2015.