For Today's Eclipse, All Eyes on the Sky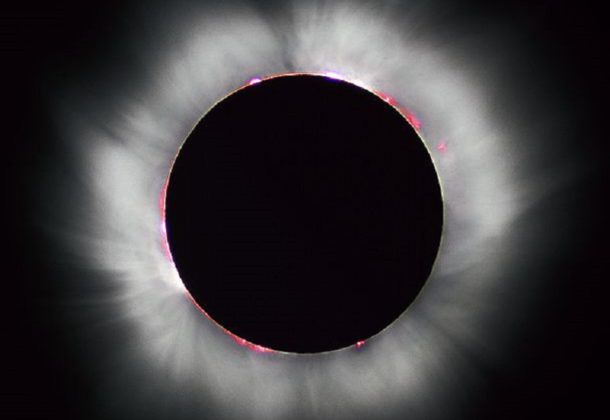 Morning Coffee is a robust blend of links to news around the Internet concerning the Naval Air Station Patuxent River

economic community. The opinions expressed here do not reflect opinions of the Leader's owners or staff.
Today, Monday, Aug. 21, 2017, North America will be treated to a total eclipse of the sun. If you're in the path of totality — stretching from Oregon to South Carolina — you can see one of nature's most awe inspiring sights, reports space.com, the first time since 1979. Observers outside this path in Southern Maryland will still see a partial solar eclipse. Nevertheless, there will be plenty to see. Why is this such a big deal? Science News will tell you. And NASA offers viewing safety tips.
The Air Force's F-35A Lightning II completed the first operational weapons evaluation, Airforce Technology reports. Airmen from the 388th and 419th Fighter Wings supported and flew the aircraft during the week long evaluation exercise. Combat Hammer is one phase of the Weapons System Evaluation Program, and it tests the performance of crews, pilots, and their technology while deploying air-to-ground, precision-guided munitions, reports combataircraft.net.
There are plans to station dozens of F-35 squadrons in the Pacific region, Popular Mechanics reports. Marine Fighter Attack Squadron 121 was the first squadron of F-35s sent. They are currently deployed to Japan. Dozens more are set to follow. The Air Force is preparing to station the F-35As of the 34th Fighter Squadron out of Hill AFB, Utah, in the Pacific theater in the coming months.
South China Morning Post reports China has shifted the focus of its naval exercises from the South China Sea to the Yellow Sea amid tensions over the nuclear crisis on the Korean peninsula.
There was good news from the Congressional Budget Office last week, reports Federal News Radio, when it announced there will be no sequestration-triggered furloughs this year.
The University of Michigan School of Engineering will build a facility to test cutting-edge autonomous aerial vehicles, or drones, edscoop.com reports, following in the footsteps of the University of Maryland's Clark School of Engineering, which opened the UAS Test Site in St. Mary's County in 2014.
The Navy will discipline up to a dozen USS Fitzgerald sailors, including the commanding officer, reports Navy Times, in connection to the destroyer's fatal collision with a commercial ship in June that led to the drownings of seven sailors. "Serious mistakes were made by members of the crew," CNN reports.
President Trump has signed a new law that will bring significant changes to education benefits for service members, veterans, and their families, reports Army Times.
Precise Systems, a Service-Disabled Veteran-Owned Small Business, has been ranked 4,447th on Inc. magazine's Top 5000 of the nation's fastest-growing private companies. The Lexington Park, MD, company made the announcement last week in a news release. "The list represents a unique look at the most successful companies within the American economy's most dynamic segment — its independent small and mid-sized businesses," the release states.
The Navy partnered with the Maryland Department of Natural Resources and St. Mary's County and contributed approximately $384,000 to a $1.8 million deal to acquire 163 acres on the Patuxent River for a public park, somd.com reports. The Navy's funding came from DoD's Readiness and Environmental Protection Integration program.
Amy Trahan is the new NAS Pax River's Fleet and Family Support Center's work and family life consultant, reports The Tester. Her responsibilities include the Family Employment Readiness Program, ombudsman coordinator, and the deployment programs manager.
Contracts:
Bell Boeing Joint Program Office, California, Maryland, is being awarded $31,980,025 for delivery order 7014 under a previously awarded indefinite-delivery/indefinite-quantity basic contract (N00383-16-D-951N) for repair of various parts on the V-22 aircraft. Work will be performed in Fort Worth, Texas (80 percent); and Ridley Park, Pennsylvania (20 percent). Work is expected to be completed by December 2018. Fiscal 2017 working capital funds (Navy) in the amount of $31,980,025 will be obligated to fund the delivery order and funds will not expire at the end of the current fiscal year. One company was solicited for this non-competitive requirement in accordance with 10 US Code 2304(c)(1) and one offer was received. Naval Supply Systems Command Weapons Systems Support, Philadelphia, Pennsylvania, is the contracting activity.
Blacksky Geospatial Solutions Inc., Herndon, Virginia, has been awarded a $16,430,993 cost-plus-fixed-fee completion contract for software, technical reports, and a demonstration model.  This contract is to design, develop, and evaluate a geospatial intelligence broker development platform feasibility demonstration model that contains components, modules, or services of this model in a cloud environment. Work will be performed in Herndon, Virginia, and is expected to be completed by Aug. 16, 2019. This award is the result of a competitive acquisition and two offers were received. Air Force Research Laboratory, Rome, New York, is the contracting activity (FA8750-17-C-0128). 
CACI-INC, Chantilly, Virginia, has been awarded a $14,940,526 face value contract for the modification and configuration on new commercial software for NexGen requirements. Fiscal 2017 operations and maintenance funds in the amount of $7,654,981 will be obligated at time of award. Work will be performed in Panama City, Florida; Beavercreek, Ohio; San Antonio, Texas; Niceville, Florida; Raleigh, North Carolina; Palm City, Florida; Fair Haven, New Jersey; and is expected to be completed March 12, 2019. Air Force Life Cycle Management Center, Maxwell Air Force Base, Gunter Annex, Montgomery, Alabama, is the contracting activity (FA8771-17-F-0024).  (Awarded Aug. 16, 2017)
Science Applications International Corp., McLean, Virginia, was awarded a $7,638,798 modification (000277) to contract W31P4Q-15-A-0024 for engineering and test support of enhancing counter-rockets, artillery, and mortars and forward area air defense capabilities. Work will be performed in McLean, Virginia, with an estimated completion date of July 9, 2018. Fiscal 2017 operations and maintenance (Army) funds in the amount of $7,638,798 were obligated at the time of the award. US Army Contracting Command, Redstone Arsenal, Alabama, is the contracting activity.
National Optronics, Charlottesville, Virginia, has been awarded a maximum $7,000,000 fixed-price with economic-price-adjustment, indefinite-delivery/indefinite-quantity contract for hospital equipment and accessories for the Defense Logistics Agency electronic catalog. This is a five-year contract with no option periods. This was a competitive acquisition awarded against a standing solicitation (SPE2DH-16-R-0002) with 25 responses received. Four contracts have been awarded to date. Location of performance is Virginia, with an Aug. 14, 2022, performance completion date. Using military services are Army, Navy, Air Force, and Marine Corps. Type of appropriation is fiscal 2017 through 2022 defense working capital funds. The contracting activity is the Defense Logistics Agency Troop Support, Philadelphia, Pennsylvania (SPE2DH-17-D-0023).