F-35A Tests Triple Its Expected Lifetime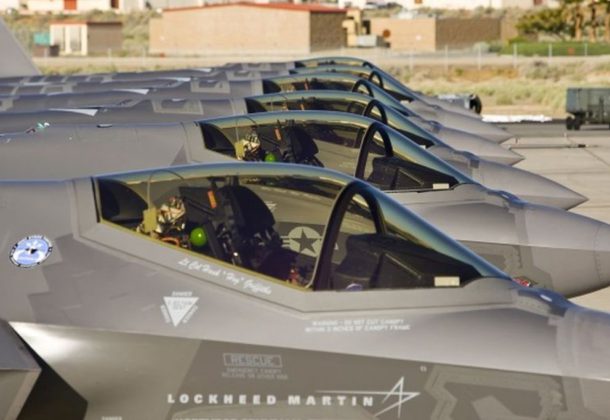 Morning Coffee is a robust blend of links to news around the internet concerning the Naval Air Station Patuxent River 

economic community. The opinions expressed here do not reflect opinions of the Leader's owners or staff.
Early results suggest potential for an increased service life for the F-35, reports Flight Global. Although designed for 8,000h, each test airframe must complete two lifetimes of testing, the equivalent of 16,000h. The F-35A exceeded the requirement by completing three full lifetimes of testing, 24,000h.
The Senate is racing to avoid an Oct. 1 government shutdown, reports The Hill. Senators passed, 93-7, a sweeping $854 billion spending bill with DoD, Health and Human Services, and Labor and Education making up the lion's share. The bill includes a short-term stopgap bill to fund the rest of the government through Dec. 7 and prevent a shutdown that would start Oct. 1.
The Veterans Justice Outreach program will add dozens more specialists into courtrooms nationwide to help veterans facing legal troubles, reports Military Times. The program provides additional rehabilitation and alternative punishment options for veterans who run afoul of the law. Its success resulted in a 20 percent jump in hired specialists since the start of fiscal 2018. With the new law expanding the program, the 350 member staff will grow another 16 percent.
A T-6 Texan trainer from Joint Base San Antonio-Randolph crashed roughly 30 miles from the base, reports Military.com. The crew ejected and is safe with minor injuries. There were no civilian casualties and the extent of damage to property has not been assessed. The crash follows last week's crash of another trainer, a T-38C Talon II, from Sheppard Air Force Base, Texas, which crashed right after takeoff Sept. 11.
A sailor from the Norfolk-based aircraft carrier George H.W. Bush died Monday in a flight deck mishap, reports Navy Times. The accident remains under investigation. The Navy has recorded eight other aviation deaths this fiscal year which began Oct. 1, 2017.
A pain-free trade war with China is nearly impossible, reports The New York Times. American consumers already see price hikes on products the administration hit with tariffs beginning in January, most notably, washing machines. The administration has thus far worked to minimize sticker shock on retail store shelves, but impacted products are expected to experience 10 to 25 percent hikes next year.
A show of force by the US Marine Corps forced Russia to back off threats to conduct operations inside the deconfliction zone in Syria, an area of strategic significance, reports Business Insider. The Marines' life-fire demonstration at the At Tanf garrison was meant to show the US did not need Russia's help eliminating terrorists. US Central Command spokesman Lt. Col. Earl Brown said, "The US does not require any assistance in our efforts to destroy ISIS in the At Tanf deconfliction zone, and we advised the Russians to remain clear."
North Korea said it will permanently abolish its key missile facilities in the presence of foreign experts, reports Reuters, as a gesture by leader Kim Jong Un to revive faltering talks with Washington over his country's nuclear program.
President Donald Trump is considering a permanent military presence in Poland, something the Eastern European country has sought for more than a decade, reports Military Times. Speaking after he met with Polish President Andrzej Duda, Trump said, "Poland is willing to make a very major contribution to the United States to come in and have a presence in Poland. If they're willing to do that, it's something we will certainly talk about."
Playing Where's Waldo with the Harry S. Truman Carrier Strike Group? That's exactly what DefSec Jim Mattis wants America's real and potential enemies to do, too. Where in the 20-million-square nautical miles of ocean the strike group might be remains a mystery.
The Defense Intelligence Agency awards intelligence contracts up to $500 million to eight defense companies and one research organization, reports C4ISR. DIA selected AT&T, Booz Allen Hamilton, Harris Corp., KeyW Corp., Leidos Inc., Lockheed Martin Corp., Macaulay-Brown Inc., Northrop Grumman Corp., and Southwest Research Institute for the procurement program, known as HELIOS. The companies won five-year contracts that include five additional one-year options.
Austal USA and Lockheed Martin won the contract to build the Navy's FY18 batch of Littoral Combat Ships, reports USNI News. The ships will be built in Wisconsin and Alabama.
St. Mary's College of Maryland President Tuajuanda C. Jordan presented the 2018 President's Trailblazer Award to The Patuxent Partnership. "Under the leadership of St. Mary's College alumna Bonnie Green, The Patuxent Partnership is an organization like no other in Southern Maryland," said President Jordan. "Its mission is all about connecting – connecting things, people, and ideas. TPP's support has enabled our physics department to become a national model and enhanced the reach of our Center for the Study of Democracy," reports Inside SMCM.
Contracts:
Culmen International LLC, Alexandria, Virginia (HDTRA1-18-D-0010), is being awarded an indefinite-delivery/indefinite-quantity (IDIQ), single-award services contract with a maximum ceiling of $150,000,000, including the base period and option period, for the Cooperative Threat Reduction (CTR) program. The mission of the CTR Program is to partner with willing countries to reduce threat from weapons of mass destruction and related materials, technologies, facilities, and expertise. The work will be performed at various locations throughout the world. Task Orders issued under the IDIQ may be for a duration of one year past the last ordering date of the contract. Funding will be obligated for each task order and no funding will be obligated on the basic IDIQ contract, which has an estimated completion date of Sept. 17, 2023. This requirement was solicited as a full and open competition on www.fedbizzopps.gov; the contract was competitively procured via solicitation HDTRA1-17-R-0027; the government received two offers. The Defense Threat Reduction Agency, Fort Belvoir, Virginia, is the contracting activity. (Awarded Sept. 18, 2018)
Lockheed Martin Rotary and Mission Systems, Manassas, Virginia, is awarded a $132,267,899 cost-plus-incentive-fee modification to previously awarded contract N00024-09-C-6247 for engineering services to support the AN/BVY-1 Integrated Submarine Imaging System. Work will be performed in Manassas, Virginia (50 percent); Syracuse, New York (25 percent); Virginia Beach, Virginia (15 percent); Northampton, Massachusetts (5 percent); Arlington, Virginia (2 percent); Fairfax, Virginia (2 percent); and Newport, Rhode Island (1 percent), and is expected to be completed by September 2022. Fiscal 2015, 2016, 2017 and 2018 shipbuilding and conversion (Navy); fiscal 2016, 2017 and 2018 other procurement (Navy); and fiscal 2017 research, development, test and evaluation funding in the amount of $11,495,590 will be obligated at time of award, and $189,044 will expire at the end of the current fiscal year. The Naval Sea Systems Command, Washington, District of Columbia, is the contracting activity.
Frontier Technology, Inc., Beavercreek, Ohio, is awarded $32,372,531 for cost-plus-fixed-fee delivery order N6833518F0149 against a previously issued basic ordering agreement (N6833516G0014). This order provides for technical services in support of a Small Business Innovation Research (SBIR) Phase III effort. These services are in support of SBIR Topics N07-010 entitled "Advanced Prognostic and Health Management and Model Based Prognostic Useful Life Remaining Capabilities for Aircraft Tactical Information and Communication Systems"; and N132-096 entitled "Innovative Data Anomaly Detection and Transformation for Analysis Applications." Work will be performed in San Diego, California (50 percent); and Norfolk, Virginia (50 percent), and is expected to be completed in September 2022. Fiscal 2018 operations and maintenance (Navy) funds in the amount of $1,800,000 are being obligated at time of award, all of which will expire at the end of the current fiscal year. The Naval Air Warfare Center Aircraft Division, Lakehurst, New Jersey, is the contracting activity.
Booz Allen Hamilton Inc., McLean, Virginia, is awarded a $29,535,487 indefinite-delivery/indefinite-quantity, cost-plus-fixed-fee, multiple-award contract for engineering services to provide Network Management Reference Implementation Laboratory software research and development, systems engineering, logistics, and test support. Support includes integrated logistics, radar signal processing, radio frequency data acquisition, graphical user interface design, and onsite technical assistance and security. This is one of five multiple award contracts. All awardees will have the opportunity to compete for task orders during the ordering period. This two-year contract includes two, two-year option periods which, if exercised, would bring the potential value of this contract to an estimated $92,230,536. All work will be performed in San Diego, California, and work is expected to be completed Sept.18, 2020. If the two option periods are exercised, the period of performance will extend through Sept. 18, 2024. No funds will be obligated at the time of award. Funds will be obligated as task orders are issued using research, development, test and evaluation (Navy); operations and maintenance (Navy); and other procurement (Navy). This contract was competitively procured via Request for Proposal N66001-17-R-0154 which was published on the Federal Business Opportunities website and the Space and Naval Warfare Systems Command e-Commerce Central website. Five offers were received and five were selected for award. The Space and Naval Warfare Systems Center Pacific, San Diego, California, is the contracting activity (N66001-18-D-0316).
APTIM Federal Services Inc., Alexandria, Virginia, is awarded $15,764,049 for firm-fixed-price task order N6247318F5345 under a previously awarded environmental multiple award contract (N62473-17-D-0006) for Radiological Confirmation Sampling and Survey at Parcels D-2, Utility Corridor (UC)-1, UC-2, and UC-3 at Hunters Point Naval Shipyard. The work to be performed provides data to allow property transfer and support a radiological unrestricted release recommendation for the sanitary sewer and storm drain lines, impacted buildings and impacted former building sites in Parcels D-2, UC-1, UC-2, and UC-3 in accordance with the performance work statement. Work will be performed in San Francisco, California, and is expected to be completed by March 2021. Fiscal 2018 base realignment and closure environmental, (Navy) contract funds in the amount of $15,764,049 are obligated on this award and will not expire at the end of the current fiscal year. Five proposals were received for this task order. The Naval Facilities Engineering Command, Southwest, San Diego, California, is the contracting activity.