CSM Celebrates 58th Spring Commencement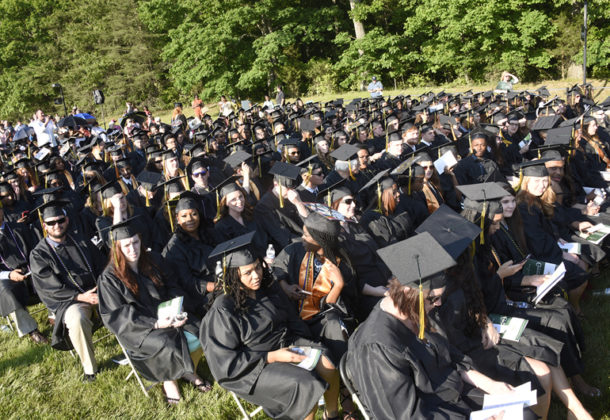 More than 600 candidates for 912 degrees and certificates were celebrated at the College of Southern Maryland's 58th spring commencement May 18, 2017, at the La Plata Campus. Also, for the first time, the college recognized 18 apprenticeship completers who have met all requirements to take their journeyman license exam, including 600 hours of class instruction, and 8,000 hours of on-the-job training during four years.
"We have a lot in common," said CSM President Dr. Brad Gottfried to the soon-to-be graduates. "We're both closing the chapter called 'The CSM Years.'" This was the last CSM graduation to be led by Dr. Gottfried, who will retire June 30 after 11 years at the college's helm. He was also keynote speaker at the event.
The college awarded 642 associate degrees and 270 certificates: 36.9 percent of the students were from Charles County; 30.4 percent from St. Mary's; and 25.1 percent from Calvert; then 7.5 percent from outside Southern Maryland.
The most associate degrees were awarded in the fields of general studies, nursing, arts and sciences, and business administration, while general studies: transfer, accounting basic and advanced, and cybersecurity were the most predominant certificates. Of the graduates, 61.4 percent were women.
The spring commencement was the largest CSM graduating class yet. The college has surpassed 25,000 total graduates, with close to 25,770 CSM students having earned a degree or certificate since the college's first graduation.
Fanta Gai, Youngest Graduate and Student Speaker
Fanta Gai of Waldorf, who just celebrated her 18th birthday, is the youngest graduate at this year's spring commencement ceremony and she acted as the student speaker. She was also the youngest graduate in her high school class when she finished studying in The Gambia, where she grew up.
Born in New York City, Ms. Gai's family moved back to Africa when she was very young, only returning to the United States to visit during summer breaks. Ms. Gai did extremely well in school, earning her high school diploma a year ahead of schedule.
An aunt who lives in Southern Maryland invited Ms. Ms. Gai to start college here. "There's a great college that's nearby," Gai said, recalling her aunt's words. So she moved by herself across the Atlantic Ocean to live with an aunt she had never met in person.
CSM was a good match for her. "I loved the environment," she said. "I thought I would be very intimidated." As she got used to college, she was also getting used to living in the US. She said she enjoyed the inexpensive and what, to her, were somewhat exotic foods, especially pizza and pancakes. She also enjoyed the uninterrupted supply of electricity and hot water that she found here.
Her favorite aspect of college, she said, was CSM's professors' attitudes toward students' success. "Here they actually encourage you and help you to excel," she said, adding that the approach to education in her home country could be harsh.
Ms. Gai earned an associate degree in general studies from CSM. She will continue her education at UMBC or the University of Maryland, studying international relations, hoping to work as an ambassador someday.
Being successful in the US required Ms. Gai to learn a new skill, she said. "Here you have to look for opportunities and put yourself out there." In her speech to fellow graduates, Ms. Gai encouraged her peers to do the same as they prepare to start new somewhere else, whether it be a new college or new job.
She expressed appreciation for her experience at CSM and how it helped prepare her for her next step in life. "My two years at CSM has validated my potential," she said. "Everything is achievable."
Oldest Graduate Mike Howard
The most senior graduate at the spring commencement was Mike Howard, 69, of Charlotte Hall, who received his associate degree in nursing.
Mr. Howard points out that his age and situation were more of a benefit than a hindrance as he worked toward completing his degree. His younger classmates generally had to juggle multiple responsibilities along with challenging coursework. As a retiree, Mr. Howard was able to concentrate solely on his studies.
"They are my inspiration," he said of his fellow nursing students. "I'm very, very lucky to do what I'm doing without having to be overly concerned about income and raising a family."
Mr. Howard was born in Washington, DC, and moved to Charles County in the 1970s. He was a member of the US Naval Reserve and served on both active duty as well as fulfilling his Reserve obligation. He has worked as a union plumber and then for more than 30 years as a construction foreman and facilities supervisor for Giant. Mr. Howard gives credit to his wife, Mary Ellen, and their five adult children for encouraging him to continue his education.
He was a volunteer paramedic with the rescue squad as well as the Charles County Mobile Intensive Care Unit and that experience sparked Mr. Howard's interest in medicine and patient care. When he retired, Mr. Howard realized he had the chance to pursue this new career path. His goal is to work as a hospice care nurse. "I want to be a part of the patient/family care team that works together to provide the client with the highest quality of life possible in the time remaining to them."
Mr. Howard said he initially wondered how his performance at CSM would stack up against younger students just out of school. "It worked out great," he said. "I felt that even with the age difference I was a part of the clinical team and that, as a team, we all worked together to help each other succeed."
Mr. Howard encourages more older students to take advantage of the opportunities that CSM offers as an accessible college at a reasonable cost. "I don't really regard my age as anything spectacular for what I am doing," he said. "Age should not necessarily be a determining factor for a person returning to the classroom. I think it is more that the opportunity is here at CSM and if an individual, young or old, wants to avail themselves of the opportunity they should follow through. This college is a huge gift to the community."
Keynote Speaker
CSM Board of Trustees Chair Dorothea Smith introduced Dr. Gottfried as this year's commencement speaker. Ms. Smith described Dr. Gottfried's "remarkable legacy of building for the future at CSM," including his efforts to keep a CSM education affordable and accessible, his interest in providing workforce development and new learning programs as well as new facilities and a new campus that have been established during his time at the college.
In his keynote address, Dr. Gottfried shared life lessons that have served him throughout his career — "live life to its fullest, have the courage to be you and live up to your potential and live life without regret."
Dr. Gottfried encouraged students to be intentional about how they spend their time, select their priorities and choose to live as they move on from CSM and through life.
He shared results from a study about patients at the end of their lives and their most common regrets. "The most common regret of all. … I wish I had the courage to live a life true to myself, not the life others expected of me," he said.
"One of the most important messages that I have for you is to follow your dreams," he said. "And don't let anything or anybody get in your way … Don't live a 'kinda' life. Dream big. Our lives are meant to be lived fully and completely, without regret. We never know how long we have, so let's start living a life free of regrets."
Annual Faculty Excellence Award Honoring Permanent Faculty
Math professor Sandra Poinsett received the Annual Faculty Excellence Award Honoring Permanent Faculty, presented by CSM Faculty Senate President Mike Green.
Before the ceremony, professor Tom Seremet, a longtime colleague, discussed ways that Poinsett has impacted math education at CSM. Poinsett is largely responsible for a remarkable change in higher level math classes at CSM, he said.
"In the past, it was pretty much all boys in the advanced math classes. Now there's as many girls," Mr. Seremet said. "And with confidence and energy, those girls are achieving every bit as much as the boys."
Mr. Seremet credits this change with Poinsett's Women and Math program, which has expanded into "Women + STEM," at CSM around a dozen years ago. Through an annual conference and other events, the program encourages female students to consider all the options available to them, even advanced math classes. "She has changed the playing field," Mr. Seremet said. "What she's done is help give young women the confidence and motivation to take math."
When he presented the award to Ms. Poinsett, Mr. Green also noted Ms. Poinsett's individual attention to her students, her efforts to stimulate students' curiosity and her assistance to struggling students.
Nursing Recognition Ceremony
During the nursing recognition ceremony held earlier in the day, Eileen Parry of La Plata was given the Academic Achievement in Nursing Award, presented to the graduate with the highest grade point average in the nursing class. Sana Qureshi of Waldorf received the Achievement in Nursing Award, presented to the graduate who demonstrates academic achievement, clinical competence, community service and leadership potential. This spring's nursing program graduated 56 students.
Honors Reception
At the college's May 17 Honors Reception, Faculty Senate Scholarships were awarded to Cheryl Fowler, Jerry Hollebon, Dillon Mandley, Zachary Teston and Lily Winsted; and the 2017 All-Maryland Community College Academic Team was announced as Rachel Nussberger and Kenneth Polk. Divisional awards were awarded to the following students: George Flynn Memorial Accounting Award, Amy Barrick; Outstanding Computer Science Student, Tyler Brinkley; Outstanding Construction Management Technology Student, John Flaherty; Outstanding Business Administration Student, Kaylah Crosier; Outstanding CyberSecurity Student, Justin Dement; Outstanding Achievement in the Social Sciences, Caroline Foreman; Outstanding Engineering Technology Student, Christopher Young; Outstanding Hospitality Management Student, Samantha Davis; Outstanding Nuclear Engineering Technology Student, Neal Balaoing; Distinguished Honors in History, Chloe Dickson; Outstanding Art Student of the Year, Nataline Beckley; Distinguished Honors in Music, Kaitlin Stokes; Academic Achievement in Nursing, Eileen Parry; Achievement in Nursing, Sana Qureshi; Outstanding Physical Therapist Assistant Graduate, Crystal Berry; Outstanding Information Services Technology Student, Timothy Burdeaux; Outstanding Massage Therapy Graduate, Samantha Zabel; John Lamiman Writing Award, Jessica Fulghum; Outstanding Mathematics Student, Megan Elliot; Outstanding Engineering Student, Ashlyn Liverman; Outstanding Physics Student, George Jenkins; Outstanding Progress in Mathematics, Michael Bell; Outstanding Achievement in Early Childhood Development, Paula Sorrells; Outstanding Achievement in Criminal Justice, Branson Cameron; Outstanding Achievement in Homeland Security, Sandra Hawkins; and Outstanding Achievement in Teacher Education, Ethan Ropel.
For photos from the ceremony, visit CSM's photo sharing site.
For more about the College of Southern Maryland, visit its Leader member page.