Crowd Sourcing NAWCAD's Strategic Plan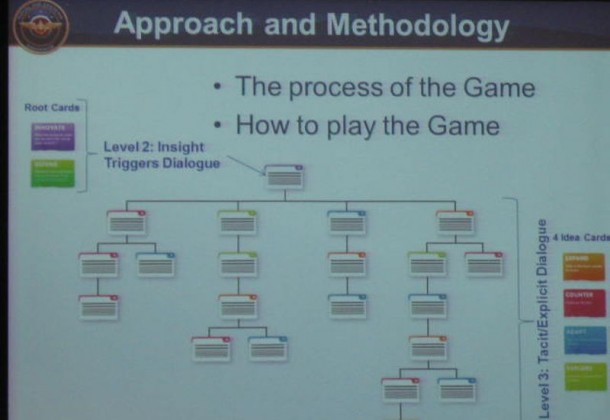 Posted for
The Patuxent Partnership
Pax III
Crowd sourcing the strategic plan for the Naval Air Warfare Center Aircraft Division through a game of cards containing messages only 140 characters each?
The answer is an emphatic, "Yes!"
Dale Moore, Director, NAVAIR Strategic Initiative Coordination & Execution, Assistant to Commander, NAWCAD for Strategic Operations will elaborate Sept. 4,  at The Patuxent Partnership's eighth briefing of the Strategic Thinking Series. Check-in at 7:30 am, program 8 – 9:30 am at the Southern Maryland Higher Education Center, Building 2, Center Hall, 44219 Airport Rd, California, MD 20619.
Crowd Sourcing the NAWCAD Strategic Plan involves MMOWGLI, which is pronounced like Rudyard Kipling's character Mogley and stands for  Massive Multiplayer On-Line War Game Leveraging the Internet.
As its name indicates, MMOWGLI is a web-based collaboration tool, developed jointly by the Naval Post Graduate School and the Institute for the Future, which brings together the ideas of large, diverse groups. MMOWGLI games draw and harness the collective potential of the crowd and offer players a more gameful, democratized way of engaging with a scenario.
Crowd Sourcing takes a function once performed by a limited, select, similar group, and outsources it to an undefined, diverse, large network of people in the form of an open call.
The game as well as crowd sourcing was described at a prior strategic briefing last month by Mr. Moore and Karen Cooper.  "It is a message based game," Ms. Cooper explained. In 140 characters players put one idea on a card. One thought on each card. Piles of meaningful cards grow, attrition abandons piles of non-meaningful ones. As the cards multiply, the algorithms sort and categorize. But the big deal is that lots of different people are contributing ideas.
The concept of crowd-sourcing has been applied in many ways, Wikipedia one of the best known examples. And although not perfect, Ms. Cooper said recent studies show it is proving a far more accurate and certainly more up-to-date encyclopedia than its written-word predecessors.
Crowd Sourcing is the engine that drives the game. The point is to outsource the function to an undefined, diverse, large network of people in the form of an open call. This promotes the non-linear problem solving Mr. Moore passionately describes as defining the 21st century's security and strategic needs.
"The world is moving real fast," emphasizes Mr. Moore. The elements at work  are too vast and complicated to be resolved in old, linear manners.
To learn more about MMOWGLI, visit portal.mmowgli.nps.edu/nsc.