Cooking With Chef Rebarchick: Herbs 101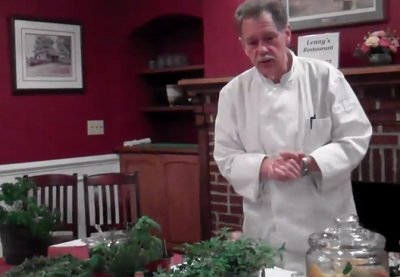 Posted by
Lenny's Restaurant
Pax Leader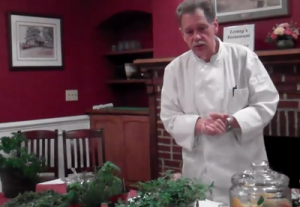 You are rarely served a dinner at any restaurant without seeing it decorating the plate, but many kitchen novices know little about parsley. This popular herb is most commonly used as a garnish on various dishes, from a fresh, bright green sprig on the side of your meal to flakes sprinkled on your favorite pasta dish. It is often the last sprinkle of "love" on your dinner, but how much do you really know about using parsley and other fresh herbs?
First, there are the health benefits. Before you discard the sprig, you should know parsley contains essential oils that have been shown to inhibit tumor formation and help neutralize some carcinogens in cigarette and charcoal grill smoke.
It also is good as a breath mint.  And easy to include in many every-day recipes. If you're using fresh parsley, you will want to first wash it by dropping it in a bowl of water and gently stirring it by hand to remove dirt. Include sprigs of parsley in salads, combine chopped parsley with garlic and lemon zest for a dry rub, or use it in soups and sauces for added flavor.
Dan Rebarchick from Lenny's restaurant has even more tips about how to grow and use fresh herbs in your everyday cooking.
 [youtube=http://www.youtube.com/watch?v=heIotCeIaaU]
SOURCES:
http://www.whfoods.com/genpage.php?tname=foodspice&dbid=100