Confrontations Escalate in Persian Gulf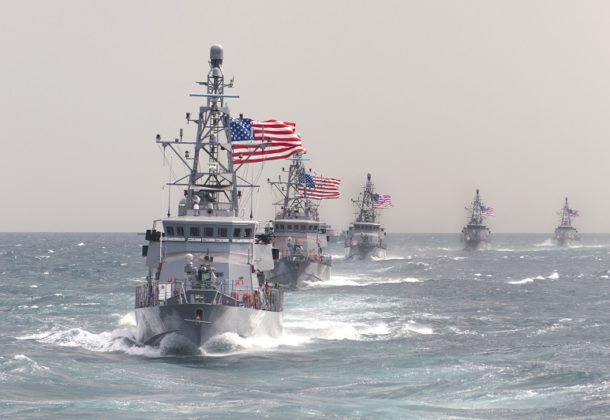 Morning Coffee is a robust blend of links to news around the Internet concerning the Naval Air Station Patuxent River

economic community. The opinions expressed here do not reflect opinions of the Leader's owners or staff.
Protests have not been filed regarding incidents between US warships and Iran's Islamic Revolutionary Guard Corps vessels, Defense News reports. In one instance, a US warship fired warning shots at an Iranian vessel. In a second incident Aug. 15, Guard vessels launched rockets in exercises a few miles from two US Navy ships. The latest incidents took place Aug. 24 in the northern Persian Gulf, US defense officials said. They follow another recent encounter near the Strait of Hormuz when high-speed vessels approached two US Navy destroyers.
Russia is modernizing its navy and the fight against terrorism is becoming one of its priorities as it invests in new subs and ships, UPI reports.
The US Navy is prepared to meet the challenges of growing Russian and Chinese submarine fleets, The National Interest reports, despite retiring Lockheed's S-3 Viking carrier-based submarine hunter. The Navy will rely upon a combination of MH-60R Seahawk anti-submarine helicopters, land-based Boeing P-8A Poseidon maritime patrollers, and Northrop Grumman MQ-4C Triton unmanned surveillance aircraft for for its anti-submarine warfare capability.
On the heels of the US Air Force declaring the F-35A ready for battle, the Pentagon's top weapons tester is again sounding the alarm over the F-35 Joint Strike Fighter, warning that deficiencies with the gun, challenges integrating the short-range AIM-9X missile, and unresolved software bugs could delay fielding the jet's full capability, Aviation Week reports.
The Motley Fool reports, Japan is nervous over aggressive actions by China and North Korea. The country is embarking on a big defense spending binge, planning to spend $50.4 billion on its military this year and $51.6 billion  next year.
Boeing has been contracted to upgrade the underwater intelligence, reconnaissance, and surveillance capability of the Royal New Zealand Air Force's fleet of Lockheed Martin P-3K2 Orions, FlightGlobal reports.
The US military picture in Syria becomes more chaotic and complicated by the day, Military Times reports, putting new strains on the Obama administration's strategy of partnering with the local fighters against the Islamic State group without getting pulled deeper into Syria's civil war or hurting relations with Turkey. Developments in recent weeks illustrate the fine balance the US is trying to strike.
Elbit, an Israel-based defense electronics company, has unveiled a new version of its Skylark mini-UAV, C4ISRNET reports. The Skylark C is based on the Skylark I, designed for land ISR missions. Skylark C is optimized for maritime use.
A recent report by Polish security think-tank Kosciuszko Institute says NATO should opt for developing offensive cyber capabilities as opposed to only defensive ones, IHS Jane's 360 reports. The mixed nature of hybrid warfare requires the shift the report, "NATO Road to Cybersecurity," states.
Federal News Radio reports agencies are safe from the impact of sequestration for the rest of fiscal 2016, but next year could be a different story. The White House warned lawmakers in a new report on sequestration that one version of the government's discretionary budget for 2017 could cause the return of sequestration.
If the plan is to to send the first humans to Mars in the early 2030s, NASA is going to need the next US president to be a strong supporter of space exploration.  NBC News takes a look at where the candidates stand on NASA and space exploration.
Aviation Structural Mechanic 2nd Class Kate Hoover has traveled the world. She left her home in Virginia, joined the Navy, and now she wants others to have the same experience. She tells DVIDs that each experience in different lands has shaped her and reminded her of how much she wants to give others the same opportunity. Learn about what motivates this Navy recruiter.
Contracts:
Booz Allen Hamilton, McLean, VA, has been awarded a $379,607,248 ceiling, cost-plus-award-fee task order under the General Services Administration Alliant contract to provide the Joint Improvised-Threat Defeat Agency with rapid development and fielding of counter-threat technologies, delivering urgent mission information technology solutions within the combatant commanders' latest time of value in support of operations throughout the globe to eliminate or neutralize enemy insurgent networks that threaten US interests and employ improvised threats, including improvised explosive devices.  Work will predominantly be performed in Virginia and the National Capital Region; however, contractor personnel will also be embedded as needed with globally deployed US forces. The expected completion date is Aug. 22, 2021. Joint IED defeat funds in the amount of $14,976,185 are being obligated at the time of award. This task order was a competitive acquisition and two offers were received. It is part of the JIDA Enterprise Acquisition Strategy Initiative which is intended to (1) meet current and evolving mission requirements; (2) comply with acquisition laws, regulations, and policies; and (3) improve mission effectiveness, output, and organizational synergy. GSA Federal Systems Integration and Management Center is the contracting activity, in support of JIDA (GSQ0016AJ0020). (Awarded on Aug. 23, 2016) 
Lockheed Martin Mission Systems and Training, Manassas, VA, is being awarded a $126,292,178 cost-plus-incentive-fee modification to a previously awarded contract (N00024-09-C-6247) to exercise an option for engineering services and support of the Integrated Submarine Imaging Systems program. Services will include design, development, testing, reverse engineering, technology insertion/refreshment, engineering services, field engineering services, and system support. The ISIS provides mission critical, all-weather, visual and electronic search, digital image management, indication, warning, and platform architecture interface capabilities for SSN 688 (Los Angeles class); SSN 21 (Seawolf class);  SSGN (Ohio class); SSBN (Ohio class); and SSN 774 (Virginia class) submarines, with potential for other submarines. ISIS rolls-up existing components and near term capabilities, and provides a robust architecture for efficiently inserting future capabilities as they become available for the Technical Insertion, Advanced Processing Builds, Submarine Warfare Federated System process. Work will be performed in Manassas, VA (73 percent); Virginia Beach, VA (15 percent); Northampton, MA (6 percent); Fairfax, VA (3 percent); Arlington, VA (2 percent); and Newport, RI (1 percent), and is expected to be completed by September 2017. Fiscal 2013, 2014, 2015, and 2016 other procurement (Navy); fiscal 2011, 2012, 2013, 2014, 2015, and 2016 shipbuilding and conversion (Navy); and fiscal 2014, 2015, and 2016 research, development, test and evaluation (Navy) contract funds in the amount of $7,980,188 will be obligated at the time of award, and funds in the amount of $1,616,586 will expire at the end of the current fiscal year. The Naval Sea Systems Command, Washington, DC, is the contracting activity.
Progeny Systems Corp., Manassas, VA, is being awarded a $31,082,204 indefinite-delivery/indefinite-quantity, performance based contract with provisions for cost-plus-fixed-fee and firm-fixed-price task orders. The contract is for engineering and technical services for the modification and/or development of engineering tools and software, as well as the integration of hardware required to support the continued data collection of the Non-Propulsion Electronic Subsystems, Submarine Command, Control, Communications, Computers, Combat, and Intelligence (C5I). The work includes instrumentation and test equipment development and associated engineering support required for the C5I System and Weapons Shipping, Handling, and Launcher Integrated Test Team, and Submarine Federated Warfare Tactical Systems Integrated Management Office, in order to perform combat systems test and evaluation for new construction Virginia class submarines, and all other classes of active submarines undergoing combat systems modernization. The contract includes a single five-year ordering period. Work will be performed in Manassas, VA (30 percent); Norfolk, VA (30 percent); and Groton, CT (40 percent), and is expected to be complete by August 2021. Fiscal 2011 and 2015 ship construction (Navy) funds in the amount of $940,000 will be placed on the first task order and obligated at the time of award. Contract funds will not expire at the end of the current fiscal year. This contract was not competitively procured because it is derived from efforts performed by Progeny Systems Corp. under Small Business Innovation Research (SBIR) Phases I, II, and III. In accordance with 10 U.S. Code 2304(c)(5), as implemented by Federal Acquisition Regulation 6.302-5 and 15 U.S. Code 638(r)(1) and (4). Space and Naval Warfare Systems Center Atlantic, Charleston, SC, is the contracting activity (N65236-16-D-8013).
General Dynamics Information Technology Inc., Fairfax, VA, was awarded a $13,388,383 delivery-task order modification (F406) to contract W91QUZ-06-D-0012 for combined mission command network operations and maintenance services for the Army Communications Information Systems Activity Pacific. Work will be performed in the Republic of Korea, with an estimated completion date of April 12, 2020. Fiscal 2016 operations and maintenance, Army funds in the amount of $9,417,383 were obligated at the time of the award.  Army Contracting Command, Yongsan, Korea, is the contracting activity.