New BAMS drone Unveiled in California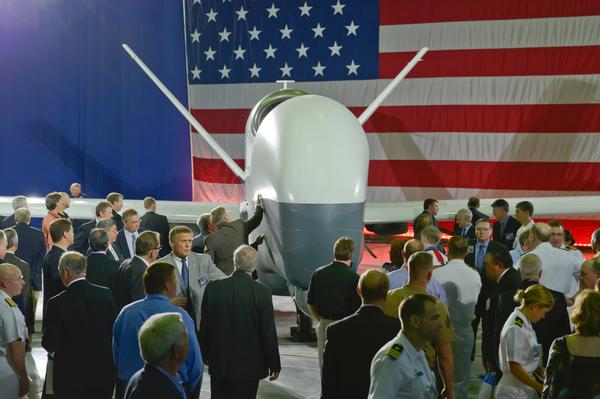 By Jay Friess
Editor
After four years of development, the Navy lifted the curtain on the MQ-4C Broad Area Maritime Surveillance (BAMS) drone during a ceremony yesterday at Northrop Grumman's manufacturing plant in Palmdale, Calif.
The new aircraft, a modified Global Hawk drone with a different suit of sensors, is named after the son of the mythical Greek god, Poseidon. The Navy states that the Triton drone will join the P-8A Poseidon aircraft as part of the Navy's Maritime Patrol and Reconnaissance Force family of systems.
The first Triton is a system development and demonstration aircraft (SDD-1), which will undergo testing, functional requirements review and the first flight. SDD-2 will follow a few months behind SDD-1. Both aircraft are intended to eventually travel to Naval Air Station Patuxent River for testing.
The Triton has a 130.9-foot wingspan and features  the AN/ZPY-3 multi-function active-sensor (MFAS) radar system. The Navy already tested the MFAS in December aboard a Gulfstream aircraft. With the MFAS radar's capabilities, the Navy says the Triton will be able to cover more than 2.7 million square miles in a single mission. The Triton's capability to perform persistent intelligence, surveillance and reconnaissance with a range of 2,000 nautical miles will allow P-8A, P-3C and EP-3E aircraft to focus on their core missions.
The Triton's unveiling was marred this week by the crash Monday of an RQ-4A Global Hawk being used by the BAMS program for testing at Pax River. The aircraft crashed into a swampy section of the Nanticoke River near Bloodworth Island in Dorchester County after Pax River operators reportedly lost contact with the vehicle. It did not cause any injuries or property damage, according to the Navy.
The Navy has stated that they are still investigating the crash.