Airport Open House Draws From Land & Air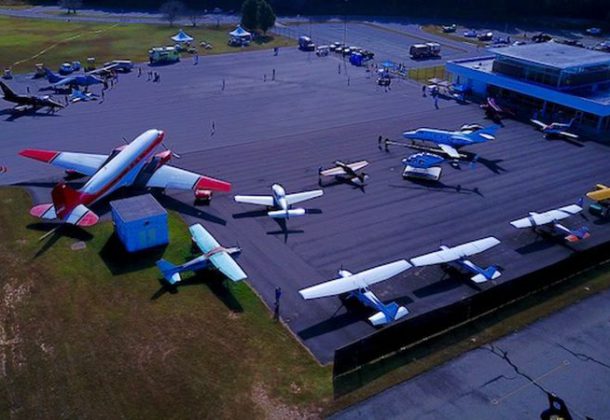 St. Mary's County Regional Airport pilots and businesses prepare for an Oct. 7, 2017, open house celebrating aviation. Nearly 600 visitors attended the open house, hosted by Piedmont Flight Center and featuring aircraft, drone demonstrations, classic cars, and an afternoon of activities for kids and families.
Piedmont Flight Center's open house this month at St. Mary's County Regional Airport showcased the planes and people linking St. Mary's into a hub of pilots and aviation enthusiasts. Visitors could see and touch, and in some cases climb into the cockpits of the visiting and home-based aircraft filling the tarmac behind the terminal.
Gillian Bishop of Piedmont spent many months and sleepless nights planning the event which went off without a hitch. There were lots of details to sort through from signage to parking to safety issues and everyone complimented her on what will be the first of more to come. Even the weather cooperated. At the end of the day there were nearly 600 visitors to the event.
Organizers hope to draw community members into the airport to learn more about aviation and discover the renaissance occurring at the county airport in California, Maryland. They have already caught the attention of pilots in the region, four of whom lounged near the terminal, happy to pick up a meal from Linda's On the Go and hobnob with other enthusiasts. These pilots are mostly interested in seeing a bit of the landscape, gassing up, and grabbing a cup of coffee or a bite to eat when they plan flights throughout the region.
They also need a combination of maintenance services to keep their aircraft in top shape. Airport events are even better to visit, explained pilot Dave Hinckle of Chesterfield, Maryland. When there are events such as the St. Mary's Airport Open House, it offers the a chance to fly, catch a bite, show off their own planes — Mr. Hinckle flew over in his 1980 Great Lakes bi-plane — and peruse an airfield full of other small and unique aircraft on display.
Piedmont Flight Center, a long-time tenant of St. Mary's Airport, has recently resumed its flight school operations. This open house, said Ms. Bishop of the Piedmont Flight Center, received the support of the other businesses at the airport, many of whom were present and active with the open house. Drone demonstrations throughout the day were conducted by Piedmont's chief flight instructor Dave Stanton. Piedmont will be offering a drone course within the year, Ms. Bishop said.
Other tenants at St. Mary's County Airport include: Airtec Inc., an aviation and technology integration company that specializes in maritime radar surveillance, range safety, and airborne telemetry. Chesapeake Aviation, providing general aviation maintenance among other aviation services. PaxAero Solutions providing engineering and fabrication services from a 10,000-square-foot hangar with a machine/fabrication shop. And S. Hunt Aero, which has built 40 new hangars and is completing taxiways to improve the safety and accessibility of the airport.
S. Hunt Aero also has completed construction of three new buildings at the airport. The trio create a technology campus contiguous to the airport and emphasizing unmanned system development. The first building was built for the University of Maryland's Unmanned Aircraft Systems Test Site. One of the buildings is an incubator for innovation. A large hangar to house the DC-3 that was on display at the open house is also nearing completion.
"This is what it's all about," said Ken Reed of S. Hunt Aero. "We're building facilities for an industry, talent, and amenities already in the county. We want the community to enjoy it. Be a part of it. One need only look at the parking lots at the airport to see that the number of permanent jobs this has created is skyrocketing."
As with personnel from other airport businesses, he was helping, from his red golf cart, with the smooth running of the open house. He was visibly pleased with the day and the turnout. More than business owners show up for the events. The pride various workers and industries take in the renaissance is obvious at all airport events. S. Hunt Aero, as the developer,  involves a cadre of nearly 100  local companies, in the construction of the hangars and buildings and the site work. Some days there are more than 50 construction workers of all types on site with huge investments in equipment and material.
And last year S. Hunt Aero hosted a ribbon-cutting ceremony for the new taxiway leading to the new hangar area that helps open St. Mary's Airport to more pilots and aircraft.
Families are a growing presence at the airport festivities. An avid pilot himself, Mr. Reed describes the airport events he frequents as "great family events. There is something for everyone. There is always something new to see no matter how many times you visit. And there are always families having a good time."
Piedmont's St. Mary's Airport Open House drew not only community visitors and regional pilots, but from all of these aspects of the airport, including the drones on display as well as the piloted aircraft, even a line-up of classic cars.
Linda's On the Go kept everyone fed and a cluster of STEM activities drew plenty of kids, until the magician Reggie Rice drew their attention to his magic show. After the show it was back to the airfield for admiring kids of all ages to watch Art Nalls' iconic L-39 take off right in front of them and perform some acrobatics among puffs of white clouds on the high horizon before returning home to St. Mary's County Airport.
St. Mary's County Regional Airport is at 44200 Airport Road, California, MD 20619. Call 240-718-8001.