Kay Daugherty Gallery Opens with a Reunion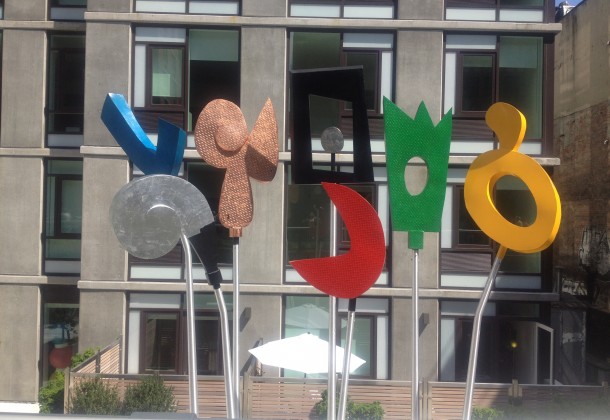 The stunningly successful opening of the Kay Daugherty Gallery at Annmarie Garden with Charlie Hewitt's "The Banquet Years" show drew a packed house of old friends and buyers, which is absolutely exactly what the gallery's namesake would have wanted.
Katie Watts, Kay Daugherty's daughter, was the push to name the gallery and in doing so hopes to guide the venue on the soaring mezzanine of the John Dennis Murray Arts Building toward local artists.
It was Mrs. Daugherty's gifts and talents that included bringing local artistic talent to the fore and provide venues for that art. For many this is where, as an artist, they could begin to recognize some financial success and the audiences necessary to continue to work on their art and to grow as artists.
That is what she did for many Southern Maryland artists, and in particularly Charlie Hewitt.
Mr. Hewitt called her "his first audience" when briefly addressing more than 100 people to the opening in mid-August.  While art is a solitary pursuit, he said, there is always an audience in mind.
In the crowd were many of the artists also starting out during "The Banquet Years" in the mid-1970s to the mid-1980s when Mrs. Daugherty and Mr. Hewitt were collaborating on venues and opportunities for art to flourish in Southern Maryland. The video below has a slightly dizzying panorama of the crowd and the art and the gallery.
The show runs through Sept. 25, 2016.
Annmarie Sculpture Garden & Arts Center is in scenic Solomons, MD, where the Patuxent River meets the Chesapeake Bay.  The sculpture garden features a 1/4-mile walking path that meanders through the woods past permanent and loaned sculpture, including over 30 works on loan from the Smithsonian Institution and the National Gallery of Art.
Artists in the collection include Antonio Tobias Mendez, Barbara Hepworth, Cesar, Robert Engman, Jean Arp, Kenneth Snelson, and Fransisco Zuniga. The award-winning arts building includes rotating exhibition space, a gift shop, and a sunny patio. Annmarie  presents a variety of popular annual festivals, rotating exhibitions, family activities, and creative public programs. The Studio School offers classes for all ages and abilities — from pottery to dance — taught by professional artists and arts educators. Visitors are invited to explore this special place where art and nature meet!
Annmarie Garden is at 13480 Dowell Road, Dowell (Solomons), MD 20629; 410-326-4640.