Hewitt's 'Banquet Years' Opens Kay Daugherty Gallery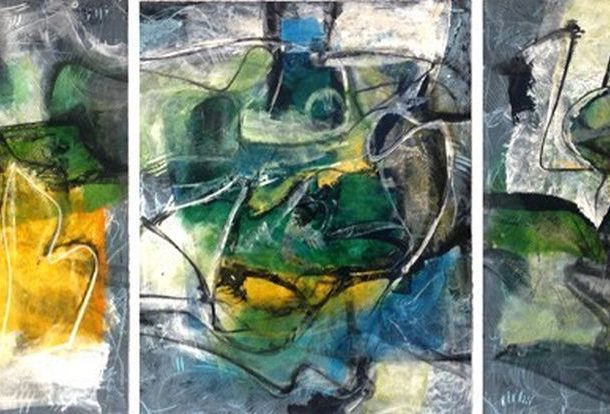 Painter, sculptor, and printmaker Charlie Hewitt lives and works today in Portland, ME. However, he has deep roots in St. Mary's County, MD. He graduated from Great Mills High School and spent formative years as a young artist in St. Mary's. One of his earliest patrons was Kay Daugherty who remained a patron and close friend until her death in 2006.
The mezzanine gallery at Annmarie Garden will be dedicated to Kay Daugherty on Aug. 12, 2016, and is designed to continue one of her dearest desires: to encourage and promote local artists by providing opportunities for them to be recognized and venues to display their work.
Mr. Hewitt was the unquestioned choice for the opening exhibit of the new gallery said Kay Daugherty's daughter, Katie Watts. Her mother and Charlie Hewitt were among the catalysts for a cultural renaissance in St. Mary's County that stretched from the  mid-1970s into the early 1980s and built of the need to find venues and opportunities for artists of many mediums.
The exhibit, "The Banquet Years," will highlight Mr. Hewitt's recent work. The show will run from Aug. 12 through Sept. 25 in the newly named Kay Daugherty Gallery at Annmarie Garden.
Although he spent formative years in Southern Maryland, Mr. Hewitt was born in Lewiston, ME, in 1946. Most of his imagery was formed from his earliest years growing up in the mill-working communities in that area, according to Mr. Hewitt's biography out of the  Jim Kempner Fine Art gallery in New York.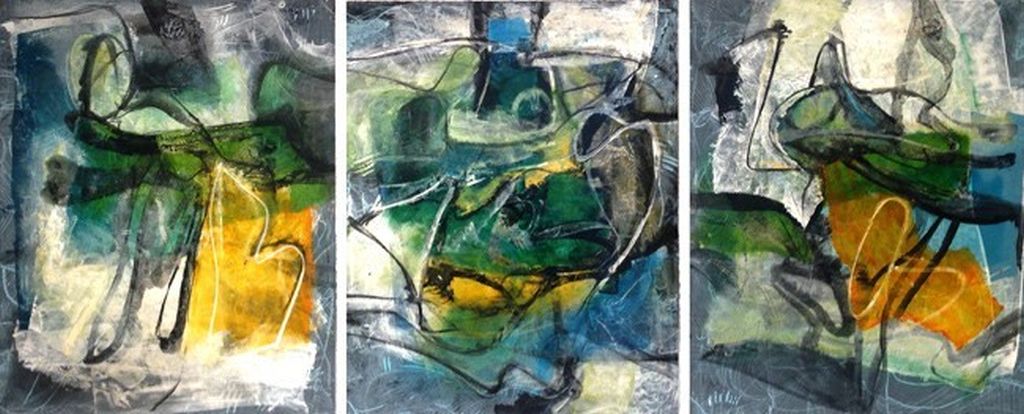 Mr. Hewitt is stylistically rooted in expressionism and surrealism, his art is both playful and serious, a quality he shares with artists such as Alexander Calder, Joan Miro, Paul Klee, and his mentor Philip Guston. Essential to Mr. Hewitt's creative process are the small, intimate works on paper from his ongoing Illuminations series. Made from collage prints and drawings enhanced with pigment, ink, and in some cases, stitching, they are the seminal drawings from which the artist's shapes and forms are mined and subsequently manifested into paintings and sculpture.
In addition to Mr. Hewitt's solo exhibitions at Jim Kempner Fine Art, other solo exhibitions include recent shows at the Greenwich Arts Council and at the Center for Contemporary Printmaking in Norwalk, CT.; a retrospective of his paintings, works on paper, and sculpture at the Farnsworth Museum in Rockland, ME; and a retrospective of his prints at the Bates College Museum in Lewiston.
Mr. Hewitt's work is represented in the collections of The Metropolitan Museum of Art in New York; Museum of Modern Art in New York; Whitney Museum of American Art in New York; New York Public Library in New York; Brooklyn Museum in New York; Library of Congress in Washington, DC; Portland Museum of Art in Maine; and many others.
Selected Solo Exhibitions
2014 White Light Jim Kempner Fine Art, NYC
2012 Woodcuts, Center for Contemporary Printmaking, Norwalk, CT
2012 Greenwich Art Council, Greenwich, CT
2010 Jim Kempner Fine Art, NYC 2010 Icon Gallery, Portland, ME
2008 Jim Kempner Fine Art, NYC 2007 Hot Off The Press, NYC
2007 The Whitney Art Works, Portland, ME
2006 Farnsworth Museum, Rockland, ME Bates College Museum, Lewiston, ME
2005 Jim Kempner Fine Art, NYC
2002 The Station, Group Show, Houston, TX
2001 Jim Kempner Fine Art, NYC
1998 Jim Kempner Fine Art, NYC
1997 June Fitzpatrick Gallery, Portland, ME Nancy Margolis Gallery,  NYC
1995 Jim Kempner Fine Art, NYC
1995  June Fitzpatrick Gallery, Portland, ME
1994  Arden Gallery, Boston, Massachusetts Kouros Gallery, NYC
1994  Paula Paulette Fine Arts, Portland, ME
1993  Ralph Greene Gallery, Albuquerque, NM
1992 Olin Arts Center, Bates College, Lewiston, ME Dranoff Fine Arts, NYC
1992 Dean Velentgas Gallery, Portland, ME
1991 Vinalhaven Press Gallery, NYC
1990 M-13  Gallery, NYC
1990 Forum Gallery, Minneapolis, MN Dean Velentgas Gallery, Portland, ME Frick Gallery, Belfast, ME
1988 M-13 Gallery, NYC
1986 Gryphon Gallery, Detroit, MI M-13  Gallery, NYC
1985 M-13 Gallery, NYC
1983 Jay Gallery, NYC
1982 SUNY  Gallery,  Binghamton,  NY
1980 Wolfe Gallery, Washington, D.C.
1977 Eric Schindler Gallery, Richmond, VA
1975  SUNY Gallery, Binghamton, NYC
1975  Levitan Gallery, NYC
1974  Gallery, St. Mary's College of Maryland, St. Mary's City, MD
1972   Brata Gallery, NYC
Selected Group Exhibitions
1999 Group Show Jim Kempner Fine Art, NYC Lasting Impressions Portland Museum of Art, Portland, ME
1998 Woodcuts Jim Kempner Fine Art, NYC
1997 Vinalhaven Press Portland Museum of Art, Portland, ME
1996 Dead Space Gallery, Portland, ME Fletcher Priest Gallery, Worchester, MA The Art Exchange, NYC
1996 Vinalhaven Between the Muse Gallery, Rockland, ME
1996 Arden Gallery, Boston, ME
1996 Ralph Greene Gallery, Albuquerque, NM
1995   Maine Coast Artists, Rockport, ME
1995  Jewett Gallery, Dartmouth College, Hanover, NH
1993   Watertowers Susan Teller Graphics, NYC
1993  Personal Choices Einstein Gallery, NYC
1993  The Painting Center, NYC
1992 One Press Multiple Impressions Bowdoin College, Brunswick, ME
1992  The Wall Project Sculpture Center, NYC
1992  Forty Years of Maine Painting Maine Coast Artists, Rockport ME
1992 The Relief Portfolio Michael Walls Gallery, NYC
1992  Claramunt Gallery, NYC
1991  Forum Gallery, Minneapolis, Minnesota
1991  Island Portfolio Dean Velentgas Gallery, Portland ME
1989 Dean Velentgas Gallery, Portland, ME
1989  Condesco Lawler Gallery, NYC
1989  Contemporary Woodblock Prints Jersey City Museum, Jersey City, NJ
1989 International Print Biennial Ljubljana, Yugoslavia
1989  Quebec Print & Paper Biennial, Invited Artist, Alma, Quebec, Canada
1988 Curators Choice Maine Coast Artists, Rockport, ME
1988 Call to Rise Orlando Museum of Art, Orlando, FL
1988  New York, A View of the City David Adamson Gallery, Washington D.C.
1988  Imprimatur Greenville Museum of Art, Greenville, SC
1987 A Show of Hands Brodyìs Gallery, Washington D.C.
1987  Motion Associated American Artists, NYC
1987  Hot off the Press Bowdoin College, Brunswick, ME
1987 14 Street Artists Associated American Artists, NYC
1987  Summer '87 M-13 Gallery, NYC
1987 Movietone Muse One Penn Plaza, NYC
1987 20th Century American Prints Gryphon Gallery, Detroit, MI
1987 Vinalhaven Press Condesco/Lawler Gallery, NYC
1987 Members Gallery, Albright Knox Art Gallery, Buffalo, NY
1987 Requiem on Greene Street, Rough House Productions, NYC
Permanent Sculpture Installation
2015  Portland Rattle, 511 Congress Street, Portland ME
2015   L/A Rattle, L/A Arts, Lewiston ME
2013   Brooklyn Swing: Primera Companies, Dallas TX
2013   Urban Rattle: Equity Builders for Ten23 Apartments (Highline Park adjacent), New York, NY
Grants and Awards
1998   New York Foundation for the Arts, Painting
1997 New York Foundation for the Arts, Drawings, Prints
1974   New York State Council of the Arts, CAPS Grant
Publications
2010    Charlie Hewitt: Sculpture
Charlie Hewitt: Drawings for Illuminations
2009    Charlie Hewitt: Woodcuts
2007 Cut, Scrape, Gouge, Cut: The Graphic Work of Charlie Hewitt, Essay by David Becker, Bates College
2007 Charlie Hewitt at Work, Essay by E.A. Beem, Farnsworth Museum
2001   Art on Paper, "Working Proof," page 73.
2000 Catalogue, Lasting Impressions, Portland Museum, by Bruce Brown
1997 Catalogue, Vinalhaven Press, Portland Museum, by April Galant
1994 Catalogue, Paula Paulette Fine Art, by David Becker
1992 Catalogue, One Press, Multiple Impressions, Bowdoin College Museum of Art, Brunswick, ME by David Becker
1992 On the Edge, Maine Coast Artists, Rockport, ME, by Theodore Wolff
1989 Catalogue, International Print Biennale, Ljubljana, Yugoslavia
1989  Catalogue, Quebec Print and Paper Biennale, Alma, Quebec, Canada
1989 Catalogue, Contemporary Woodblock Prints, Jersey City Museum, Jersey City, NJ
1986 Catalogue, Vinalhaven Press, Portland Museum of Art, by Margaret K. Burchenal
1986 Catalogue, Public and Private American Prints Today, Essay by Barry Walker
1980 Boundary II, Moby Dick, A Portfolio of Paintings, Fall, Essay by William Spanos
Selected Permanent Collections
Whitney Museum of American Art, NYC Metropolitan Museum of Art, NYC Museum of Modern Art, NYC
New York Public Library, NYC Chase Manhattan Bank, NYC Prudential Insurance, NYC Brooklyn Museum, Brooklyn, NY
Library of Congress, Washington, DC
State University of New York, Binghamton, NY MIT, List Visual Arts Center, Cambridge, MA Portland Museum of Art, Portland, ME
Hood Museum, Dartmouth College, Hanover, NH The Fogg Museum, Boston, MA
Farnsworth Museum of Art, Rockland, ME Colby College Museum of Art, Lewiston, ME
501 West 23rd Street       New York, NY 10011     Tel: 212-206-6872 Email: info@jimkempner.com                 www.jimkemperfineart.com