X-47B Precursor to Larger UCLASS Fleet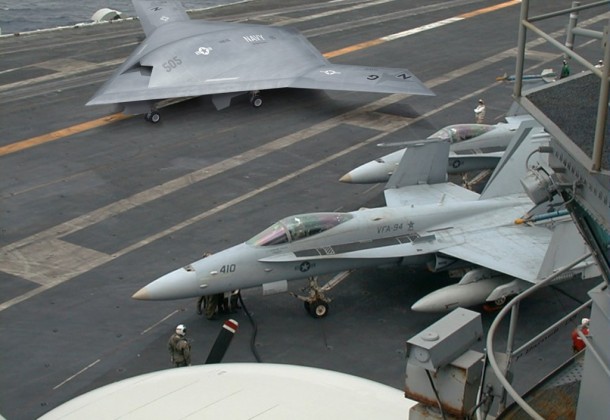 Morning Coffee is a robust blend of links to news around the internet concerning the Naval Air Station Patuxent River economic community. The opinions expressed here do not necessarily reflect those of the Leader's owners or staff.

The 22 ton X-47B and other UCLASS aircraft are reviewd by the Washington Post. The Navy landed the Northrop Grumman unmanned aircraft on the USS George H.W. Bush for the first time last summer and it is seen by many as a precursor to an even larger fleet of drone aircraft. The X-47B provides "persistent, aircraft carrier-based intelligence, surveillance, reconnaissance, targeting, and strike capability to support carrier air wing operations," according to the Navy. However, its future is unclear and a debate about how much strike capability UCLASS aircraft should provide is still underway.
The Pentagon's IT spending plan may be cut by $61.6 million by the Senate which is calling on the DoD to eliminate overlapping programs, according to C4ISR & Networks. The military requested $87.2 million for enterprise information technology activities but the Senate Appropriations Committee proposes reducing that IT budget component by $15 million.
Boeing is looking for international sales of their P-8 Poseidon maritime patrol aircraft at the Farnborough Air Show, according to Military.com. The defense contractor already has contracts to deliver as many as a dozen of the aircraft to India and Australia and has a deal with the US Navy potentially worth $35 billion to build more than 100 P-8s.
Navy retention rates could be lowered by an improving economy and lengthy deployments, reports Stars and Stripes. Service members in skilled fields like aviation, cyberwarfare and submarine warfare are especially attractive to civilian employers.
Employees will start returning in February to the Washington Navy Yard building where 12 workers were fatally shot last year, reports the AP. The building will be renamed for Joshua Humphreys, designer of the first Navy frigates.
A DoD exec believes that USS Ronald Reagan sailors were not exposed to dangerous levels of radiation in the aftermath of Japan's nuclear disaster three years ago, according to Stars and Stripes.
3D printing and its associated benefits, including time savings, less waste and more design options, have spurred interest and investment by aerospace companies, reports Reuters. The technology is expected to have far-reaching consequences for the industry and especially the maintenance repair and overhaul business, because it reduces the time and effort needed to produce parts.
Three NAVAIR Asian-American engineers were honored for outstanding leadership and technical achievements, reports NAVAIR News. Chyau Shen, director of NAVAIR Special Surveillance Programs, and Anh Vu, head of the Mission Systems Test and Evaluation Division for NAWCAD, received awards during a recent Asian American Engineer of the Year awards ceremony. Cam Donohue, Joint Strike Fighter Mission Systems lead accepted the "Asian American Most Promising Engineer" award at NAS:Pax River.