War Authorizations Will Not Be Repealed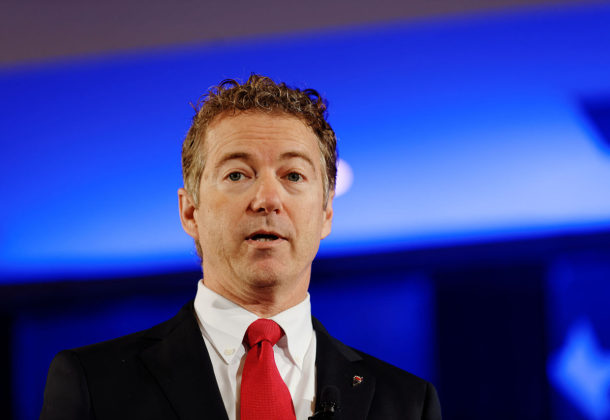 Morning Coffee is a robust blend of links to news around the Internet concerning the Naval Air Station Patuxent River

economic community. The opinions expressed here do not reflect opinions of the Leader's owners or staff.
A bipartisan 61 to 36 vote killed Sen. Rand Paul's (R-KY) effort to repeal the war authorizations that underpin the wars in Afghanistan and Iraq as well as military action in a slew of other countries, reports Politico.
The Hill reports President Donald Trump will "demand" an increase in military spending when he and Congress negotiate an end-of-year budget deal, according to Treasury Secretary Steven Mnuchin.
DefSec Jim Mattis warns congressional leaders even three months operating under a continuing budget resolution will impact dozens of vital military procurement and construction projects, reports Defense News.
Despite funding uncertainties surrounding President Trump's promised wall between the US and Mexico, Customs and Border Protection is moving forward with designs for a technological and physical barrier along the US southern border, reports FCW.
The Sept. 5 accident at the Nevada Test and Training Range that killed a US Air Force test pilot involved a foreign aircraft type operated by the service's secretive Red Hat unit, reports Aviation Week.
DoD objects to the National Archives' plan to go 100 percent digital with records management by 2022, reports FCW.
Lockheed Martin debuts lightweight, tube-launched, multidomain, micro drone, Outrider, designed and built in the UK and can take off from helicopters, vehicles, surface ships, and submarines and also can be hand-launched, reports Defense News. Outrider is 4 inches wide, weighs less than 2 kilograms.
According to Navy Times, a GAO report finds the four Navy shipyards in poor condition contributed to backlogged maintenance and restoration projects that have grown by 41 percent over the past five years. The naval shipyards in Norfolk, Virginia, and Portsmouth, Virginia, and the shipyard and intermediate maintenance facilities at Puget Sound, Washington, and Pearl Harbor, Hawaii, are vital to maintaining the nuclear fleet, the Government Accountability Office report states.
The number of veterans employed by the federal government grew steadily in recent years, peaking at almost one-third of the entire executive branch workforce, reports FCW. Of the approximately 229,000 hires made in the executive branch in FY6, more than 71,000 were vets, nearly one-third of all new hires.
The UN has imposed seven rounds of sanctions against North Korea since 2006, but smugglers get around the bans, reports South China Morning Post. Member states were told to use "new tools" to stop illegal trade of banned products including textiles, seafood, and coal. Suspicious vessels would be stopped for inspection at sea or in a port and they could have their assets frozen, be denied port access, de-registered, or hit with other penalties if they failed to cooperate.
Combined US services' efforts bring aid and evacuation services to Hurricane Irma victims, reports USNI. Military Times reports 20,000 National Guard troops are also involved with relief efforts in Florida, Georgia, Alabama, North and South Carolina, and the territories of Puerto Rico and the US Virgin Islands.
Eponline reports increasing numbers of people are taking air quality testing into their own hands, including 70 groups in the UK, according to the environmental charity Friends of the Earth.
Satellite developer Cloud Constellation selects Virgin Orbit's LauncherOne rocket to deploy the first 12 spacecraft forming its initial SpaceBelt constellation of space-based cloud storage data centers, reports Aerospace Daily.
After 13 years in orbit around Saturn, NASA's Cassini spacecraft is about to plunge itself into the planet's atmosphere and disintegrate. NASA decided to put an end to the mission on Friday because the probe is almost out of fuel, reports NPR. Cassini has provided exquisite details about the second-largest planet in our solar system.
Two US astronauts and a Russian cosmonaut blasted off for the International Space Station from the Baikonur cosmodrome in Kazakhstan early Wednesday,  for a five-month mission, reports the Digital Journal. After a roughly six-hour flight, the spacecraft docked at the ISS and joined Paolo Nespoli of Italy, Sergey Riazanski of Russia, and Randy Bresnik of the US.
Contracts:
Northrop Grumman Systems Corp., Charlottesville, Virginia, is being awarded an $11,026,388 firm fixed price modification to a previously awarded indefinite-delivery/indefinite-quantity contract (N00024-15-D-5208) to exercise a one-year option for production and associated provisioned items of the Navy's WSN-7 navigation system. The AN/WSN-7(V) ring laser gyro navigation (RLGN) system is a self-contained inertial navigator designed for Navy surface ships. The AN/WSN-7B(V) RLG is a self-contained gyrocompass system utilizing ring laser gyroscope technology. The RLG is a replacement for the gyrocompasses installed onboard Navy surface ships (AN/WSN-2) and submarines (AN/WSN-2A). Work will be performed in Charlottesville, Virginia, and is expected to be completed by April 2019. Fiscal 2017 shipbuilding and conversion (Navy) funding in the amount of $9,315,756; and fiscal 2017 other procurement (Navy) funding in the amount of $1,710,632 will be obligated at the time of award and will not expire at the end of the current fiscal year. The Naval Sea Systems Command, Washington, District of Columbia, is the contracting activity.
Science Applications International Corp., McLean, Virginia, has been awarded a $25,535,970 modification (000193) to contract W31P4Q-15-A-0024 for systems and computer resources support for the Aviation and Missile Research, Development, and Engineering Center's Software Engineering Directorate. Work will be performed in McLean, Virginia, with an estimated completion date of Sept. 11, 2018. Fiscal 2016 and 2017 operations and maintenance (Army); and research, development, test and evaluation funds in the combined amount of $25,535,970 were obligated at the time of the award. US Army Contracting Command, Redstone Arsenal, Alabama, is the contracting activity.