Wallops Launch Send Supplies to Space Station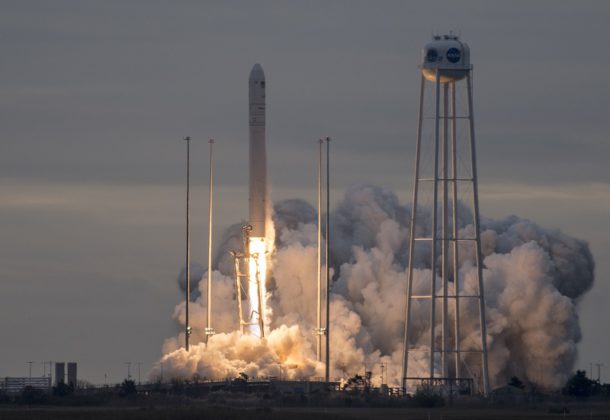 Morning Coffee is a robust blend of links to news around the Internet concerning the Naval Air Station Patuxent River

economic community. The opinions expressed here do not reflect opinions of the Leader's owners or staff.
Orbital ATK's Antares rocket launched a Cygnus spacecraft Sunday morning, beginning the company's CRS-8 Commercial Resupply Services mission to the International Space Station, reports Daily Press. The launch on Wallops Island, Virginia, came after Saturday's attempt was scrubbed due to a plane in the hazard area.
The US Navy will conduct a massive naval exercise in the Western Pacific region involving three aircraft carrier strike groups, reports The Drive. Undoubtedly a show of force aimed at North Korea and China, the drill comes amid concerns about the service's overall readiness.
The Chinese and Pakistani PAC JF-17 Thunder tactical aircraft — also referred to as the CAC FC-1 Xiaolong or "Fierce Dragon" — might be in competition with the F-35 Lightning II Joint Strike Fighter, reports The Aviationist. The JF-17 is a lightweight, single-engine, multi-role combat aircraft. The JF-17 Thunder is being hawked as "better, cheaper, faster" to countries that cannot afford to participate in the US JSF program.
Lockheed Martin and the US government are in talks with Germany to replace that country's Tornado fighter jets with the F-35, reports Reuters. A Lockheed official says the F-35 would be the "best choice" for Berlin.
Facing a shortage of maintainers as well as pilots, the Air Force is giving staffing priority to air combat units with high operations tempo, said Lt. Gen. Mark C. Nowland, deputy chief of staff for operations for the service at the Pentagon, reports DoD Buzz. He said experienced maintainers are being reshuffled throughout the force.
Army Secretary Ryan McCarthy said the Army should do an analysis to see where it can cut some weight, Army Times reports. But the bigger question, he said, is whether the Army's going to need that capacity for a build-up of troops, which will be necessary if their work load continues as it has been. At any given time, the Army has about 180,000 troops deployed to more than 140 countries.
The Trump administration has asked Congress to fund a fourth missile defense silo field at Fort Greely in Alaska reports Defense News.
The Senate Armed Services Committee cleared Thomas Modly, nominee to be the under secretary of the Navy, and James Geurts, nominee to be the Navy's top weapons buyer, reports USNI News. No date for Senate confirmation has been set.
The expected deployment of hundreds more US Army trainers to Afghanistan early next year will probably increase the total number of American forces there to almost 16,000, reports The Associated Press. A key to ending the conflict in Afghanistan is to bring the Taliban to the bargaining table, a senior State Department official said, reports Military Times.
More Marines are carrying the Glock 19M as a sidearm while the USMC searches for a pistol to replace the M9 Beretta, Marine Corps Times reports. Dozens of Marines will carry the Glock 19M when they deploy to Afghanistan  as part of the next Task Force Southwest rotation.
For the second year in a row, NAS Patuxent River was named the Naval District Washington Region winner of the Installation Excellence Award — large shore category — advancing the base to the next CNIC-level of competition as the NDW nominee, reports The Tester.
Contracts:
Artel LLC, Herndon, Virginia, has been awarded an $18,917,600 firm-fixed-price contract for one pre-launch 108MHz transponder. Work will be performed at a location to be determined, with an expected completion date of Dec. 31, 2022. This award is the result of a competitive acquisition, and two offers were received. Space and Missiles Systems Center, Los Angeles Air Force Base, California, is the contracting activity (FA8808-18-C-0003).
Atlantic Diving Supply, doing business as ADS, Virginia Beach, Virginia (SPE8EG-16-D-0023); Berger Cummins JV, Washington, District of Columbia (SPE8EG-16-D-0024); Caterpillar, Mossville, Illinois (SPE8EG-16-D-0025); Inglett and Stubbs International, Atlanta, Georgia (SPE8EG-16-D-0026); and Texas Power and Associates, Dallas, Texas (SPE8EG-16-D-0027), are sharing a maximum $90,000,000 modification (P0002) for generators and associated supplies. These are firm-fixed-price, indefinite-delivery/indefinite-quantity, 312 day bridge contracts. Locations of performance are Virginia, Washington, District of Columbia, Illinois, Georgia and Texas, with a Sept. 18, 2018, performance completion date. Using customer is Federal Emergency Management Agency. Type of appropriation is fiscal 2018 defense working capital funds. The contracting activity is the Defense Logistics Agency Troop Support, Philadelphia, Pennsylvania.