Virginia Beach F/A-18 Crash Due to Dual Engine Failure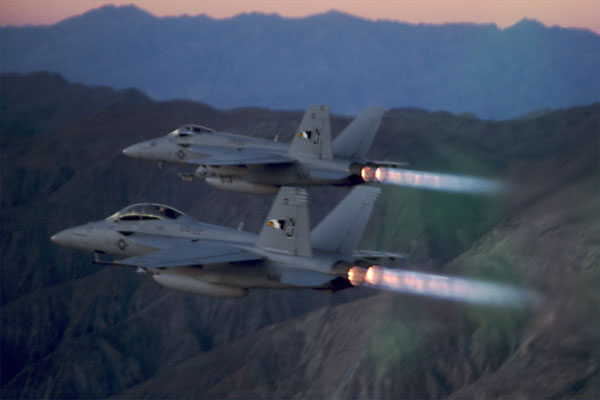 Welcome to Morning Coffee, a robust blend of links to news around the Internet concerning Naval Air Station Patuxent River, NAVAIR, the Pentagon and beyond. The Leader provides this link feature as a survey of the news and announcements affecting the local military economy. The opinions expressed here do not necessarily reflect those of the Leader's owners or staff.
The Navy reports that the April crash of an F/A-18 Hornet in Virginia Beach was due to a rare, dual-engine failure, CNN reports. Navy Times says the right engine stalled and the left afterburner failed to ignite to compensate for the power loss. U.S. News says the pilots will not face disciplinary action.
Smartronix of Hollywood, Maryland announces contract wins from the National Institutes of Health and the Air Force.
The White House continues to push for military use of biofuels over Congressional objections, The Hill reports. The Obama administration invests $62 million in biofuels development, Navy Times reports.
GAO reports finds that the 2005 round of BRAC saved less than 28 percent of the projected $35.6 billion projected.
The Hill notes that the Senate's version of the defense spending bill clocks in at $634 billion and speculates that sequestration may force contractors to skirt export controls.
CNN reports that the Marines are betting big on the Scan Eagle drone. Meanwhile, AUVSI issues guidance for operating drones in domestic airspace.
NAVAIR contract awards: Boeing gets $145 million to procure harpoon missiles for foreign governments; Robertson Fuel Systems gets $21 million for 36 MV-22 mission auxiliary fuel tank systems and associated equipment; and Raytheon gets $9 million for 38 Engineering Change Proposal IR Marker retrofit kits for the F/A-18 aircraft.
The UK's carrier decisions muddy the waters for the Joint Strike Fighter program, according to Aviation Week.
China debuts its first export fighter, FlightGlobal reports.
Washington Technology asks, could your data center withstand another derecho storm?