Vets Gain Full Resource Center in Lex Park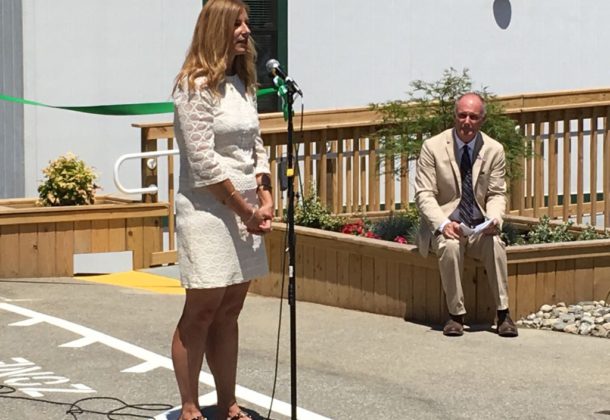 Patti Brady and Lanny Lancaster thank the community for its help building the Three Oaks Veterans Resource Center
The Three Oaks Veterans Resource Center in Lexington Park opened this month to fanfare and a level of commitment that stands out in a community already known for extraordinary volunteerism and by an organization renowned for its loyal and indefatigable army of volunteers.
More than 100 people attending a ribbon-cutting ceremony stood in the sun applauding the array of local, state, federal, and military representatives who all had a hand in turning this long-held vision of a one-stop shop for veterans into a reality.
Patti Brady, a board member of Three Oaks Center, spoke of a litany of services the center began offering from the day it opened its doors in June 2016. She started off by listing help finding jobs, help writing resumes, and teaching interviewing techniques.
"We're going to have a job bank, a data bank in here," she said. She has met with commanders at Patuxent River Naval Air Station who are looking to hire more than 1,000 veterans next year. Ms. Brady wants to try a "skill translation" to assess the veterans who come in to find what kind of jobs fit them.
She said she already has spoken with Chaney Enterprises and with some tow-truck companies in Baltimore. "We're trying to hit all aspects. Blue collar. White collar. Working through it," she said.
"So when a veteran comes in and says, 'I'm unemployed and I need help,' the first thing we're going to do is intake with them, figure out what benefits they have. If they don't have the benefits they need, we're going to help them see if they can apply for those benefits. Then we're going to walk through with them through the process, help them build their resume, and find the jobs they can apply for."
There are volunteers who know about IT, computer systems. So, Ms. Brady said, if there is a question about how to upload a resume on USA Jobs, there is volunteer trained to help upload their resumes quickly and correctly.
There will be classes, including programming, provided through a partnership with the St. Mary's County Memorial Library, beginning with programs twice a month and a special monthly series. One of these will be a six-month program for women suffering post traumatic stress who are more comfortable in all-women groups.
The library also makes available free access to 52 online certification programs. The volunteers at Three Oaks will be help them do that.
Ms. Brady barely took a breath and continued, "There will be a sequence of six-week series including how to deal with transitioning out of the military as an individual or for families." Every week there will be workshops, she said, having in hand 68 companies and organizations already committed to supplying the volunteers for the workshops.
"As  a resource center, we don't know every request," Ms. Brady said, "but we know we can help."
"We're going to have veteran mentors here every day," Ms Brady said, "for at least three hours a day. Just for the camaraderie. They heard about it, and they want to be part of it."
They're looking for something to do, she said of veterans who have learned about the center. "So I said,  'Come on, do this with us.' So we've got somebody for every day right now. I'm sure we'll get more as time goes on."
"We can do a lot," Sasha M. Seenath, Three Oaks program coordinator for veteran services, said.
She emphasized that the focus of the resource center is veterans, and that includes active,  reserve, and National Guard, and their families, but does not exclude anyone from the services offered, "even civilians," she said.
To learn more about Three Oaks Center, visit its Leader Member Page.