Veterans Resource Center Opening Soon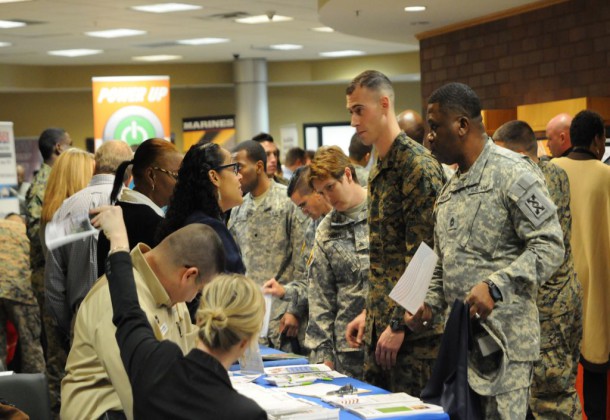 Three Oaks Center soon will be opening a Veteran Resource Center on Lei Drive in Lexington Park, MD. It will be the fruition of a needs assessment launched at the 2014 Veterans Stand Down.
Stephen Dunn, a prior Three Oaks client and a US Navy veteran, was insistent on paying back to others as he was helped. As the project was shaped from this imperative, local companies, including New Directions Technology Inc. and Booz Allen Hamilton,  stepped in to provide computers and furniture.
NDTI of Ridgecrest, CA, gave $30,000 worth of furniture and $10,000 worth of computers. Booz Allen donated about $5,000 in computers to the effort and continue its long-running support of Three Oaks Center with financial support throughout the year.
Naval Air Station Pax River and national chapters from Supply Corp. provided active duty personnel as well a some funding. And US Naval Academy midshipmen designed and built tables and other furnishings for the center.
"This is truly a community grassroots project," Sasha M. Seenath, program coordinator of veteran services for Three Oaks Center, said. "There are many more companies and organizations that have contributed than are listed here.
The center is designed to provide veteran services and services for veteran families that could include resume writing, applying for jobs online, research, training, and even filling out VA forms at the computer lab, Ms. Seenath said.  Classes could be held, including classes about software such as Microsoft products, resume and cover-letter writing, and preparing for interviews, Already, she said, the regional library, a local company and the Navy are planning to provide some of these services.
"This center  is meeting multiple needs for our Southern Maryland community," Ms. Seenath said.
In the future, Ms. Seenath sees a wide range of services coming to be offered from the new Veteran Resource Center, which includes use of the space for PTSD support groups, OIF/OEF/OND PTSD support group, Vietnam vet group, and a Women's Courage group/PTSD group. This center could provide the space for counseling from the VA and also peer to peer, she said.
The Veteran Resource Center could provide information about educational benefits, health care, compensation and pensions, and vocational rehabilitation. Employment services and training could be coordinated between the center and veteran employment specialists. Help could be enlisted for locating marriage, birth, divorce, or death certificates.
And for some, future volunteering efforts at the Veterans Resource Center, might prove the greatest benefit of all.
For information about programs, call 301-863-9535, ext. 102. The center's administration department can be reached at 301-863-9535, ext. 108.
To learn more about Three Oaks Center, visit their Leader Member Page.