US Signals Tougher Strategy With N. Korea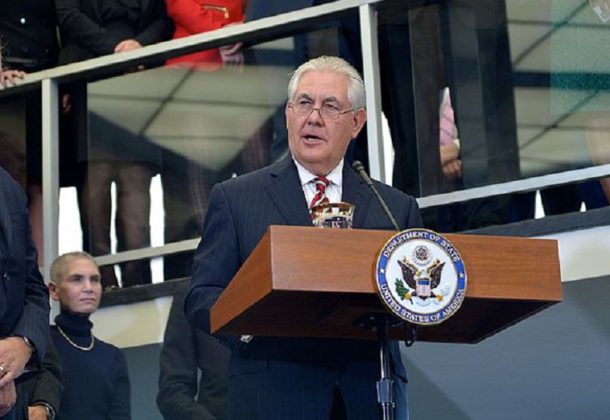 Morning Coffee is a robust blend of links to news around the Internet concerning the Naval Air Station Patuxent River

economic community. The opinions expressed here do not reflect opinions of the Leader's owners or staff.
During his trip to Asia last week, Secretary of State Rex Tillerson outlined a tougher strategy to confront North Korea's nuclear threat. Tillerson told South Korean officials it might be necessary to take pre-emptive military action against North Korea if the threat from their weapons program reaches a level "that we believe requires action," Military Times reports. The possibility of a nuclear-armed Japan also was raised by Tillerson, Los Angeles Times reports. Ahead of his visit to China on Sunday he said that, with "all options on the table" regarding the North Korean threat, "circumstances could evolve" in terms of Tokyo acquiring atomic weapons. The Chinese foreign minister offered a word of caution for the US during Mr. Tillerson's trip, The Hill reports: "No matter what happens, we have to stay committed to diplomatic means as a way to seek peaceful settlement." A White House spokesman said Monday that Mr. Tillerson "sent a very clear signal that our policy of strategic patience is over" with North Korea during his visit to China, Reuters reports.
In a Breaking Defense opinion piece, Maj. Paul Smith, a member of the J-9 of the US Pacific Command, compares the current international security situation in Asia to that preceding World War I. Maj. Smith calls for a reassessment of the US strategy toward China.
The EA-18G aircraft, the Growler, is being upgraded. Upgrades to the aircraft's airborne electronic attack system will take the Navy's implementation of electronic warfare to the next level with improved radar jamming, target location and destruction, and air defense suppression capabilities, Defense Systems reports. The Growler is a modified version of the F/A-18F Super Hornet.
C4ISRNET reports the Army is beginning to train and integrate small unmanned aerial system operators alongside counter-UAS operations. Small UAS operations at the division level and lower are a two-way street, according to personnel involved in the multi-domain training range and UAS training.
The Indo-Russian fifth-generation fighter aircraft under joint development and production by the two countries has taken a hit, with Russia showing reluctance to fully transfer the aircraft technology, particularly stealth capabilities, Defense News reports.
President Trump met with representatives from veterans groups Friday, a step that community advocates called a productive and critical step in advancing the White House's promises to veterans. The meeting covered issues including medical care access for vets, accountability for VA employees, veterans caregiver programs, and the president's campaign pledges to make veterans services more efficient, Military Times reports.
The USMC no longer needs just a "Few Good Men" as it looks to diversify, Marine Times reports. The elite force — in the middle of an online nude photo sharing scandal — is highlighting how its warriors also are good citizens in an ad campaign aimed at millennials. The Associated Press reported Friday that at least 20 victims have now come forward to complain that explicit photos of them are being shared online by active duty and retired members of the Marine Corps and others. Investigators expect more victims to surface as the probe continues.
There is no requirement for enlisted sailors to have a degree to advance in the Navy ranks, Navy Times reports, but having a degree is becoming a de facto requirement for sailors seeking to improve their career prospects. About one in four enlisted sailor has earned either an associate's degree or a bachelor's degree, and many are working toward a master's degree.
Dr. Mary Ann Cummings has earned the 2016 Naval Sea Systems Scientist of the Year award for innovating and patenting a software called Orchestrated Simulation through Modeling, Navy Times reports. Cummings said she spent 11 days at sea for the Valiant Shields exercise in September where they used the OSM framework to help create more realistic training through warfare simulations.
Contracts:
Booz Allen Hamilton Inc., McLean, Virginia, has been awarded a $20,738,682 modification (P00010) to previously awarded contract HR0011-16-F-0005 for enterprise support services. The modification brings the total cumulative face value of the contract to $43,537,456 from $22,798,764. Work will be performed in Arlington, Virginia, with an expected completion date of May 22, 2018. Fiscal 2017 research and development funds in the amount of $17,898,924 are being obligated at time of award. The Defense Advanced Research Projects Agency (DARPA), Arlington, Virginia, is the contracting activity.
Language Associates LLC, doing business as Diplomatic Language Services, Arlington, Virginia, has been awarded a $9,995,000 fixed-price, indefinite-delivery/indefinite quantity contract for English language training to United Arab Emirates personnel. Work will be performed in UAE and is expected to be complete by March 20, 2020. This contract is 100 percent foreign military sales to UAE. This award is the result of a country-directed, sole-source acquisition. The 338th Specialized Contracting Squadron, Joint Base San Antonio, Randolph Air Force Base, Texas, is the contracting activity (FA3002-17-D-0007).
The Boston Consulting Group Inc., is being awarded a $10,674,833 firm-fixed-price modification to a previously awarded General Services Administration task order HDEC05-16-F-0002 to exercise an option for contract line item 1006. This option provides for contractor advisory and assistance services for the Defense Commissary Agency pilot implementation and operation support. Work will be performed at Fort Lee, Virginia, and is expected to be completed by March 2018. Defense working capital funds in the amount of $10,674,833 will be obligated at time of award. The Defense Commissary Agency, Fort Lee, Virginia, is the contracting activity.