US Defense Trade Up Over Last Year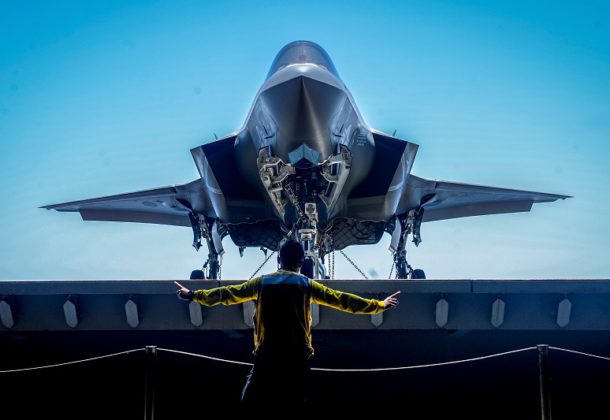 Morning Coffee is a robust blend of links to news around the internet concerning the Naval Air Station Patuxent River

economic community. The opinions expressed here do not reflect opinions of the Leader's owners or staff.
There was lots of news out of the Farnborough International Airshow last week. Here are a few highlights: Lt. Gen. Charles Hooper, head of the Defense Security Cooperation Agency, said that through the first two quarters of this fiscal year, the US has signed $46.9 billion in weapons sales to foreign partners and allies — smashing past the $41.9B figure from all of fiscal 2017, reports Defense News. The US Air Force is considering changing how it buys software to better make use of artificial intelligence and machine learning, reports Breaking Defense. Will Roper, head of AF acquisition, told reporters gathered at the show he was worried the service is not "attracting enough people" who can write the code and algorithms to make use of AI and machine learning. It seems nowadays some of the most important things in aerospace are invisible and intangible. Romania wants to improve its military by buying advanced US-made equipment with plans to buy 21 Bell UH-1Y Venom and 24 AH-1Z Viper helicopters, reports Breaking Defense. There may be a new-old fighter jet on the horizon for the US Air Force, reports Military.com. Boeing is pitching a new version of the F-15 Eagle as the service defines its inventory mix of fourth- and fifth-generation aircraft.
DefSec Jim Mattis criticized Turkey for its record on human rights but still wants the NATO ally to receive the F-35 JSF, reports CNN.
A key Republican senator said Congress would never let a US president exit NATO, reports Defense News. "If they were seriously planning on withdrawing from NATO, I think it would create a unifying event unlike anything you've seen in US history," said Sen. Thom Tillis (R-NC), a leader of the Senate NATO Observer Group and member of the Senate Armed Services Committee. Congress has multiple ways to stop a withdrawal, he said.
Discussions are underway for another meeting between President Donald Trump and Russian President Vladimir Putin, this time in Washington, DC, in the fall, reports Military Times.
Russia's military is testing an array of new nuclear and other weapons, from a high-powered laser weapon system to a nuclear-powered cruise missile with "unlimited" range, reports The Associated Press.
The Navy may have accepted delivery of the $4.6 billion Zumwalt-class guided-missile destroyer Michael Monsoor in April, but there was one problem that wasn't made public, reports The San Diego Union-Tribune. The newly built ship already needed a new engine.
The Navy said last week that servicewomen could wear ponytails, lock hairstyles, or ropelike strands, and wider hair buns, reversing a policy that long forbade females from letting their hair down. Now, men in the Navy want to be able to sport beards, reports Navy Times.
The Vegas Golden Knights NHL hockey team's trademark battle with the US Army has come to an end, the Las Vegas Sun reports. Both sides entered into a trademark coexistence agreement regarding usage of the "Golden Knights" mark and name.
Capt. Kenneth Sterbenz relieved Capt. Stephen Tedford as program manager of the Aircraft Launch and Recovery Equipment Program Office earlier this month during a change of command ceremony at NAS Patuxent River, reports The Tester.
If you recently bought Freedom's Choice bottled water, the Defense Commissary Agency's private label brand, check your bottles, suggests Military Times. The agency has recalled certain bottles of water because of impurities found that exceed the manufacturer's standards.
Contracts:
Raytheon Intelligence, Information and Services, Indianapolis, Indiana, is awarded $7,511,079 for cost-plus-fixed-fee order N6339418F0047 under a previously-awarded basic ordering agreement (N00024-16-G-5437) to acquire necessary materials to support Mk 57 NATO Sea Sparrow Surface Missile System Evolved Sea Sparrow Missile (ESSM) ordnance alteration efforts for LHA- and LHD- class surface combatants. ESSM is a medium-range, semi-active homing missile that makes flight corrections via radar and midcourse data uplinks. Work will be performed in Hauppauge, New York (80 percent), and Yorktown, Virginia (20 percent), and is expected to be complete by July 2019. Fiscal 2018 other procurement (Navy) funding in the amount of $5,007,386 and fiscal 2017 shipbuilding and conversion (Navy) funding in the amount of $2,503,693 will be obligated at time of award and will not expire at the end of the current fiscal year. This contract was not competitively procured, in accordance with 10 US Code 2304(c)(4) (international agreement). The Naval Surface Warfare Center, Port Hueneme Division, Port Hueneme, California, is the contracting activity.
DBOC JV, Fairfax, Virginia, was awarded a $20,000,000 firm-fixed-price contract for ammunition industrial base engineering support services. Bids were solicited via the Internet with one received. Work locations and funding will be determined with each order, with an estimated completion date of July 19, 2023. US Army Contracting Command, New Jersey, is the contracting activity (W15QKN-18-D-0111).
Serco Inc., Reston, Virginia, has been awarded a $12,624,343 contract to provide highly qualified and specialized personnel who have the requisite technical expertise and knowledge in their respective functional areas to U.S. Air Forces Central Command staffs responsible for: program management, operational employment of airpower, joint operations, intelligence, logistics, information technology, air operations center operations, deliberate and contingency planning and supporting programs, operational employment of air combat weapons systems, and other functional areas required by mission demands. Work will be performed at Shaw Air Force Base, South Carolina; Wright-Patterson Air Force Base, Ohio; and Al Udeid Air Base, Qatar. The contract is expected to be completed by Aug. 31, 2019. This is a result of a competitive acquisition. Fiscal 2018 operation and maintenance overseas contingency operations funds in the amount of $12,624,343 will fund the current requirement. Headquarters Air Combat Command Acquisition Management and Integration Center, Joint Base Langley-Eustis, Virginia is the contracting activity (FA4890-18-F-5001).
Indtai Inc., Vienna, Virginia, was awarded a $12,916,201 modification (P00009) to contract W9124J-17-C-0018 for adult education programs and services. Work will be performed in Fort Sam Houston, Texas, with an estimated completion date of Jan. 1, 2020. Fiscal 2018 operations and maintenance Army funds in the amount of $8,455,301 were obligated at the time of the award. US Army Mission and Installation Contracting Command, Fort Sam Houston, Texas, is the contracting activity.
Concurrent Technologies Corp., Johnstown, Pennsylvania, is awarded $9,882,028 for modification P00006 to Seaport-e task order 7N01 under a previously awarded contract (N00178-14-D-7674) to provide operations and sustainment, technical management, and analytical support for mishap, risk, health and resilience, and drug demand reduction education and training, implementation, data collection and analysis, reporting, maintenance, and, assessment for the Under Secretary of Defense for Personnel and Readiness, Personnel Risk Reduction. This one-year modification brings the cumulative value of the task order to $38,791,026. Work will be performed at the contractor's facilities in Johnstown, Pennsylvania (90 percent), and at the Pentagon in Washington, District of Columbia (10 percent). Work is expected to be completed July 18, 2019. Fiscal 2018 operations and maintenance (Navy) funds in the amount of $9,882,028 will be placed on the task order and obligated at the time of award. This contract includes one additional one-year option which, if exercised, would bring the total cumulative value of this contract to $48,756,762. This contract was competitively procured via the SeaPort-e web site. The Space and Naval Warfare Systems Center Pacific, San Diego, California, is the contracting activity.
E3 Federal Solutions Inc., McLean, Virginia, has been awarded a $9,024,263 firm-fixed-price contract. The contract is to provide the Office of the Under Secretary of Defense for Policy executive administrative management and executive administrative services to support 38 separate offices headed by senior level individuals within the organization. Work performance will take place at the Pentagon. Fiscal 2018 operations and maintenance funds in the amount of $9,024,263 are being obligated on this award. The expected completion date is Aug. 14, 2021. Washington Headquarters Services, Arlington, Virginia, is the contracting activity (HQ0034-15-A-0015-0002).