US Asked to Stop Osprey Flights in Japan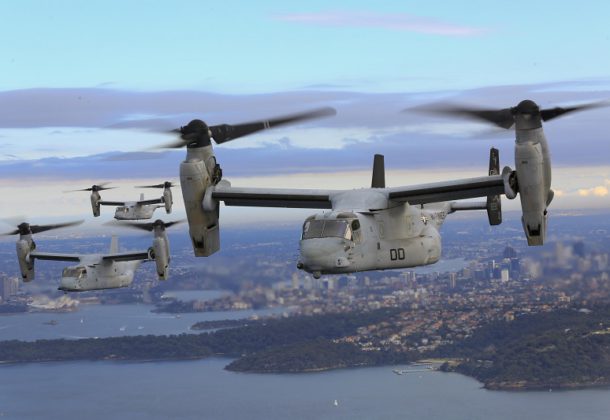 Morning Coffee is a robust blend of links to news around the Internet concerning the Naval Air Station Patuxent River

economic community. The opinions expressed here do not reflect opinions of the Leader's owners or staff.
The US has been asked to halt Osprey flights in Japan after the US Navy and Marine Corps called off the search for three Marines who disappeared after an MV-22 crashed off the coast of Australia last weekend, reports The Japan Times. Critics in Japan say the Osprey, which takes off and lands like a helicopter but can fly like an airplane, is unsafe.
On Monday, North Korea said it will launch "thousands-fold" revenge against the US, after the United Nations imposed new sanctions on that country for its nuclear and missile programs, USA Today reports. The statement came after the UN Security Council approved new sanctions, including a ban on coal and other exports worth more than $1 billion.
China is speeding up its efforts to build its navy, South China Morning Post reports. That country's first home-grown aircraft carrier production is ahead of schedule. Early service for the Type 001A could help secure trade routes and challenge the US in the South China Sea.
US and South Korean diplomats held talks in Manila on Sunday to discuss efforts to deal with the growing threats from North Korea's nuclear and missile programs, Yonhap News Agency reports. Gen. Joseph Dunford, chairman of the US Joint Chiefs of Staff, plans to visit Japan, China, and South Korea to discuss ways to strengthen security cooperation amid increasing tensions in the region following North Korea's second test-firing of an intercontinental ballistic missile July 27, Japan Times reports.
Philippine President Rodrigo Duterte wants 20,000 more soldiers to tackle increased security threats following a bloody siege with Islamist militants, The Strait Times reports.
An Australian company has manufactured a vertical tail for one of its F-35A Joint Strike Fighters, DefenseWorld.net reports. Three of Australia's full-time staff based at the Lockheed Martin F-35 production facility at Fort Worth, Texas, took the opportunity to view Australia's third F-35A (AU 003) currently on the production line, the first Australian F-35A to receive an Australian-made tail.
The US Navy is increasing its use of unmanned systems to map the ocean floor and collect data on temperature and salinity, reports Defense Systems. The system was recently demonstrated in the Gulf of Mexico.
Virginia-class attack submarines are being upgraded with a new Tactical Control System to provide weapons control, improved network subsystems, and other critical technologies, Defense Systems reports. The Pentagon says the Navy's accelerated integration of new commercial hardware and software into its submarine fleet is particularly suited for the technologies woven into the submarines.
James Byrne has been confirmed by the Senate as general counsel for the Department of Veterans Affairs, ExecutiveGov reports. Mr. Byrne was formerly associate general counsel and chief privacy officer at Lockheed Martin.
C4IRSNET reports Capt. Julia Slattery is the new commanding officer of the Navy Cyber Defense Operations Command. Capt. Slattery assumed the position from Capt. Sean Heritage as he moves on to a position with the Defense Innovation Unit Experimental.
Capitol Hill lawmakers passed legislation to make major changes to education benefits for military veterans, reports Military Times. President Trump must still sign it into law.
Contracts:
General Dynamics National Steel and Shipbuilding Co. – Norfolk, Norfolk, Virginia, is being awarded a $23,931,868 modification to a previously awarded cost-plus-award-fee, cost-plus-incentive-fee contract (N00024-11-C-4303) for the USS Dwight D. Eisenhower (CVN 69) fiscal 2017 planned incremental availability (PIA). The PIA includes the planning and execution of depot-level maintenance, alterations, and modifications that will update and improve the ship's military and technical capabilities. Work will be performed in Portsmouth, Virginia, and is expected to be completed by March 2018. Fiscal 2017 operations and maintenance (Navy) contract funds in the amount of $23,931,868 will be obligated at time of award and will expire at the end of the current fiscal year. Mid-Atlantic Regional Maintenance Center, Norfolk, Virginia, is the administrative contracting activity.