UAS Makes Santa's Delivery at St. Mary's Airport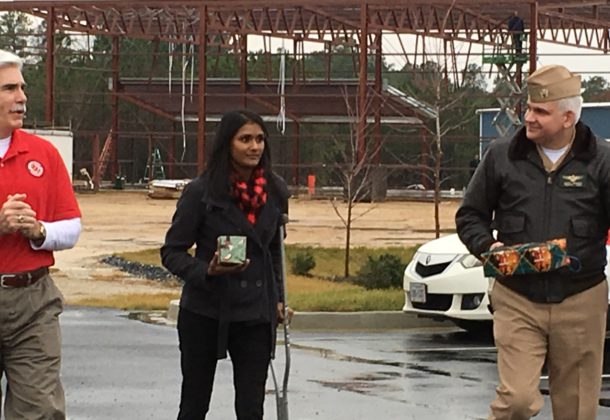 Matt Scassero, director of the University of Maryland UAS Test Site; Sasha Seenath, program coordinator of veterans services at Three Oaks Veterans Center; and Capt. Scott Starkey, commanding officer of NAS Patuxent River
As a UAS flashing green and red lights passes the under-construction Technology Incubator at St. Mary's County Regional Airport and takes the corner of the University of Maryland UAS Test Site, a contingent of Southern Maryland business leaders joke with test site staff. Was this flight registered with the FAA?
Yes.
The simple answer is, yes.
Matt Scassero, director of the UMD UAS Test Site, and Tony Pucciarella, director of operations, led some of their visitors to the parking lot landing site for the UAS delivery, assuring all that every document necessary to fly around the building was filed and in order.
The test site is fully operational, running smoothly within current regulations, testing unmanned systems, and able to test more.
St. Mary's County Airport is equally operational and up to the task, notes Ken Reed of the S. Hunt Aero group that built the multi-functional test center and is building the future Technology Incubator under construction next door.
About 60 business leaders attended a holiday open house the UMD UAS Test Site hosted on behalf of Toys for Tots and Three Oaks Veterans Center. The late-morning gathering at the test site's new building at St. Mary's County Regional Airport was the latest in a growing number of events at the expanding airport. Construction is ongoing at the regional airport.
The renaissance occurring at St. Mary's County Regional Airport was on display in October at a ribbon-cutting ceremony and general celebration of aviation, hosted by S. Hunt Aero. Hundreds interested in the future of aviation in Southern Maryland attended the event to celebrate current development efforts at the airport and Patuxent Aero Solutions officially opened its expanded 12,000-square-foot facility that provides engineering and fabrication services.
Prior to constructing the UAS test site headquarters which opened in early 2016, S. Hunt Aero, working with scores of local contractors, completed new hangars for the St. Mary's airport and corollary property improvements. Already begun is reconfiguration of taxiways to improve the functionality of the airport campus and increase maneuverability for pilots. New hangars have been completed and more are planned. Twenty-five additional aircraft are now based at the regional airport.
At the UMD UAS Test Site holiday celebration, Capt. Scott Starkey, commanding officer at NAS Patuxent River, accepted the special delivery gift on behalf of the US Marine Corps Reserve Toys for Tots Program in St. Mary's County. Sasha Seenath, program coordinator of veterans services, also accepted a special delivery gift on behalf of Three Oaks Veterans Center. To learn more about Three Oaks Center and the Veterans Resource Center visit their Leader Member Page.
Watch the UAS preparations in the video below.
Video produced by the UMD UAS Test Site staff, who in addition to Mr. Scassero and Mr Pucciarella include Jacob Moschler, project engineer; Jim Alexander, project manager; Ryan Henderson, UAS pilot; Sherrita Rose, financial coordinator; Sara Lloyd, admin coordinator; and Anjanette Riley, communications coordinator from the UMD College Park campus.
The University of Maryland Unmanned Aircraft System Test Site provides unprecedented access to UAS research, development, testing, and evaluation to Maryland industries, agencies, researchers, and communities. The UAS Test Site is dedicated to leading and transforming the UAS field, supporting local economic growth, shaping the next generation of Maryland innovators, and keeping the airways safe for all.