Triton Brings 'Exciting Times' to PAX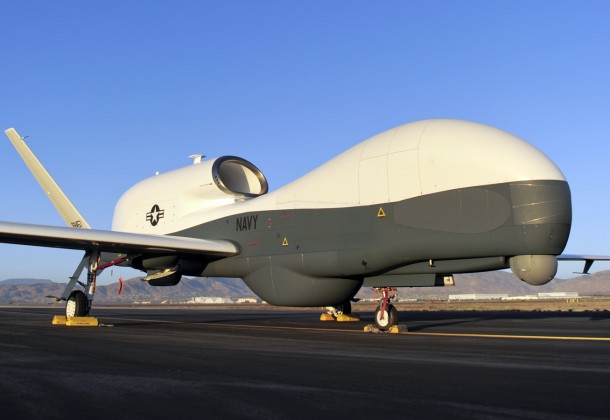 Posted for
The Patuxent Partnership
It was both the topic, MQ-4C Triton and its recent successes, and the presence of "The Fleet" that brought a standing room only crowd to the TPP/ANA panel, "MQ-4C Triton: Naval Aviation's Unmanned Maritime Solution."
RDML Mark Darrah, Program Executive Officer for Unmanned Aviation and Strike Weapons, introduced RDML Matthew J. Carter, Commander, Patrol and Reconnaissance Group Pacific to the crowd representing both the Navy and industry at the 22nd collaborative panel hosted by The Patuxent Partnership and the Association of Naval Aviation Squadron #18.
RDML Darrah's introduction echoed sentiments voiced for weeks by members of the ANA, that the presence of RDML Carter meant "The Fleet" was in town.
Since the topic was MQ-4C Tritons, CAPT James B. Hoke, Major Program Manager, Persistent Maritime Unmanned Aircraft Systems (PMA-262) was also on the panel. It would be one of his last assignments before retirement and his work developing Navy's maritime unmanned systems was repeatedly praised.
The panel presentations were upbeat with good reason. In the past year tests of the Triton have produced "flawless results," said CAPT Hoke, surpassing expectations and cutting schedules.
Testing of the Northrop Grumman Corp's unmanned MQ-4C Triton aircraft system has reached the stage of successfully working as a team with the manned P-8s that are soon to replace all P-3s in the Navy.  "I expect the Triton, said RDML Carter, to become the "eyes and ears of the fleet."
A pivotal, technological key capability recently acquired, is persistent ISR, intelligence, surveillance, and reconnaissance. The pivotal piece is the "persistence" of these capabilities, RDML Darrah explained. That the ISR is steady and unflinching is where the Triton delivers superior value and delivers it directly to the warfighter.
The persistence of ISR and the Triton's success teaming with manned aircraft will meet the three imperatives that are  needed to improve the kill ratio: increased capabilities, increased range, and autonomy.
The third Triton is expected to reach NAS Patuxent River and join the testing regime this month. Testing of sensors will begin early in the new year along with flight testing of the large UAS.
A Triton's wingspan is 131 feet, it is 45 feet long. "Bigger than a 737,"  said CAPT Hoke. When it reaches it full functionality, test flights are anticipated up to two per week.
"We've got an exciting time on our hands," said RDML Darrah, "manned and unmanned."