Transform Energy into Positive Pugilistic Results
Posted by
Lexington Park Business and Community Association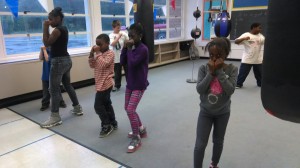 Bay Member
What do the ancient Greeks, ancient Egyptians, 18th-century Brits and now residents of St. Marys County have in common? They all enjoy or have enjoyed boxing as a sport. The Knowledge Boxing Center at the Carver Recreation Center offers this pugilistic sport that has been around since the beginning of civilization.
Head Coach, Daryl Hinmon has over 30 years of boxing experience, having grown up in Philadelphia where boxing gyms are common. Assistant coach John Richardson volunteers his time at the center, which helps keep dues low enough that even those with very little disposable income can participate.
"I've personally witnessed the benefits boxing training brought to my at-risk inner city peers. Boxing has been saving the lives of young men and women for the last 100 years and I wanted to provide that opportunity for the at-risk youth of St. Mary's County," said Coach Daryl.
Anyone ages 8 and up can attend boxing training every Monday, Wednesday and Friday from 5 – 7:30 pm. Students range in age from 7 to 47, and enter the program at various fitness and knowledge levels. Whether you're looking to lose weight, learn self defense, relieve stress, or just have fun, consider joining boxing classes.
"For me personally, to take an individual who comes in the gym timid, out-of-shape and can barely complete the warm-up on his/her first day and develop that person into a self-confident, healthy, lean, mean fighting machine is invigorating," said Coach Daryl.
Even if you have never tried it, you will find a fun, friendly, respectful, supportive, yet demanding staff to help you meet your fitness, self-defense and/or competitive goals. All are welcome as its philosophy is that the life skills learned through boxing benefit children, adults, and girls and boys alike.
The art of boxing also includes learning concise thinking, perseverance, self control, working towards goals and honing attention to detail.
Knowledge Boxing is located in the old Carver Elementary School, now known as the Carver Recreation Center. The address is 47382 Lincoln Avenue, Lexington Park, MD 20653. For more information, visit its website, or stop by during class times.
LPBCA sponsored by:
[adrotate group="13″]