It's Time to Toss Out Your Reading Glasses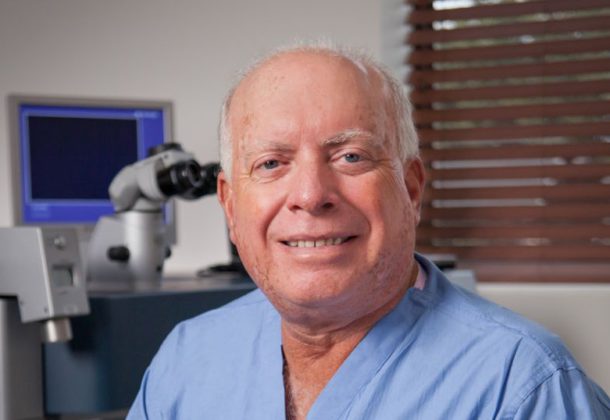 Dr. Mark Whitten wants you to throw away your reading glasses!
For many people older than 40, reading and seeing things up close becomes difficult or impossible without reading glasses. This condition, known as presbyopia, affects just about everyone eventually. While eye doctors have been able to treat the opposite problem, myopia, with the Lasik procedure, a surgery for presbyopia has remained elusive.
Until now.
Dr. Mark Whitten is the first doctor in the Washington, DC, and Richmond, Virginia, area to perform the new Raindrop Near Vision Inlay procedure, which corrects presbyopia almost immediately. Dr. Whitten began performing the procedure in December and NBC4 anchor Barbara Harrison interviewed him and Dr. Shilpa Rose before and after Dr. Whitten performed Raindrop Inlay during Dr. Jennifer Sokolosky's surgery.
Before the procedure, Dr. Sokolosky described the difficulty of performing her job as a dentist who needs to be able to look at teeth in one second, then turn and look at a computer the next second. Dr. Sokolosky was not even able to read a magazine without reading glasses before the procedure.
Within minutes of finishing the procedure, Dr. Sokolosky was reading just fine. Dr. Rose said Dr. Sokolosky could have been fitted for contacts to correct the problem, but Raindrop Inlay was about to become available.
Dr. Whitten has performed more than 150,000 Lasik procedures over the years, and learning the new procedure was just another part of the process of learning to be a great doctor. Lasik, however, is for those who cannot see far away, and myopia is not inevitable like presbyopia is. A smaller part of the population suffers from myopia, and presbyopia will eventually plague almost everyone.
Luckily, Raindrop Inlay can be effective for just about anyone. Patients are screened to make sure they are candidates, and then they are counseled on proper eye care. The relatively painless procedure takes only about 10 to 15 minutes to perform, and Dr. Whitten said the patient can see more clearly within minutes.
Patients are back to work the next day, seeing better than they probably have in years, Dr. Whitten said.
To schedule a free consultation, call 301-825-5755. And ask about LASIK discounts for all active duty and retired military and their families.
Visiting Dr. Mark Whitten and the team at Whitten Laser Eye is simple, with three locations in Southern Maryland, Washington, DC, and Richmond.
The Whitten Laser Eye location in Southern Maryland is easy to reach. Only 30 minutes south of the Capital Beltway, the center is at 37767 Market Drive, Charlotte Hall, MD 20622. The center offers free parking right off Route 5 and beautiful scenery. The convenience makes the value of seeing a world-class vision correction surgeon like Dr. Mark Whitten an easy choice.
Learn more about Dr. Mark Whitten and LASIK eye surgery on his Leader Page.