'Space Corps' Debated as 6th Military Branch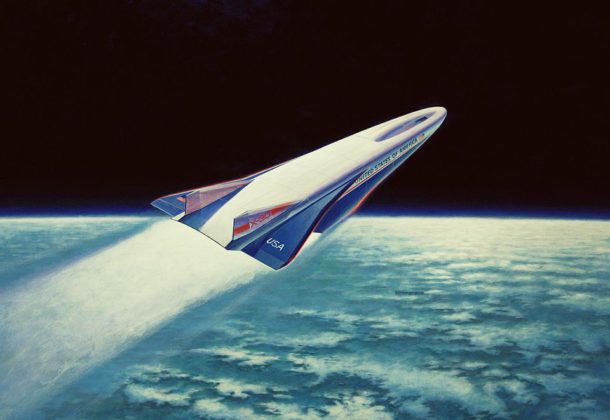 Morning Coffee is a robust blend of links to news around the Internet concerning the Naval Air Station Patuxent River

economic community. The opinions expressed here do not reflect opinions of the Leader's owners or staff.
The vice chair of the Joint Chiefs of Staff warns creation of a military branch focused solely on space could disrupt Pentagon capabilities and exacerbate existing issues, reports Defense News. "The time is not right for a conversation about a separate space corps or space force," said Gen. Paul Selva.
The National Defense Authorization Act passed by the House would require the Air Force to create a new branch of the military called the "Space Corps" by the beginning of 2019, replacing its current space departments. The Senate Armed Services Committee's current markup of the $696 billion NDAA, instead  creates a new officer to oversee space defense in the Pentagon, reports Popular Mechanics. Space News provides a summary of the various versions in the bills.
President Trump lunches with service members seeking new ideas for fighting the war in Afghanistan "to find out why we've been there for 17 years, how it's going, and what we should do in terms of additional ideas."
DoD says Pratt & Whitney is slow to incorporate promised cost savings for the latest, largest batch of F-35 engines, reports Press Herald. Pratt is producing 102 engines for the JSF built by Lockheed under what's now a $2.1 billion contract.
The Air Force Research Lab is exploring wearable biometric sensors for pilots in flight, seeking to input the data directly into the automated flight systems, reports Connected Warrior. Aircraft autonomously adjusting flight systems in response to low oxygen levels, even before the pilot is aware of the issue, could become the new normal for fighter pilots.
China continues to reject a year-old international ruling rejecting its claim of sovereignty over a swath of the South China Sea it is filling with military bases, reports Asian Review. Since the Philippines brought suit its president has changed, and Philippine President Rodrigo Duterte adopted a more conciliatory stance, prioritizing economic support over the territorial dispute.
The foreign minister of Iran charged that Trump's administration's attempt to reimpose sanctions may violate Iran's nuclear deal, reports The New York Times. The accord signed two years ago sharply limited Iran's ability to produce nuclear material in return for its reintegration into the world economy.
The Navy has disciplined and could eventually discharge the sailor initially thought to have fallen overboard from the guided-missile cruiser Shiloh but found a week later hiding in an engine room, reports Navy Times. Gas Turbine Systems Technician (Mechanical) Peter Mims, 23, was charged with  violations of the Uniform Code of Military Justice including abandoning watch under Article 86 and dereliction in the performance of duties under Article 92.
An ex-inspector at the Red River Army Depot in Texas must serve more than two years in prison and repay the government $762,000 for stealing parts and selling them for scrap, reports Army Times. Investigators say Jason Allen Autrey, from July 2015 to May 2016, stole batteries and armor kits while working as a heavy equipment mechanic inspector at the depot in Northeast Texas.
Maj. Gen. Sheryl Gordon becomes the first woman  to command the Alabama National Guard, reports Army Times.
Contracts:
Lane Construction Corp., Chantilly, Virginia, is being awarded a $21,820,000 firm-fixed price contract for modernization of airfield lighting at Naval Air Station Oceana. Performed work provides for the refurbishment and replacement of existing asphalt and portland concrete cement runway shoulder pavement, electrical infrastructures such as electrical vaults, electrical manholes, hand holes, conduits, wiring, lighting fixtures and signage, controls and equipment necessary for a complete and usable system for Runways 5L/23R and 14R/32L. Work will be performed in Virginia Beach, Virginia, and is expected to be completed by February 2019. Fiscal 2017 operations and maintenance (Navy) contract funds in the amount of $21,820,000 are obligated on this award and will expire at the end of the current fiscal year. This contract was competitively procured via the Navy Electronic Commerce Online website, with one proposal received. The Naval Facilities Engineering Command, Mid-Atlantic, Norfolk, Virginia, is the contracting activity (N40085-17-C-0320).
Colonna's Shipyard Inc., Norfolk, Virginia, is being awarded a $7,620,005 firm-fixed-price contract for USNS Narragansett (T-ATF-167) fiscal 2017 docking phased maintenance availability. Work will involve ship repair, maintenance, and modernization. Work will be performed in Norfolk, Virginia, and is expected to be completed by January 2018. Fiscal 2017 operations and maintenance (Navy) funding in the amount of $7,620,005 will be obligated at time of award and will expire at the end of the current fiscal year. This contract was competitively procured under full and open competition via the Federal Business Opportunities website, with three offers received. The Mid-Atlantic Regional Maintenance Center, Norfolk, Virginia, is the contracting activity (N50054-17-C-0007).