SMECO Events Aid Homeless Shelters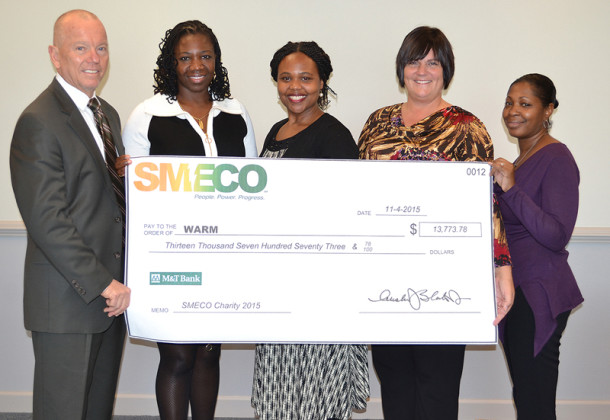 From left, SMECO representatives Austin J. Slater, Jr., President and CEO, Natalie Cotton, community and public affairs director, and Tonya Lee, supply chain buyer. Representing St. Mary's County's Wrapping Arms 'Round Many (WARM) are Maria Scott, chairperson, and Patrice Campbell, program manager for the Three Oaks Center.
Three homeless shelters in Southern Maryland got a recent boost when Southern Maryland Electric Cooperative employees held fund raising events and donated $41,322 to the organizations.
Wrapping Arms 'Round Many (WARM) in St. Mary's County, Safe Harbor in Calvert County, and Lifestyles of Maryland, Martha's Place Transitional Home in Charles County each received $13,774.
SMECO employees raised the cash with the SMECO 75 Bike Ride in June and the SMECO Annual Charity Golf Outing in October. Both events are supported by volunteers, vendors, and the SMECO executive team. The co-op chooses a different organization each year to receive the funds from the events.
SMECO Supply Chain Director Richard Jarboe said the best benefit of the golf fundraiser is that it brings employees together.
"We join our colleagues, contribute time and funds, enjoy the event, and support the local community," Mr. Jarboe said. "We are grateful for the support we receive from SMECO's supply chain partners who make the charity golf tournament a success. We have held the charity golf event for 12 years and have given more than $120,000 to local groups."
"The St. Mary's County WARM program gratefully accepts this generous donation from SMECO and its employees," said Maria Scott, WARM chairperson. WARM is a sheltering program provided by the faith community and partners in St. Mary's County. WARM relies on over 1,100 volunteers from the community through the season to ensure its success. "We essentially provide a dry and safe place out of the elements for adult men and women to sleep during the cold months of November through March," Ms. Scott explained. "Since WARM is a complete volunteer program and does not have any consistent grants or routine funding, this considerable donation from SMECO is significant to our organization. It will help provide supplies, cover expenses and potentially enhance the program in ways we have not been able to in the past, due to limited funding."
Ms. Scott added, "Community partners such as SMECO, the Three Oaks Center; Walden Sierra; the St. Mary's County Department of Social Services; the St. Mary's County Sherriff's office and Detention Center, the Mission, and Medstar St. Mary's Hospital have embraced the WARM program in significant ways and we are extremely thankful for this support. We commend the SMECO employees for their efforts to make such a lasting impact on their community."
"SMECO and its employees continue to be active contributors to those in need in our community. This contribution will provide much needed shelter for women and children in the county who would not have had anywhere else to lay their heads. This donation will essentially provide over 800 bed nights as well as case management services to help these families get on their feet," said Sandy Washington, Executive Director of Lifestyles of Maryland in Charles County.
Safe Harbor in Calvert County provides shelter for abused women and children. Together with the Calvert County Health Department, they provide food, safety, counseling, medical services, and compassion to those seeking refuge.
The fourth annual bike ride was held June 6, 2015. The event is supported by the Oxon Hill Bike Club and local bicycle enthusiasts, says SMECO's Community and Public Affairs Director Natalie Cotton.
Cyclists choose from three bike routes of 29, 47, and 75 miles that start at the co-op's headquarters in Hughesville and go as far as Colton's Point in St. Mary's County. Ms. Cotton added, "We are especially grateful to business partners who participate by donating resources to help make the SMECO 75 Bike Ride a successful fundraiser. Major contributors include ICF International, Penn Line, Infor, J.M. Tennyson Construction, Origin, Adams, Jenkins and Cheatham, CGI, Cigna Health, iFactor Consulting, New River Electrical Corporation, Oracle Utilities, ProForma Johnston and Associates, Prudential, Stantec, The Meltzer Group, Barbara Ives, Booth and Associates, Cerner, EnergyHub, Good Earth Natural Foods, Integrand Information Systems, M.D. Henry Company, Manis Canning and Associates, Opower, Utilitec, and VFP, and we thank them for their contributions."
Next year's bike ride will be June 4, 2016. Contributions for the event will go to Operation: Tohidu, a seven-day holistic retreat designed for wounded veterans and active duty military to help them overcome obstacles to their recovery and support their successful reintegration into their homes and communities. "Tohidu" is a Cherokee word meaning peace of mind, body, and spirit.
For more information about SMECO, visit their Leader member page.