SMECO Bike Ride Raises $25K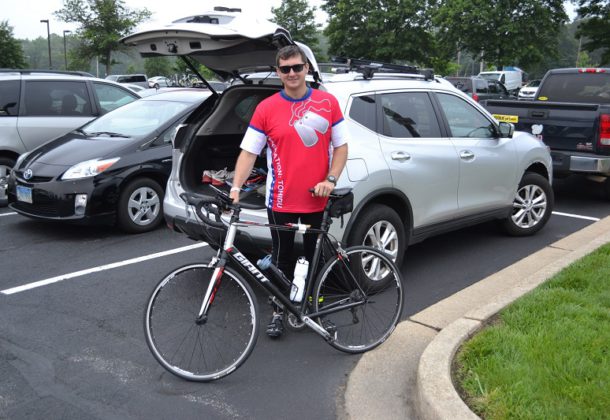 Southern Maryland Electric Cooperative employees hosted their annual 75 Bike Ride on June 4, 2016. Three bike routes of 29, 47, and 75 miles started at the cooperative's headquarters in Hughesville, MD, and went as far as Colton's Point, MD.
Profits from this year's bike ride will be donated to Melwood's Operation: Tohidu.
According to Natalie Cotton, SMECO's community and public affairs director, proceeds from the cooperative's fifth annual bike ride will total more than $25,000.
"Our volunteers and our participants were enthusiastic about supporting Melwood's Operation: Tohidu, the organization that will benefit from the fundraiser." Ms. Cotton said. "We had 475 cyclists, and many of them said they would be back next year."
Participants in this year's event complimented SMECO on the well-organized ride and its support for the charitable organization.
Bike ride participant Chris Tippett wrote, "Thank you very much for once again organizing and executing one of the best annual rides in the Washington area. I've ridden the SMECO 75 since 2013 and look forward to it every year; you put on a first-class event!"
Cyclist Gerald Warren wrote, "Thank you SMECO for supporting our veterans and active duty service-members through Operation: Tohidu. These men and women deserve our support!"
Melwood's Operation: Tohidu is an experiential rehabilitation program that focuses on confidence-building, outdoor activities, and group discussion in a relaxed, positive environment using proven techniques for the self-management of symptoms, stressors, and responses.
SMECO selects a different organization each year to benefit from the fundraising events. Last year, employees raised $41,322 through the bike ride held in June and a charity golf tournament in October. The events are supported by volunteers, the SMECO executive team, and vendors.
"We are especially grateful to business partners who participate by donating resources to help make the SMECO 75 Bike Ride a successful fundraiser," Ms. Cotton said. "Major contributors include ICF International, IP DataSystems, Penn Line, J.M Tennyson Construction, CW Wright Construction, New River Electrical Corporation, Origin Consulting, Sensus, Adams, Jenkins and Cheatham, CGI, Cigna, iFactor Consulting, Morgan Stanley, Prudential, Infor, Glen and Barbara Ives, Manis Canning & Associates, Avian, Booth & Associates, Opower, Utilitec, and VFP, and we thank them for their contributions."
For photos of the event, click here.
For more information about Southern Maryland Electric Cooperative, visit its Leader member page.