'Seriously Considering' BRAC in Senate Committee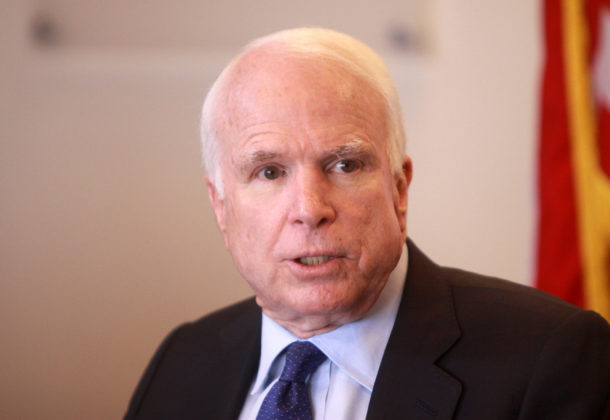 Morning Coffee is a robust blend of links to news around the Internet concerning the Naval Air Station Patuxent River

economic community. The opinions expressed here do not reflect opinions of the Leader's owners or staff.
The Hill reports Senate Armed Services Committee Chairman John McCain (R-AZ) and Ranking Member Jack Reed (D-RI) are "seriously considering" the possibility of closing excess military bases to cut down on waste, McCain said, telling reporters, "I think we have to examine all of the options that we have to make our military, our defense at the lowest possible cost to the American taxpayers. Right now we do have excess properties and facilities, and I think we need to look at it."
The Hill also reports McCain vowed to oppose reported efforts by President Donald Trump to ease limits on the treatment of suspected terrorists in US custody, "The president can sign whatever executive orders he likes," McCain said in a statement responding to a New York Times report that Trump has drafted an executive order paving the way for the return of George W. Bush-era detainee treatment standards. "But the law is the law. We are not bringing back torture in the United States of America."
McCain also this week called President Trump's fiscally conservative budget director nominee Mick Mulvaney (R-SC) an "impediment" to funding the military, reports Defense News. "I am deeply concerned about your lack of support for our military and your continued votes of withdrawals when we see a world on fire," McCain said during Mulvaney's hearing before the Senate Homeland Security and Governmental Affairs Committee. "What were you thinking, honestly, when you voted for immediate withdraw of all US troops from Afghanistan?"
With no fiscal 2017 defense budget in sight, military services are submitting second and possibly third rounds of lists of unfunded needs in order of priority. Maintenance is the Navy's top priority, reports Defense News.
Pentagon confirms first drone strikes under new president, reports CNN, aimed at al Qaeda in the Arabian peninsula. The strikes did not require Trump to sign off on them. The authority to order such strikes in Yemen was delegated under the previous administration to the four-star commander of US Central Command.
The new federal hiring freeze could cause major problems  for managers at DoD and Veterans Affairs, says Military Times, as well as impact thousands of former service members hoping to land government jobs.
Trump announces plans to build a Mexican border wall are underway and orders are signed to punish US cities and states as well as other nations who do not comply with stricter immigration laws, reports The New York Times. The orders also add detention space to hold,  arrest, and process illegal immigrants instead of maintaining a Bush-implemented policy that quickly returned border crossers to Mexico.
Trump meets with auto manufacturers, promises incentives to automakers, but no specifics. The timing is off, according to Bloomberg. A new assembly plant costs about $1 billion, an unlikely investment as the automotive industry reaches its market peak.
Contracts:
Gulfstream Aerospace Corp., Savannah, Georgia, has been awarded a maximum $115,686,394 modification (P00016) to exercise an option on previously awarded contract FA8106-13-D-0002 for contractor logistics support. Contractor will provide support to the C-20 and C-37 fleet for Air Force, Army, Navy, Marines, and Coast Guard. Work will be performed at Savannah, Georgia; Naval Air Station Sigonella, Italy; Ramstein Air Base, Germany; Andrews Air Force Base, Maryland; Hickam AFB, Hawaii; Marine Corps Base, Hawaii; MacDill AFB, Florida; and Reagan National Airport, Virginia, and is expected to be complete by Jan. 31, 2018. Fiscal 2017 Air Force, Army, Navy, Marines, and Coast Guard operations and maintenance funds in the amount of $57,724,653 are being obligated at the time of award. Air Force Life Cycle Management Center, Tinker Air Force Base, Oklahoma, is the contracting activity. 
Grunley Construction Co. Inc., Rockville, Maryland, is being awarded a firm-fixed-price contract for $28,932,000 to provide major interior renovations required for administrative facilities and shall include replacement of associated telecommunications systems. These renovations shall include the design and construction of accredited Sensitive Compartmented Information Facility (SCIF) areas, vertically aligned Telecommunication Rooms (TR), and the replacement of associated telecommunications systems. Work performance will take place in Fairfield, Pennsylvania. The expected completion date is Sept. 6, 2019. Fiscal 2017 Pentagon Reservation maintenance revolving funds; and fiscal 2014 military construction funds are being obligated at the time of the award. Washington Headquarters Services, Arlington, Virginia, is the contracting office (HQ0034-17-C-0009).
Marton Technologies Inc., Newport News, Virginia, was awarded a $9,375,821 modification (P000130) to contract W52P1J-14-G-0021 for logistics support services, including maintenance, supply and transportation. Work will be performed at Fort Riley, Kansas, with an estimated completion date of Jan. 31, 2018. Fiscal 2017 operations and maintenance (Army) funds in the amount of $9,375,821 were obligated at the time of the award. Army Contracting Command, Rock Island, Illinois, is the contracting activity.