Russia Is Jamming US Drones in Syria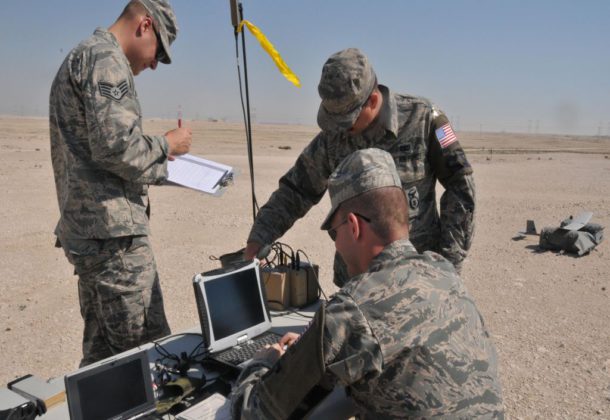 Morning Coffee is a robust blend of links to news around the internet concerning the Naval Air Station Patuxent River

economic community. The opinions expressed here do not reflect opinions of the Leader's owners or staff.
Russia is jamming US drones in Syria, reports NBC News, impacting US military operations. Russia began jamming small US drones several weeks ago, after a series of suspected chemical weapons attacks on civilians in rebel-held eastern Ghouta.
President Donald Trump on Monday threatened an imminent military strike against Syria, in response to Saturday's apparent chemical weapons attack that killed more than 40 civilians, reports AP, and warned Russia or any other responsible nation will "pay a price." Military Times reports Trump saying about the strike, "We have a lot of options militarily, and we'll be letting you know pretty soon. Probably after the fact."
President Trump could gain broad authority to wage war against terrorists under a proposal in the Senate, reports Politico, although Congress would win some key checks on his power.
Maryland Matters reports on the winners and losers of the 2018 Maryland General Assembly session.
A switch in contractors made by the military's health insurer Tricare could cause some troops and families to pay thousands to keep their insurance, reports Military.com. As many as 45,000 Tricare beneficiaries were missing payment information as of late last month, requiring them to pay out of pocket costs into the thousands of dollars to fix the issue.
The Navy will prioritize speed over price to accelerate its MQ-25A Stingray program, reports USNI News.
Weaponization of unmanned Fire Scout helicopters is  "on hiatus" until 2023, reports Defense News, to determine the correct weapons mix, according to CAPT Jeff Dodge, head of PMA-266.
The worst submarine disaster in US naval history happened 55 years ago, April 10, 1963, when the nuclear-powered USS Thresher was lost with 129 crew and civilians aboard. The Navy is still keeping details secret, reports Military.com. A Naval Court of Inquiry found "major flooding" as the cause, but the finding has been challenged by naval and submarine experts. Only 18 pages of testimony from a key witness is public.
The Marines just switched their main sniper rifle ― look what's next in Marine Times.
The New York Times reports the annual federal budget deficit is set to exceed $1 trillion in 2020. The national debt, which has exceeded $21 trillion, will surpass $33 trillion in 2028, when the public debt will be 96 percent of the entire national economy. Economists fear rising deficits will drive up interest rates, raise borrowing costs for the private sector, tank stock prices and slow the economy, which would only drive the deficit higher.
USNI News reports on the status of the Navy's 228 ships on April 9, 2018, in its fleet and marine tracker.
Contracts:
Atlantic Diving Supply Inc., doing business as ADS Inc., Virginia Beach, Virginia (SPE8EG-16-D-0023); Berger Cummins JV, Washington, District of Columbia (SPE8EG-16-D-0024); Caterpillar, Mossville, Illinois (SPE8EG-16-D-0025); Inglett and Stubbs International, Atlanta, Georgia (SPE8EG-16-D-0026); and Texas Power and Associates, Dallas, Texas (SPE8EG-16-D-0027), are sharing a maximum $260,000,000 modification (P0003) for generators and associated supplies. These are firm-fixed-price, indefinite-delivery/indefinite-quantity, 287-day bridge contracts. Locations of performance are Virginia, Washington, District of Columbia, Illinois, Georgia, and Texas, with a Jan. 21, 2019, performance completion date. Using customer is Federal Emergency Management Agency. Type of appropriation is fiscal 2018 defense working capital funds. The contracting activity is the Defense Logistics Agency Troop Support, Philadelphia, Pennsylvania.
Atlantic Diving Supply Inc., doing business as ADS Inc., Virginia Beach, Virginia, has been awarded a maximum $30,000,000 firm-fixed-price with economic-price-adjustment contract for medical equipment. This is a five-year contract with no option periods. This was a competitive acquisition with 31 responses received. Location of performance is Virginia, with an April 9, 2023, performance completion date. Using customers are Army, Navy, Air Force, Marine Corps, and federal civilian agencies. Type of appropriation is fiscal 2018 through 2023 defense working capital funds. The contracting activity is the Defense Logistics Agency Troop Support, Philadelphia, Pennsylvania (SPE2D1-18-D-0011).
Kudu Dynamics, Chantilly, Virginia, was awarded a $7,913,091 cost-plus-fixed-fee contract for a research project on the Harnessing Autonomy for Countering Cyberadversary Systems (HACCS) program. The HACCS program aims to develop technologies for accurately identifying malicious cyberadversary infiltrated networks, generating reliable software exploits for large numbers of known (n-day) vulnerabilities, and creating effective autonomous software agents that can be inserted in the compromised networks via the n-day exploits to safely and reliably neutralize cyberadversary software agents. Work will be performed in Chantilly, Virginia (85 percent); and Arlington, Virginia (15 percent), with an expected completion date of April 2022. Fiscal 2017 research, development, test and evaluation (RDT&E) funding in the amount of $106,000, and fiscal 2018 RDT&E funding in the amount of $400,000 are being obligated at the time of award. This contract was a competitive acquisition under an open broad agency announcement and 30 offers were received. The Defense Advanced Research Projects Agency, Arlington, Virginia, is the contracting activity (HR001118C0062).