Runway Project Moves Pax Testing to Wallops for Summer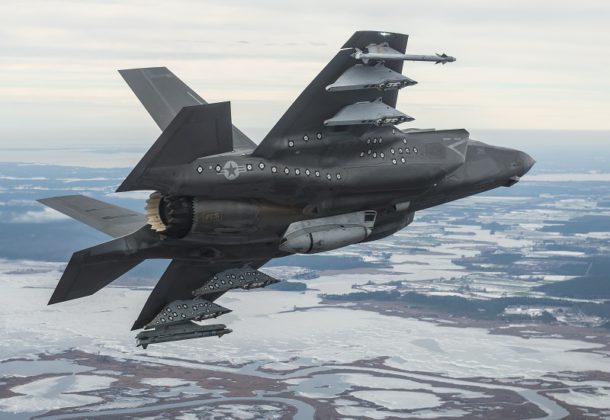 Morning Coffee is a robust blend of links to news around the Internet concerning the Naval Air Station Patuxent River

economic community. The opinions expressed here do not reflect opinions of the Leader's owners or staff.
A detachment from Naval Air Station Patuxent River will operate from the NASA Wallops Flight Facility this summer, Delmarvanow.com reports. The F-35 Lightning II Pax River Integrated Test Force will conduct flight test operations at Wallops with two F-35B Short Takeoff and Vertical Landing variants and two F-35C carrier variants from mid-June to mid-July while NAS Pax is implementing a runway intersection construction project.
Communities surrounding NAS Patuxent River are advised that pilots at the base this week will be training for realistic flight scenarios including Field Carrier Landing Practice. Tests are scheduled 7 am to noon Monday, June 13, through Friday, June 17. FCLP training is essential for the precision and safety of our military men and women and the success of their mission.
BAE Systems unveiled plans for the world's first combat drones, saying the company is working toward a scenario in which the unmanned warplanes will fight alongside piloted aircraft rather than instead of them, Bloomberg reports.
A US P-8 Poseidon maritime patrol aircraft assisted the British Royal Navy in the seizure of more than a ton of hashish off the coast of Oman last week, Stars and Stripes reports. The plane helped the British destroyer HMS Defender identify the suspect vessel from among fishing and other vessels.
Interest is growing for used P-3 Orion maritime patrol aircraft and S-3 Viking anti-submarine warfare aircraft in the Asia Pacific region, IHS Jane's reports. Countries linked with potential purchases include Vietnam and South Korea. "Lockheed Martin stands ready to support any interest current or potential S-3/P-3 operators may have in regards to upgrading or acquiring these platforms for maritime mission requirements," a company spokesperson said.
A French company will make a pitch this week to the US Marine Corps at a trade show for a paragliding dune buggy, Defense News reports. After a short take off, powered flight, and silent glide, a pilot lands the flying car and becomes a driver, powered by a scooter motor.
Canada's decision whether to buy F/A-18E fighter jets could determine if Lockheed Martin keeps its work in that country on the F-35. Lockheed Martin might consider shifting the work from Canadian firms, Reuters reports. Jack Crisler, Lockheed's vice president of business development for the F-35 program, told Reuters the company was under pressure from other partner countries that had placed orders to shift more work to them.
RADM Robert Gilbeau last week pleaded guilty to one count of making a false statement to investigators in the Navy's Glenn Defense Marine Asia scandal, also known as the"Fat Leonard" case, MSN reports. The case is nicknamed for GDMA's principal officer and Singapore businessman Leonard Glenn Francis. It is alleged that Fat Leonard bribed Navy officers so they would look the other way as he swindled the Navy.
The Pentagon is about to restructure the way it fights the Islamic State and other terror threats, deepening its reliance on the US Special Operations Command, The Wall Street Journal reports.
The Associated Press reports that US-backed fighters are hitting Islamic State strongholds in Syria, Iraq, and Libya. The anti-IS offensives are posing significant challenges to the extremist group as it tries to stave off multiple attacks.
The European Center for the Analysis of Terrorism says while ISIS' long-term prospects might be grim, an imminent financial collapse is unlikely, Vocativ reports. The center's findings estimate that the jihadists generated more than $2 billion in 2015. That comes as the terrorists turn to extortion and taxation to make up for decreasing sales in oil and other natural resources.
Contracts:
Lockheed Martin Mission Systems and Training, Baltimore, MD, is being awarded a $10,864,910 cost-plus-fixed-fee delivery order modification against the previously awarded basic ordering agreement N00024-15-G-2303 to provide emergent availability planning and execution and test and trials for full ship shock trials support for the Littoral Combat Ship USS Milwaukee (LCS-5).  Lockheed Martin will provide advance planning and accomplishment in support of in-between shot repairs during the FSST event; and the FSST repair period including work specifications and execution to correct damage sustained during the FSST event and FSST instrumentation removal. Work will be performed in Mayport, FL (35 percent); Baltimore, MD (30 percent); New York, NY (30 percent); and Marinette, WI (5 percent), and is expected to be completed by December 2016. Fiscal 2015 and 2016 research, development, test and evaluation (Navy) in amount of $10,864,910 will be obligated at time of award, with $4,000,000 expiring at the end of the current fiscal year. The Supervisor of Shipbuilding, Conversion, and Repair, Bath, ME, is the contracting activity.
Boston Consulting Group Inc., Bethesda, MD, is being awarded an estimated $17,015,046 modification (P00001) to task order HDEC05-16-F-0002 under contract GS-10-F-0253V for contractor advisory and assistance services. Work will be performed in Bethesda, MD; however, performance of some of the services (i.e., progress review; other discussion; briefings) may be performed at the Defense Commissary Agency. The completion date is May 17, 2017.  The face value of the initial task order was an estimated $6,845,902 funded by defense working capital funds. The contracting activity is the Defense Commissary Agency, Enterprise Acquisition Division, Fort Lee, VA (HDEC05-16-F-0002).
Northrop Grumman Space & Mission Systems Corp., Colorado Springs, CO, is being awarded a modification (P00033) to previously awarded cost-plus-award-fee, indefinite-delivery/indefinite-quantity contract H95001-05-D-0002/H95001-10-D-0001, to extend the period of performance of task orders. The value (estimated maximum) of this contract modification is $600,000,000, increasing the total contract value (estimated maximum) from $3,250,000,000 to $3,850,000,000. Under this modification, the contractor will continue to provide Missile Defense Agency and Department of Defense with enterprise-level technical integration and Ballistic Missile Defense System-level operational integration products and services; support the definition, development, and test and evaluation of integrated missile defense capabilities; support warfighters in the exercise of missile defense readiness, wargame command and control procedures, operational concepts, and doctrinal requirements; operational support to the BMDS; and information technology services to include IT operations, maintenance and infrastructure development in support of the chief information officer. The work will be performed at Schriever Air Force Base, CO; Huntsville, AL; Fort Belvoir, VA; Dahlgren, VA; Kirtland Air Force Base, NM; Elmendorf Air Force Base, Alaska; Fort Greely, Alaska; Vandenberg Air Force Base, CA; and Pacific Missile Range Facility Barking Sands, Kehaka, Kauai, Hawaii. The period of performance for task orders under this contract is extended up to 20 months (July 31, 2017) beyond the end of the ordering period. The contract is incrementally funded under each task order/delivery order. Funding is not awarded at the contract level, however, funding types currently awarded under the task orders include research and development; operation and maintenance; and United Arab Emirates foreign military sales funds. The Missile Defense Agency, Schriever Air Force Base, CO, is the contracting activity.
Advanced Acoustic Concepts, Hauppauge, NY, is being awarded $27,461,965 modification P00028 to previously awarded contract N00024-12-C-6311 to provide additional contract line item numbers to support the existing mission package software platforms for the Littoral Combat Ship Mission Modules Program. Advanced Acoustic Concepts will procure, install, fabricate, test, trouble shoot, and perform operational maintenance. Work will be performed in Columbia, MD (50 percent); Hauppauge, NY (30 percent); and Lamont Furnace, PA (20 percent). Work is expected to be completed by September 2017. Fiscal 2016 research, development, and test and evaluation; fiscal 2016 operations and maintenance (Navy); and fiscal 2016 other procurement (Navy) funds in the amount of $5,111,360 will be obligated at time of award.  Contract funds in the amount of $1,678,255 will expire at the end of the current fiscal year.  The Naval Sea Systems Command, Washington, DC, is the contracting activity.