Retrofit Ordered for F-35 Fleet Worldwide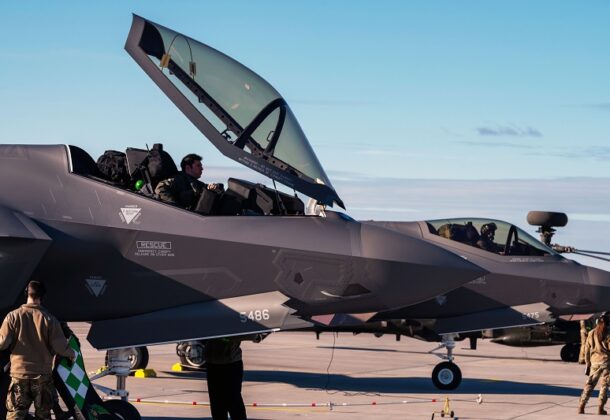 Two US Air Force F-35 Lightning II aircraft assigned to the 48th Fighter Wing, Royal Air Force Lakenheath, England, arrive at Siauliai Air Base, Lithuania, February 27, 2022. (US Air Force photo by Senior Airman John R. Wright)
Morning Coffee is a robust blend of links to news around the internet concerning the Naval Air Station Patuxent River

economic community. The opinions expressed here do not reflect opinions of the Leader's owners or staff.
The F-35 Joint Program Office has ordered that all F-35 jets should be retrofitted within 90 days with a fix intended to solve a potential engine vibration problem, reports Defense News. This includes a global retrofit, not just for US aircraft.
Pratt & Whitney VP for F135 Programs Jen Latka said last week that some F-35s will require engine hardware fixes, reports Breaking Defense. The jets require the fix to correct the "harmonic resonance" issue identified as the cause of the crash of an F-35B in December. "This is a very elegant solution," Latka said at a roundtable discussion two days before the JPO announcement.
Boeing will help upgrade the US Navy's maritime patrol jet with network-ready weapons and open-systems avionics, reports Military-Aerospace Electronics. Naval Air Systems Command at Pax River is asking for P-8A Increment 3 retrofit A-kits for eight existing P-8A aircraft.
The global P-8 Poseidon fleet — 156 aircraft in six countries — has reached a major milestone, reports Defence Blog. The fleet has racked up more than 500,000 flight hours.
Lockheed Martin is ready to celebrate a major milestone for the F-18 Block 70 program. The company announced Bahraini, US government, military, and aerospace industry officials will hold a ceremony marking the delivery of the first Royal Bahraini Air Force F-16 Block 70.
Boeing has been awarded a contract worth up to $1.2 billion to start work on the first E-7A Wedgetail, for the US Air Force, with plans to field a fleet of 26, reports Defense News. The battle management and command-and-control aircraft was originally developed for the Royal Australian Air Force. The United Kingdom, South Korea, and Turkey also either fly the E-7 or plan to buy it.
The Navy has prioritized sustaining and modernizing the Super Hornet for future combat readiness, reports The Southern Maryland Chronicle. The F/A-18 and EA-18G Program Office (PMA-265) directs effective sustainment and modernization programs and practices that the service said will keep the fleet flying well into the future. Future Service Life Modification efforts will provide Block II aircraft with Block III capability, increasing service life to 10,000 hours, significantly enhancing lethality and survivability through on-board and shared high-fidelity sensor data, and improving aircrew tactical decision aids, according to NAVAIR.
The US Air Force's E-3 Sentry aerial target trackers became the latest planes to undergo inspection for subpar tail pins, reports Air Force Times. The service's Air Combat Command said the planes will continue to fly operational and training missions.
Former Maryland governor Larry Hogan announced that he won't run for president in 2024, reports Maryland Matters. Hogan made the announcement Sunday morning on CBS's "Face the Nation," with a Twitter statement and New York Times guest essay released at the same time.
A Ukrainian military intelligence official has predicted that Russia will run out of the "military tools" necessary for its war in Ukraine by the end of the spring, The Hill.
CAPT Daniel Fucito is the new program manager for the Navy's Unmanned Carrier Aviation office (PMA-268) at NAS Pax, reports The BayNet. Fucito most recently served as the NAVAIR systems engineering military director. He takes over from the retiring CAPT Sam Messer.
Personal finance website WalletHub has compared all 50 states across 18 metrics that examined the key factors of a well-educated population: educational attainment, school quality, and achievement gaps between genders and races and has ranked Maryland as the second highest most educated state in America, topped only by Massachusetts.
Financial news reporting website 24/7 Wall St. reviewed data on employment projections from Woods & Poole Economics Inc. of Washington, DC, to determine the 40 cities that will add the most jobs by 2060. The California-Lexington Park, MD, area is projected to have a 76% growth in employment in the next four decades.
US Cyber Command officials said it is developing its own intelligence hub, reports C4ISRNET, after years of relying on other information-gathering sources. The plan is to buttress data collection and augment CYBERCOM's understanding of foreign capabilities in the ever-expanding cyber realm.
A retired Navy submarine officer is leading the latest NASA space mission, reports Military Times. CAPT Stephen Bowen has made three prior trips into space.
SpaceX's Crew-6 astronaut mission arrived at the International Space Station early Friday morning, but not without a little drama, reports Space.com. A faulty hook sensor caused a minor delay in docking.
Retired US Army colonel Paris Davis, 85, received the Medal of Honor on Friday, nearly 60 years after he was first recommended for the award for bravery during the Vietnam War, reports Daily Press. The Virginia resident was one of the first Black officers to lead a Special Forces team in combat.
PVT Leroy M. Slenker, an Army soldier taken prisoner during World War II has been accounted for, reports Army Times. He died as a prisoner of war in the Philippines in late 1941. The Defense POW/MIA Accounting Agency did not specify how Slenker was accounted for, but the agency renewed efforts to identify Americans killed in WWII in the 1970s.
Allison Jaslow, an Iraq War veteran, is the new CEO of Iraq and Afghanistan Veterans of America, reports Military Times. She is the organization's first female leader. IAVA fights to improve the lives of post-9/11 veterans. according to its website.
The Joint Culinary Training Exercise has returned to Fort Lee, VA, and runs until Friday. More than 180 military food service personnel from around the world are competing in an event largely rooted in the "Top Chef" tradition of kitchen combat, reports dvidshub.net.
Contracts:
CAE USA Inc., Tampa, Florida, is awarded a $35,850,474 firm-fixed-price contract for the production, delivery, installation, verification testing, and associated logistics support of one exportable, non-motion MH-60R Tactical Operational Flight Trainer configured for the Republic of Korea. Work will be performed in Tampa, Florida (50%); Great Mills, Maryland (20%); Montreal Quebec (10%); Orlando, Florida (10%); and Changwon-Si, South Korea (10%), and is expected to be completed in December 2026. Foreign Military Sales customer funds in the amount of $35,850,474 will be obligated at the time of award, none of which will expire at the end of the current fiscal year. This contract was not competitively procured pursuant to Federal Acquisition Regulation 6.302-4. The Naval Air Warfare Center Training Systems Division, Orlando, Florida, is the contracting activity (N6134023C0017).
Northrop Grumman Systems Corp., Melbourne, Florida, is awarded a $25,386,631 firm-fixed-price, cost-plus-fixed-fee modification (P00003) to an order (N0001922F2530) against a previously issued basic ordering agreement (N0001920G0005). This modification exercises an option for the fabrication and installation support to retrofit the Delta System Software Configuration 4.0 capabilities, to include Tactical Targeting Network Technology and the Beyond Line of Sight in the E-2D Advanced Hawkeye aircraft. Work will be performed in Dallas, Texas (57%); Melbourne, Florida (11%); Boulder, Colorado (9%); Norfolk, Virginia (8%); Salisbury, Maryland (5%); Ronkonkoma, New York (3%); and various locations within the continental US (7%) and is expected to be completed in September 2025. Fiscal 2023 aircraft procurement (Navy) funds in the amount of $25,386,631 will be obligated at the time of award, none of which will expire at the end of the current fiscal year. The Naval Air Systems Command, Patuxent River, Maryland, is the contracting activity.
Advanced Computer Concepts Inc., McLean, Virginia, is awarded an $8,192,548 firm-fixed-price modification to previously awarded contract N0016422F0078 to exercise options for the Next Generation Electronic Warfare Environment Generator (NEWEG) in support of force level electromagnetic warfare test and evaluation and experimentation supporting both the Navy and Air Force electronic warfare communities. Work will be performed in Buffalo, New York, and is expected to be completed by June 2024. Fiscal 2022 Carryover Capital Investment Program (Navy) funds in the amount of $8,192,548 will be obligated at time of award and will not expire at the end of the current fiscal year. The Naval Surface Warfare Center, Crane Division, Crane, Indiana, is the contracting activity (N0016422F0078).