Plein Air Festival Earns $3,000 for Art Scholarship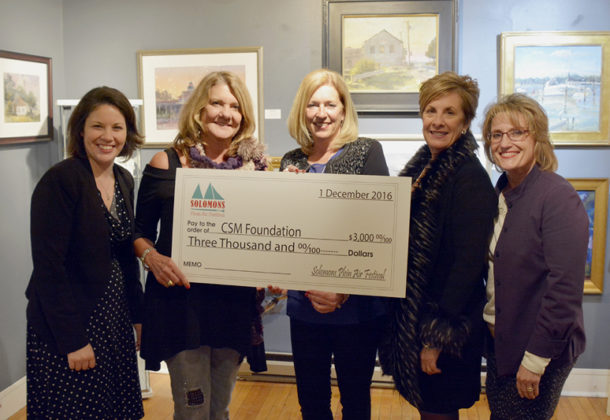 Proceeds from the 2016 Solomons Plein Air Festival presented by Avian benefited six community organizations, including $3,000 presented to the College of Southern Maryland Foundation for the Dennis Lake Smith Memorial Art Scholarship. From left are CSM Development Director Chelsea Brown, SPAF Chair Carmen Nance Gambrill, CSM Foundation First Vice Chair and SPAF volunteer Nancy Hempstead, CSM Vice President of Advancement Michelle Goodwin, and CSM Assistant Vice President of Community Relations Karen Smith Hupp.
As artists were capturing Southern Maryland scenes in the fall at the Solomons Plein Air Festival, presented by Avian, patrons were buying their favorites pieces of artwork. Proceeds from those sales have been given to six community organizations, including a $3,000 donation to the College of Southern Maryland Foundation for the Dennis Lake Smith Memorial Art Scholarship.
A total of $18,000 was raised, which is nearly double the money raised the previous year.
"We are very proud of the growing success of our Solomons Plein Air Festival," said Carmen Nance Gambrill, festival chair. "This was only accomplished due to the hard-working committee who volunteered countless hours to make this festival one of the premier plein air events in the country. The committee was a combination of business owners, residents, churches, and other interested individuals, so it truly was a community effort."
The other five charities that were able to benefit from the festival's success are HeartFELT, Orphaned Wildlife Rescue Center, Patuxent Animal Welfare Society, the Solomons Business Association's 4th of July fireworks, and Sophia's Oasis for Equines.
During the week-long festival, artists painted throughout Solomons. The artists were chosen from a national field of 100 applicants. In addition to the main event, there was a "Sunset Quick Draw" along the Solomons Riverwalk, in which artists had two hours to complete a canvas, and "Paint the Town for A Cause" for community members to join the artists for a morning of painting.
"This year's competition was composed of 33 juried artists chosen from some of the best plein air artists in the world. Thanks to our sponsors and supporters, we were able to offer significant prize money which, along with unsurpassed hospitality of the town of Solomons, keeps the artists applying each year.
"This was my first year working the Solomons Plein Air Fest and it was incredible," said CSM Foundation First Vice Chair Nancy Hempstead. "These talented artists come from all over the country and embrace the community and the spirit of giving that is such a big part of the festival. And the community embraces the artists for a week of activities to raise funds that truly make an impact to CSM and its students. Very rewarding indeed!"
The Dennis Lake Smith Memorial Art Scholarship was created by Carmen and Matt Gambrill as a tribute to their friend, Dennis Lake Smith, who died May 1, 2011. Smith is remembered as a saxophone and harmonica player with the Southern Maryland band Round Midnite and was learning to play the accordion. He flew with his Solomons friends to New Orleans for JazzFest as a way to share his passion for music. Although he was offered a scholarship to the Julliard School of Music, Smith chose to study art at the Maryland Institute of Art and was the artist who designed the first Cavalier billboard welcoming visitors to Calvert County. Smith graduated from Embry-Riddle Aeronautical University later in life, while working full time. He was a software applications engineer with Wyle Labs in California.
For details about the festival, its artists and the program sponsors, visit the Solomons Plein Air website.
For more about the College of Southern Maryland, visit their Leader member page.