Pentagon Says Weapon Program Costs are Falling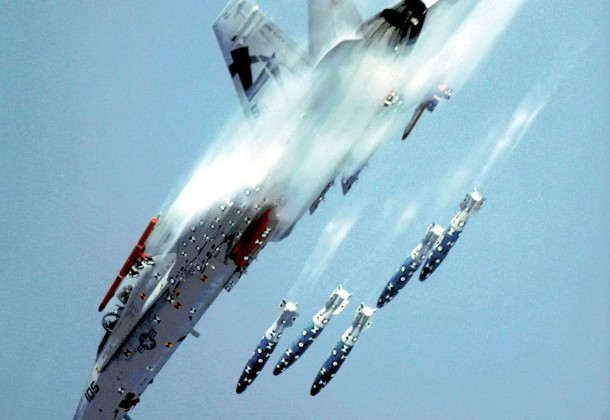 Morning Coffee is a robust blend of links to news around the internet concerning the Naval Air Station Patuxent River economic community. The opinions expressed here do not necessarily reflect those of the Leader's owners or staff.

Weapon program costs are falling for nearly 70 percent of weapon programs, valued at $1.6 trillion, reports Defense One. The trends in more detail in DoD's just released, annual Selected Acquisition Reports, include: EA-18G Growler Aircraft– program costs increased $1.5 billion; MQ-4C Triton Unmanned Aircraft System – program costs decreased $1 billion; and MQ-8 Fire Scout Unmanned Aircraft System – program costs decreased $631.2 million. DoD's annual report showed a nearly 2 percent drop in the cost of the 2,457 F-35 jets on order, reports Reuters.
The aircraft carrier Ford's cost stabilized ​at $13 billion, letting Navy ​concentrate on other features such as the jet car track for the Advanced Arresting Gear (AAG)  and testing the Electromagnetic Aircraft Launch System (EMALS), reports Breaking Defense.
The Hill reports: The Senate Budget Committee, voting down party lines, boosted the war-fund budget to $96 billion, matching the House GOP budget. Sen. Bernie Sanders (I-VT), potential 2016 presidential contender and ranking member of the Senate Budget Committee, will offer an amendment to that GOP budget to tax millionaires to finance military operations. On the House side, Rep. Charles Rangel (D-NY) is re-introducing legislation to reinstate a military draft and impose a "war tax" on everyone, so Americans "feel the burden" of ongoing military operations against Islamic militants.
Reps. Glenn Thompson (R-PA) and Tim Ryan (D-OH) introduced late last week "The Medical Evaluation Parity for Service Members Act" requiring mental health assessments of military recruits, reports The Hill, to identify behavioral issues early before they manifest into serious psychological problems like Post-Traumatic Stress Disorder.
The JSF's fusion of data collection, designed to improve a pilot's awareness of the battle-space, is testing a new software patch to allow each pilot in a multi-ship formation to view the  same threat picture, reports Aviation Week. Janes.com reports, Lockheed is developing a pod-mounted cyber-attack system for the F-35.
Efforts to deter computer attacks against the US aren't working, says head of  the U.S. Cyber Command​, ADM Michael S. Rogers, "We're at a tiping point,"  The Washington Post quotes,  "We need to think about: How do we increase our capacity on the offensive side to get to that point of deterrence?"​ ADM Rogers' testimony to the  Senate Armed Services Committee, likens the importance of deterrence to the Cold War's nuclear weapon build-up, in part reading, "Building these nuclear forces and the policy and support structures around them took time and did not cause a nuclear war or make the world less safe. On the contrary, it made deterrence  predictable, helped to lower tensions, and ultimately facilitated arms control negotiations."
Unmanned aircraft, the Administration's weapon of choice, have killed more than 500 suspected terrorist leaders since 9/11, reports USA Today, noting that the technique is favored at home to avoid boots on the ground, but is considered aggression in much of the rest of the world.
The Army is destroying the US's last cache of chemical weapons,  2,600 tons of mustard agent,  at Pueblo Chemical Depot in southern Colorado, reports PilotOnline.com.
Crowd sourced commercial aircraft surveillance now covers 80 percent of the world's landmass, Aviation Week reports on the Swedish  company that stumbled upon the growing business of surveillance networking. Kinetic Avionics Automatic Dependent Surveillance-Broadcast (ADS-B)  has 6,200 receivers, and is adding 50 more a week. The company is now working on ways to cover the oceans.
After threatening to take its unmanned vehicle research out-of-country, the FAA last week granted Amazon an experimental airworthiness certificate, which requires Amazon fly its drones only during the day, within 400 feet of the ground and within sight of an operator who has a traditional pilot's license, reports Bloomberg Business.
URS Federal Services Inc., Germantown, Maryland, is being awarded a $6,636,797 cost-plus-fixed-fee contract for program management services in support of the Broad Area Maritime Surveillance-Demonstrator Program Office. Work will be performed in Germantown, Maryland (75 percent), and Patuxent River, Maryland (25 percent), and is expected to be completed in March 2016. Fiscal 2015 operations and maintenance (Navy) funds in the amount of $5,600,000 are being obligated on this award, all of which will expire at the end of the current fiscal year. This contract was not competitively procured pursuant 10 U.S.C. 2304(c)(1). The Naval Air Warfare Center Aircraft Division, Patuxent River, Maryland, is the contracting activity (N00421-15-C-0020).