Pax's F-35 Team Makes Eight Night Sea Landings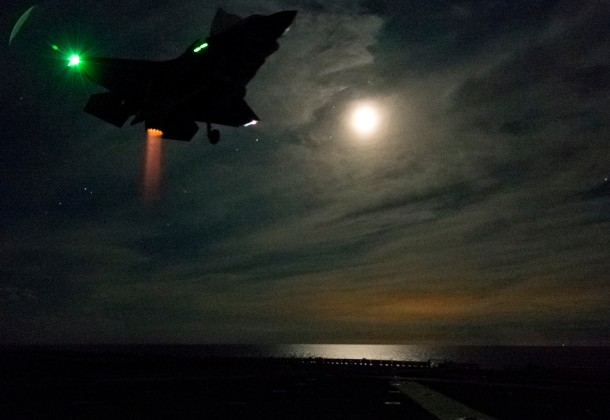 Morning Coffee is a robust blend of links to news around the internet concerning the Naval Air Station Patuxent River economic community. The opinions expressed here do not necessarily reflect those o

f the Leader's owners or staff.
The F-35 Integrated Test Force  from NAS Patuxent River, Md. performed eight successful night-time sea landings of the F-35, a milestone along the aircraft's path to certification, reports the Marine's official website.
Lexington Park, Md. headquartered, small businesses  AM Pierce and Associates and Coherent Technical Services, Inc. joins with BAE Systems Technology Solutions and Services, Rockville; Booz Allen Hamilton Engineering Services LLC, Annapolis;  Engility Corp., Chantilly, Va. and Sierra Nevada Corp., Sparks, Nev. in an aggregate not-to-exceed $243 million, cost-plus-fixed-fee contract for the procurement of systems engineering support for the Naval Air Warfare Center Aircraft Department, Aircraft Control Systems Division.The companies will have the opportunity to compete on individual task orders. Work will be performed in Patuxent River, Md. (80 percent) and St. Inigoes, Md. (20 percent), and is expected to be completed in August 2018.
With their eye on the six FAA test site designations to be made this year, western states strut their UAV chops at the AUVSI convention, reports Defense News and also notes that the convention shows the UAV shift from military to commercial.
An ultra-lightweight, unmanned aircraft able to remain aloft for 5 years snags attention at the AUVSI trade show as well, reports Breaking Defense, which also notes the Association's request, don't call it a drone.
No plans to weaponize X-47B, reports DoD Buzz.
Navy launches four UCLASS preliminary design assessment contracts, reports Flightglobal.
NAS:Jacksonville to be center of Navy's maritime patrol UAVs, reports Military & Aerospace.
Military to extend spousal and family benefits to same-sex married couples by Sept. 3 reports CNN Security Clearance.
Blue laws on Navy bases target a population's problem with alcohol instead of relying only on individual efforts, reports Military.com.
Government acknowledges Area 51, reports the Washington Post.
Navy's use of bio-fuel could spur commercial growth, reports Next Gov.