USCG Investigates Passenger Deaths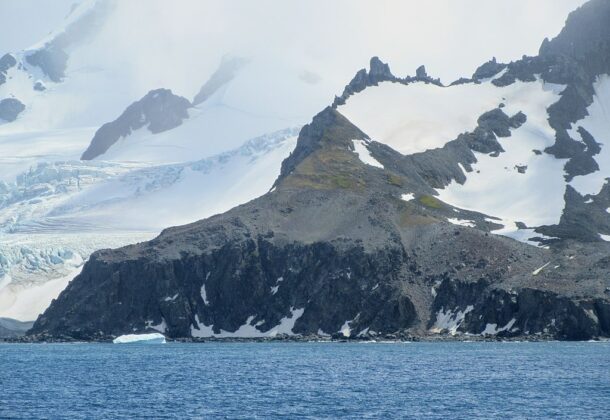 Elephant Island, Antarctica
Morning Coffee is a robust blend of links to news around the internet concerning the Naval Air Station Patuxent River

economic community. The opinions expressed here do not reflect opinions of the Leader's owners or staff.
The US Coast Guard is investigating several deaths and injuries of US citizens that took place on passenger vessels recently traveling in Antarctic waters, reports ABC. The USCG, National Transportation Safety Board, and other agencies from around the world are deploying teams to Ushuaia, Argentina, to investigate four instances that took place between November 15 and December 1, 2022. In one incident, two US citizens died when an inflatable boat from the Portuguese-flagged passenger vessel, World Explorer, capsized with six passengers aboard near Elephant Island, Antarctica.
The Space Force blames a power surge at the Maui Space Surveillance Complex for the mechanical failure that allowed about 700 gallons of diesel fuel to spill into the soil earlier this month at the environmentally sensitive and culturally important summit of Haleakala mountain on Hawaii's Maui Island. The site hosts the military's largest optical telescope which tracks satellites.
China now has more Intercontinental Ballistic Missile launchers than the US, Defense News reports. A congressional notification from US Strategic Command highlights China's rapid nuclear modernization and prompted congressional Republicans to call for "higher numbers and new capabilities" in the US nuclear arsenal.
A  warning shot was fired Monday morning at an intruder at Joint Base Andrews housing area. The husband of the Chief Master Sergeant of the Air Force JoAnne Bass fired the shot, reports Air Force Times. The base posted to Twitter that an unauthorized man had been apprehended and the incident is under investigation. Joint Base Andrews is home to Air Force One and the "Doomsday" Boeing 747 aircraft designed as an airborne nuclear command center.
Fifty House Republicans have resurrected a bill that would allow some veterans considered to be mentally disabled to buy and own firearms, saying a Veterans Affairs policy unfairly strips them of their Second Amendment rights. Military.com reports Rep. Mike Bost (R-IL), chair of the House Veterans Affairs Committee, has introduced legislation to bar the VA from reporting certain veterans to the FBI's national background check database without first getting a judge's consent.
Thousands of computer servers have been targeted by a global ransomware hacking attack targeting VMware ESXi servers, Reuters reports on the warning issued by Italy's National Cybersecurity Agency for organizations to take action to protect their systems. Reuters further reports the Italian government said the ransomware activity that targeted thousands of computer servers in Italy and other countries was probably the handiwork of criminal hackers and not a state or state-like entity.
Veterans or service members experiencing a mental health emergency can contact the Veteran Crisis Line at 988 or at 1-800-273-8255 and select option 1 for a VA staffer. Veterans, troops, or their family members can also text 838255 or visit VeteransCrisisLine.net for assistance.
US government has begun sending earthquake aid to Turkey. Military Times report that US military leaders are routing aid from US European Command to Turkey and Syria after Monday's massive earthquake.
US reports no injuries at Incirlik Air Base after the massive earthquake in Turkey, reports Military.com All troops were accounted for Monday morning, with no casualties or major damage to the installation reported. The overnight earthquake has left thousands dead.
The Navy's surface fleet leadership is holding regular "sustainment summits" in part to address the cannibalization of its ships, reports Breaking Defense. The Government Accountability Office reports an uptick in Navy ship maintenance problems, noting ship cannibalizationhas been happening more frequently across the service's surface fleet for the past decade.
Pentagon says DefSec Lloyd Austin was rebuffed when he sought to reach out to Beijing over Chinese spy balloon, reports The Hill. Directly after the US shot down a suspected Chinese surveillance balloon a request for a secure call between Austin and the Chinese Defense Minister Wei Feng was rebuffed.
US military failed to detect previous spy balloons from China, reports Military Times. At least three Chinese spy balloons floated over US air space during the Trump administration, and another previously flew during the Biden administration, but it's unclear which government agency tracked them or whether the presidents had previously been briefed on them, defense leaders said this week.
China on Monday accused the United States of indiscriminate use of force in shooting down the suspected Chinese spy balloon, saying it "seriously impacted and damaged both sides' efforts and progress in stabilizing Sino-US relations," reports Military.com. The US shot down the balloon off the Carolina coast after it traversed sensitive military sites across North America. China insisted the flyover was an accident involving a civilian aircraft.
The Navy, Air Force, and Marine Corps grounded some of their 400 V-22 Ospreys, after ongoing issues with the tilt-rotor aircraft's hand clutch are linked to age, reports USNI News. The restriction will be in place until the deficient element of the gearbox housing the aircraft clutch is replaced. Marine pilots have flown Osprey since 2010 and are trained in emergency measures to control issues during flight. The Air Force has also flown their Ospreys for years. The Navy only started deploying its CMV-22Bs in 2021.
The National Guard veteran who started a Neo-Nazi group has been arrested again, this time for targeting a power station in Maryland, reports Military.com. Brandon Clint Russell and his girlfriend Sarah Clendaniel were arrested last week for allegedly plotting to destroy an electrical substation in Maryland, according to federal prosecutors. The former Guardsman and self-identified Nazi was recently released from prison after a 2018 conviction for possessing explosives. They are accused of conspiring to carry out attacks to further "racially or ethnically motivated violent extremism," according to the complaint.
MAJ GEN Kenneth Kamper, the commanding general of Fort Sill, OK, was temporarily suspended from duty Friday as part of an investigation into allegations of repeated violations of hunting rules on base, according to multiple sources with direct knowledge of the situation.
The National Restaurant Association reports that the industry is still down 462,000 jobs from pre-pandemic levels. Route 50 reports, to bring the workers back, at least a dozen states are considering eliminating sub-minimum wages. Workers typically make around $2.13 an hour plus tips. The volatility of that wage is one reason several states are introducing bills to replace it with a minimum wage. Under federal law, some workers can be paid less than the minimum wage, such as tipped workers, students, and disabled workers.
Relativity Space stacks 3D-printed rocket on launch pad ahead of 1st flight, reports Space.com. A 3D-printed rocket is once again fully assembled at the launch pad ahead of its debut mission. Relativity Space put together the stages of its expendable Terran 1 rocket, a two-stage small-lift vehicle, on the launch pad for "final ground tests" ahead of its debut flight, rumored to be launching as soon as this month from Cape Canaveral Space Force Station in Florida providing these tests go to plan.
Contracts:
AH Environmental Consultants Inc., Newport News, Virginia (W912DR-23-D-0003); Delon Hampton & Associates, Chartered, Washington, D.C. (W912DR-23-D-0004); Dhillon Engineering Inc., Owings Mills, Maryland (W912DR-23-D-0005); and R2T Inc., Atlanta, Georgia (W912DR-23-D-0006), will compete for each order of the $35,000,000 firm-fixed-price contract for architect-engineer services. Bids were solicited via the internet with four received. Work locations and funding will be determined with each order, with an estimated completion date of Feb. 7, 2028. US Army Corps of Engineers, Baltimore, Maryland, is the contracting activity.
Balfour Beatty Construction LLC, Falls Church, Virginia, was awarded a $9,650,000 modification (P00009) to contract W91236-20-C-2025 for a battalion complex operations building and hangar facility. Work will be performed in Newport News, Virginia, with an estimated completion date of May 28, 2024. Fiscal 2020 military construction, Army funds in the amount of $9,650,000 were obligated at the time of the award. US Army Corps of Engineers, Norfolk, Virginia, is the contracting activity.