New Osprey Leaves Nest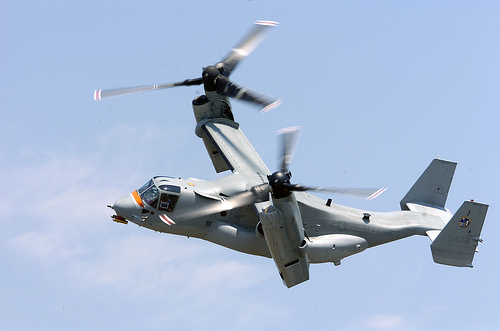 Welcome to Morning Coffee, a robust blend of links to news around the Internet concerning Naval Air Station Patuxent River, NAVAIR, the Pentagon and beyond. The Leader provides this link feature as a survey of the news and announcements affecting the local military economy. The opinions expressed here do not necessarily reflect those of the Leader's owners or staff.
Meet the new Osprey. Bell-Boeing delivers the first upgraded Block C version of the MV-22, UPI reports.
House Republicans take aim at Navy's green energy push, DoD Buzz reports. The Navy is still conducting a review to decide how big the fleet will be, AOL Defense reports.
Time says that Obama's defense budget is falling flat on The Hill and notes that Congress is counter-attacking the Pentagon's BRAC request.
Two Senators from both sides of the aisle pledge to support Obama if he attacks Iran to halt its nuclear program, according to The Hill. Secretary of Defense Leon Panetta tells Congress that Iran is just one rogue state "that could explode on us," AOL Defense reports.
Contracts: Honeywell gets $8.1 million for Super Hornet display procurement, and Raytheon Network Centric Systems gets $7 million for support of NAVAIR's Air Traffic Control Systems Division.