Old Line Steps Up With New Scholarship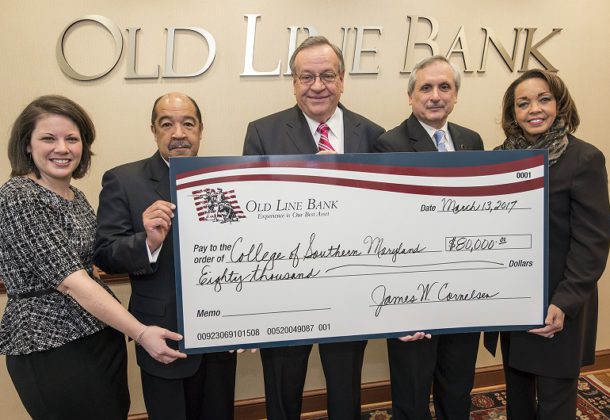 Old Line Bank has established the STEP-UP Program Annual Scholarship at the College of Southern Maryland. From left are Development Director Chelsea Brown, CSM Foundation Director Emeritus Steve Proctor, Old Line Bank CEO/President James W. Cornelsen, CSM President Dr. Brad Gottfried, and CSM Foundation Chair Rane Franklin. 
Old Line Bank has created an annual scholarship to the College of Southern Maryland as part of an $80,000 pledge to the college's $10 million Make An Impact Campaign.
The Old Line Bank STEP-UP Program Annual Scholarship is focused on providing financial need-based scholarships to students enrolled at CSM, with funds available to support degree-seeking students as well as workforce training students.
Presenting the check was James W. Cornelsen, president and chief executive officer of Old Line Bank. "Old Line Bank's business model is to invest in the community," Mr. Cornelsen said. "By reinvesting in our schools we help create the next generation of leaders."
Old Line Bank has been a strong supporter of CSM, providing an annual business program scholarship, becoming one of the first major sponsors to support the addition of the men's lacrosse program when the program launched in 2014, and being a supporter of the college's summer performances and the annual golf classic.
The CSM Foundation has launched a transformative three-year outreach and fundraising effort that will culminate in 2018 with the college's 60th anniversary. "Make Your Impact: Invest Today to Transform Tomorrow"  addresses access, affordability, and achievement by ensuring that degree programs and career training are available to everyone through scholarships, that high caliber programs, facilities and technology are accessible, and that strategic partnerships and innovation are created and sustained in the community.
Old Line Bancshares is a parent company of Old Line Bank, a Maryland chartered commercial bank headquartered in Bowie. Old Line Bank's reach spans the Baltimore-Washington corridor, with 21 branch locations in its current market area of eight suburban Maryland counties, inclusive of Anne Arundel, Baltimore, Calvert, Carroll, Charles, Montgomery, Prince George's, and St. Mary's. For additional information, click here or call 301-430-2500.
For information about giving opportunities, contact Chelsea Brown in CSM's Development Department at 301-934-7649 or [email protected]. For information on the CSM Foundation, click here.
For more about the College of Southern Maryland, visit its Leader member page.