Northrop's RQ-180 Drone Spied Over Area 51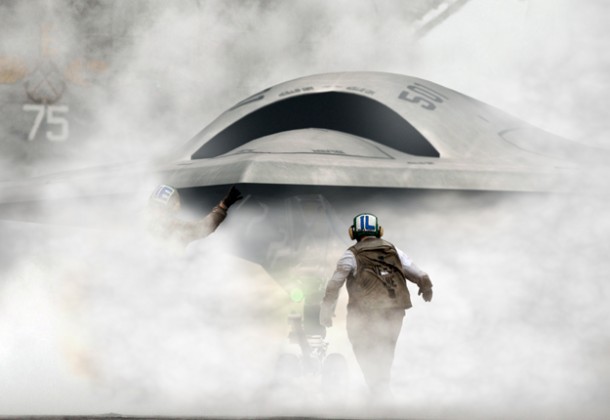 Morning Coffee is a robust blend of links to news around the internet concerning the Naval Air Station Patuxent River economic community. The opinions expressed here do not necessarily reflect those of the Leader's owners or staff.

Northrop Grumman's RQ-180 robotic aircraft is performing test flights in the skies over the infamous top-secret Area 51 in the Nevada desert, reports the Motley Fool. The new stealth drone may be twice the size of Lockheed Martin's RQ-170 Sentinel drone,  which makes it large enough to conduct operations as an unmanned stealth bomber, although spying is likely the aircraft's main mission.
The Senate Armed Services Committee is planning to move the National Defense Authorization Act bill through the Senate without considering amendments, reports The Hill. The $607 billion Pentagon bill was filibustered in November by Senate Republicans over a dispute about amendment votes. Although Republicans have not yet initiated a widespread effort to block the unadorned bill's passage, there are some GOP senators who have expressed dismay. Sen. Tom Coburn (R-Okla.) said, "No, I'm not OK [with it]. When was the last time we had a bill we didn't have any amendments on?" Coburn further stated that he would do anything he could to block the bill.
Bloomberg provides a video overview of Boeing's P-8 Poseidon, which is being deployed for the first time after 10 years of development. The submarine hunter has been assigned to bolster America's presence over the East China Sea where territorial tensions are running high between Japan and China.
Defense contractors and military personnel are reporting similar post-traumatic stress disorder and depression rates, reports the Washington Post. Twenty-five percent of federal contractors who worked in war zones met PTSD criteria compared to 20 percent of service members who served in Iraq and Afghanistan.
Deer Trail, Colorado, is considering a measure that would permit residents to "hunt federal drones and shoot them down", CNN reports. A Tuesday vote was postponed until next year while the proposed ordinance is being reviewed by a district court. Resident Robert Copely states, "I would shoot a drone down if it's peering in my window, scanning me, and it's within elevation where I can nail it."
Notorious hacker Samy Kamkar has released technical software plans that enable an interceptor drone to hijack other commercial drones, according to DefenseTech. Kamkar, who released a computer worm seven years ago that crashed the MySpace networking website, says that "Skyjack" can put "an army of zombie drones under your control." A hunter drone "flies around looking for other drones. As soon as it finds any other drone it hacks into that drone's wireless network, disconnects the owner and then takes over…"
Lockheed Martin's F-35 Lightening II flight simulator is so realistic it allows pilots to achieve 50% of their training on the ground, reports Geek. The simulator provides trainees with an exact replication of the next generation stealth fighter's cockpit, panoramic display and flight software which lets pilots "fly" complete mission simulations.